Dr Lal Ratnakar, who made portraits of Mahishasur, Makkali Ghoshal, Kautsa, Ajit Keshankbali and other Bahujan heroes for FORWARD Press, thus making them part of popular culture, is a committed and nationally known artist. During a long conversation at his residence recently, he candidly spoke on the country's politics and on socio-cultural issues. A report based on the conversation and an analysis of Ratnakar's artistic life:
Dr Lal Ratnakar has brought alive north Indian villages – their ambience, lanes, houses, ploughs, fields livestock and ponds and even the doors and doorframes – through his paintings. I was sure that his childhood must have been very rich – in the sense that Ratnakar must have preserved like priceless pearls memories we allow our mind to erase, thinking them to be no value. So, I began by asking him about his childhood. And my hunch was correct. As he began speaking, I felt as if I was his co-passenger on his journey down the memory lane. He spoke effortlessly and fluently. It was as if he was speaking from his heart. There was no artificiality. For the entire duration I was with him, I could not but think about his life journey.
Born into a middle-class family, Dr Ratnakar's father was a doctor. His uncle was a lecturer. Both his father and mother came from landlord families. When he was growing up, crores of people had started dreaming of the equality-based society envisaged by Ambedkar. But they were in for a rude jolt. They were disappointed to see the elite minority occupying important positions and controlling vital resources. The big hopes with which they had participated in the Freedom Movement and had made great sacrifices had started fading. The Dalits and the OBCs had come to realize that only Constitutional provisions would not suffice to give them a fair deal. They had begun closing ranks in preparation for another round of struggle. Eastern Uttar Pradesh and Bihar were the centres of this new socio-political consciousness. And this was the time when teenage Lal Ratnakar's views were taking shape. He could not understand the bombastic words being bandied about but he could guess that something significant was happening. Although he was not sure of the hows and the whys, he saw himself playing a part in this movement for change.
His education began at the village school. He cleared high-school examination from Shambhuganj with science subjects. At that time, only students who were academically poor used to opt for fine arts. But Ratnakar was passionate about art. A piece of chalk, charcoal or "geru"– whatever he could lay his hands on – became the brush, and the wall or the floor, the canvas. The homes were shacks and poverty was rampant. But the people were large-hearted. Festivals and melas were occasions when their inner happiness burst out in the open. In community life, even times of privation became festivals. The artistic heart of Ratnakar could gauge their intrinsic beauty. The village well, bullocks, ploughs, the stone walls of "kolhu", "aswari", the designs made by potters on earthen vessels, "vandanvars" made by skilled women, rangoli and murals – all not only attracted him but also whetted his creative skills. The enjoyment he felt in drawing his imagination on the walls of houses with a piece of charcoal or "geru" was much greater than what he would feel, years later, while working on canvas. Clearly, expression was choosing its medium. Till then, he had no plans for his future and neither was he aware that one could lead a respectable life by drawing or painting. In the villages, it was mainly the women who made paintings and drawings. For them, these artworks had less to do with art and more with tradition and culture. That this skill could fetch you money was something they never imagined.
His parents wanted him to make a name for himself in the field of science. In deference to their wishes, he enrolled at the inter-college at Jaunpur, about 13 km from his village. The daily bicycle ride was boring and tiring. So, after some time, he gave up science and joined the college in Shambhuganj. He chose fine arts. The atmosphere at his home made it possible for him to see new dreams every day. Fine arts offered immense potential for self-expression. Gradually, he concluded that this was the subject which could allow him to fulfil his dreams and also of those around him. After his intermediate degree, he completed his BA from Gorakhpur University and MA from Kanpur University. By then, he had got an idea of the depth of the subject. He was keen to study in BHU. He met Dr Anandkrishna, head of the fine arts department, and expressed his desire to pursue research in the subject. He assured him of all help but the topic was undecided. Days went by.
Ratnakar did not want to waste any time. One day, he showed up at Dr Anandkrishna's residence. Dr Raikrishna Das was still alive. The way folk arts were neglected pained him. During a conversation, he had suggested to Professor Anandkrishna to get his students to research folk arts. Professor Anandkrishna took his advice and asked Ratnakar to work on the folk arts of the region. It was quite rich in folk arts. Ratnakar started painting the art-elements scattered around – the carvings on doors and walls, rangoli, panghat, ponds, kolhu, earthen utensils, aswari, etc. At that time, Madhubani was the only folk-art form people knew about. No one was aware that the villages of eastern UP were treasure troves of folk arts. When he met Anandkrishna the next time, Ratnakar had a lot to show him. Professor Anandkrishna was astonished to see his paintings. "Oh, great. You have done so much work. This is a treasure … a treasure, wonderful. But you have to do much more. I will put up your proposal in the next meeting", he said. Ratnakar did not have to wait much longer. The university approved his research project on "Folk Arts of Eastern UP". The topic was new. There were no reference books. But Ratnakar was happy. Now, he would be able to look at this society with the eyes of an artist, an investigator. He would contribute to giving recognition to a form of, what intellectuals describe as, cultural consciousness. Original thinking, persistent hard work and tenacity paid dividends and the research project was completed. Along with the degree, he also got a job. Now, he had a wide and rich area of work before him.
Dr Ratnakar is a painter with a rural background. His experiences were enriched in eastern UP. The impact of this can be seen on his paintings. Fields, granaries, animals, birds, plough, bullocks, trees, rivers, ponds – all are present in his paintings in their complete aesthetic beauty. Many painters have worked on women and their identity but there are few artistes in the country who have as comprehensively etched rural women on canvas as Dr Ratnakar has done. "The fount of my art is my world of experience", he says. "Moulding the experiences of one's life into art is not easy. But the continuous exchange between life and art automatically erases the rough edges. Art becomes a bridge which connects you with life."
The women ("One-half of the population") take up more than one-half of the space in his works. It his home and village that inspired him to do this. After his grandfather passed away, her grandmother took over all the responsibilities relating to farming. Without trying to evoke pity, this diligent woman efficiently handled the work. In his paintings, one can see women working, discussing, weaving dreams and working shoulder to shoulder with men. His paintings show all the different appearances and struggles of rural women. But his woman is not weak. She is diligent, mentally and physically strong, simple and naturally beautiful. She is a farmer but if needed, she also works as a labourer. Her life is full of enthusiasm and passion. She is zealous and self-respecting – and she earns respect by her hard work. She is sensitive. There is melody in her heart, and songs, music, dance and rhythm in her life. Ratnakar does not dismiss the simple behaviour of rural women as a sign of rusticity. His paintings bring out their inner beauty hidden behind the rustic exterior, and their dedication to those close to them. This is a rare talent. Dr Ratnakar's expertise in this field is beyond any doubt. His paintings are a humble tribute to the dreams of the rural woman and to the beads of her sweat.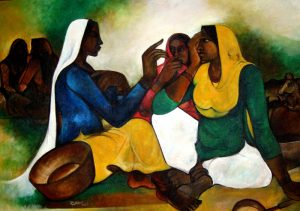 Modern art links women's body with the market. There are markets in villages too. They are the places that make things of daily use available to the people. Villagers do not make things only for earning profit. Barring some exceptions, the village markets are not market-oriented. Similarly, in Dr Ratnakar's paintings, the woman's body is very much there but it is not there to be ogled. Raja Ravi Varma has also painted well-proportioned and plump women but most of them are either of the elite class or goddesses who had nothing to do with labour. They belonged to the parasitic class that lived off the skills and labour of others. They are creations of the market – whether of consumer goods or of religion. Dr Ratnakar's women characters are free from the shadow of market. For him, the body is the means for waging life's battles. And that is why, for him, even a weak, thin body has an intrinsic beauty. "The characters in my paintings do not understand the meaning of their body. They have a body but they do understand the difference between body and body-ism." Body and body-ism are miles apart – one is genuine, the other is counterfeit. "Marketization adds suppleness, beauty and attractiveness to the body but it makes it lose its soul. It is reduced to just being a body. I have seen tribals painted by other artists. They look like they are the residents of heaven, they have no worries and are always celebrating and enjoying themselves – as if they know nothing else", he says. "I have no regrets in saying that my paintings depict men and women whose beauty has blossomed in the heat and the glare of fields and granaries." Dr Ratnakar's women characters have a natural beauty and glamour. But they are not heroines. They are neither a "Mardani" like Laxmibai nor a lover like Radha or a consummate politician like Indira Gandhi. They are doers who toil in the fields with their men and who, if the need arises, can shoulder all responsibilities. They can give the greatest of heroes a run for his money.
In his paintings, Dr Ratnakar has drawn various forms of Krishna. But his Krishna is not a god. He is the people's hero, a product of the culture of labour. He can graze cows and milk them, and take on an arduous task like lifting the Govardhan to save his loved ones.
The colours he chooses for his paintings have social significance and a close connection with the secrets of life. He only chooses colours which add pep to the festival of life. He says that basic colours like red, yellow and blue as well as green, purple and orange are an essential part of the consciousness of rural women. On festivals, celebrations and fairs they cannot keep away from these colours. But in times of adversity, the colours that enter their lives sent out a very different message. The key colours among them are black and white, which have their own traditional contexts. From a sociological viewpoint, white and black are not colours but a state. Black means disappearance of all colours and white means the colours get so intermixed that they lose their individual identities and one cannot be separated from the other. In the case of Indian, especially Hindu, women, the presence of these colours point to a tragedy. Women's natural affinity with these colours keeps them close to truth and nature. Dr Ratnakar also depends on people for inspiration. When asked whether he feels that he is enriching people through his painting, his answer is a firm no. In his view, people are self-enriched. "They are already so enriched that there is no need to further enrich them." Such humility is not only an essential part of any big artist's character but also a prerequisite for forgetting self in an endeavour to understand others.
Whether "art is for life's sake or life is for art's sake" is an old debate and people have different takes on the issue. These keep on changing with the circumstances. It is an irony of our times that the art that is created in the name of the poor and the ordinary people is of no use to them. It is not that they cannot understand it. The problem is that the common man cannot afford the price of the circumstances of an artist and his distinctive cognition that take his creation to great heights. This is tragedy of almost all art forms. Art's attempt to acquire an elitist character places it out of the reach of the people with whose sensitivities it is concerned. This is the irony of art and hence Dr Ratnakar does not forget to remind us that "All arts and other enterprises of life are ultimately enterprises to make this world beautiful … of what use is an art if it is not for the ordinary people."
Over the last couple of years, the concerns of Dr Ratnakar as an artist have become broader. He is probably the only painter who is giving expression to the concept of social justice through paintings. He has made paintings exclusively for the print edition of FORWARD Press that are basically concerned with the politics of the common people and social justice. He understands well that cultural slavery lasts longer and is more tragic than political slavery, and that it can be countered only by strengthening popular culture. Digressing from tradition, he has drawn portraits of protagonists of the people, the real heroes of the Indian Bahujan. The worshippers of elite culture have been distorting the character of these heroes to serve their interests. The need of the hour is to do away with the haze that has been deliberately spread by the proponents of the culture of dominance over a long period of time to distort the character of the heroes of Bahujan culture. Among the people's protagonists whose portraits Dr Ratnakar has drawn are Buddhist philosopher Kautsa, Aajivaks Makkali Ghoshal and Ajit Keshankbali, and people's mythological hero Mahishasur. We would like him to draw the portraits of great Aajivak scholar Purna Kasyap, Bali Raja and Pukud Katyayan.
Let alone portraits, information about these Bahujan thinkers and heroes is missing from the cultural history of India. But, then, do we know how gods and goddesses look? And isn't it true that the tales of their exploits are the product of the imagination of the writers and poets who wrote mythological scriptures. Idol worship has its roots in hero worship. Our society is so conditioned to this vice that it cannot think beyond it. Every debate, every talk of reform is crushed in the name of belief and faith. The expressions and faces of Ganesh, Ram, Sita, Krishna, Vishnu, etc in idols and pictures of today are taken from Raja Ravi Varma's paintings. The campaign of FORWARD Press and Dr Ratnakar to bring to the fore the character of Bahujan philosophers and heroes through their portraits is not only worthy of appreciation but a revolutionary step in the direction of social justice. This work of Dr Ratnakar is so original and awe-inspiring that the history of art will remember him for these portraits alone for a long time to come. Veteran litterateur S.R. Yatri writes, "In the world of art in India, he is a rare painter who has added such beautiful colours to the coarse, hard and dry lives sprinkled with beads of sweat that the concept of India's soul and its core have blossomed. His natural paintings not only militate against the eerie anarchy that is increasingly taking over the world of paintings but also establish Indian milieu firmly."
I don't think anything more needs to be said after this authoritative comment by one of India's seniormost litterateurs.