Gharbaar nahin, sansar nahin, mujhse kisi ko pyar nahin,
Ae Duniya mein tere teer ka ya taqdeer ka maara hoon
(I have no home, no world; no one loves me. O'world, I am the victim of your arrows or of fate)
Sometime ago, the revelation of the caste of famous lyricist Shailendra raised a furore in the Hindi film industry. It kicked up a big controversy, with many taking exception to the claim.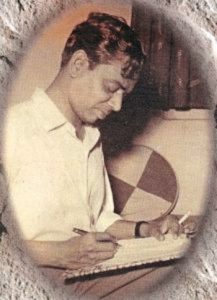 Shailendra's son Dinesh Shankar Shailendra had compiled a collection of his father's poems titled Andar Kee Aag (The Fire Within) and published by Rajkamal Prakashan, New Delhi. In the preface, Dinesh openly acknowledged his father's social background – "Bihar's cobbler Dhursia caste", he wrote. While releasing the book, veteran critic Dr Namvar Singh described Shailendra as the greatest Dalit poet after Sant Ravidas. Many litterateurs and writers objected to the revelation of Shailendra's caste. A writer Tejinder Sharma, registering his protest in social media, went to the extent of claiming that Dr Namvar Singh had not only humiliated Shailendra but had poured scorn on all literature-lovers.
One fails to understand what the problem in revealing the caste of a great personality is if he or she is a Dalit. No one objects to a Brahmin or any other upper-caste person, who happens to be an admired or a famous personality, boasting of his caste, but all hell breaks lose if he or she is a Dalit.
This was followed by another incident that was blacked out by the media. On 21 February 2015 – the 31st marriage anniversary of Dinesh – around 30 hired goons armed with baseball bats and sticks forced their way into his residence. They took away the cell phones of Dinesh and his wife and asked them to sit in a corner quietly. Then, before their eyes, they loaded every single household item into a truck. They did not spare even a spoon. They also took the handwritten poems and letters of Shailendra, his awards and trophies. They also wanted to force Dinesh and his wife into the truck but a passer-by, who noticed something unusual in the house, informed the police. The goons fled in the truck before the cops arrived.
Dinesh and his wife filed a complaint with the police on the same day. He also met the Mumbai Police Commissioner and the Maharashtra DGP. The police, though, have so far been unable to trace either the goods or the goons. One suspect was caught but instead of interrogating him after remanding him in custody, the police allowed him to walk free after a cursory questioning.
Shailendra's admirers and film lovers would have definitely wanted to know about this horrendous incident with the son and daughter-in-law of a one-time leading film personality. The media takes great interest in incidents even remotely connected with film personalities. They become headlines in the newspapers. But the brazen loot at the house of the son of the most popular lyricist of his time did not draw the media's attention. Why? Because he was a Dalit?
Had such an incident taken place at the home of the family members of a Savarna icon, the media would have gone wild. But who cares if the son of a Dalit lyricist is robbed in broad daylight! It is being said that some brahmanical elements were very upset that a Dalit's kin, instead of hiding his social status or being ashamed of it, was taking pride in it and declaring it from the rooftops.
Dalit genius Shailendra was the one of the most famous and gifted lyricists of his time. The songs penned by him were immensely popular not only in India but also abroad. It was his songs that fetched global popularity to films like Awara. But his achievements were always ignored. Neither the central nor any state government considered him worthy of any award. He deserved the Dadasaheb Phalke Award or even the Bharat Ratna.
Shailendra was born Shankardas Kesarilal in Rawalpindi (now in Pakistan's Punjab state) on 30 August 1921 into a Dalit family hailing from Dhuspur village in Bihar's Arrah district. His father Kesarilal Rao was a contractor at the military hospital in Rawalpindi's Murree Cantonment. Shailendra couldn't develop a connection with his ancestral village as he mostly stayed with his father – first in Rawalpindi and then in Mathura. Most of the residents of his village were agricultural labourers.
Early life
Shailendra's father fell ill, and faced with economic hardship, the family left Rawalpindi for Mathura, where his uncle worked with the Railways. But their situation did not change – so much so that Shailendra and his brothers were forced to smoke beedis to kill their hunger. Fighting against these odds, Shailendra managed to study up to the intermediate level in Mathura. Misfortune continued to chase him, though, and a time came when Shailendra, who had great faith in Shiva, started considering statues of gods and goddesses as mere pieces of stone. His only sister died because he could not afford her treatment.
After somehow completing his education, he decided to move to Bombay. Once, in Mathura, when he was playing hockey, one of the players commented, "Look, now these people will also play matches." He was so hurt that he broke his hockey stick and this incident only strengthened his resolve to move to Bombay.
In Bombay, he became an apprentice in the Mechanical Engineering Department of Matunga Railways. But the clatter of machines in the workshop and the glitter of the metropolis did not kill the poet inside him. Many a time, his colleagues saw him sitting in a corner, pen and paper in hand, lost in his own thoughts.
After work, he used to spend time at the office of the Progressive Writers' Association, locted across the road from the Regal Opera House of Prithviraj Kapoor. Every evening, poets used to gather there. It was at the Opera House that he got aquainted with Raj Kapoor, who asked him to pen songs for his films. His songs became so popular that soon he became a permanent member of the Raj Kapoor's music team, along with Shankar Jaikishan and Hasrat Jaipuri. He wrote more than 800 songs and most of them went on to become hits. His songs, which reflected his yearning for building an equitable Indian society and his deep-rooted humanism, took India to foreign shores.
He created the famous slogan of the exploited and suppressed classes: "Har zor-zulm kee takkar mein, hartal hamara nara hai" (Strike is our weapon against every atrocity, every excess). Even now, the working class uses this slogan to voice its anger.
In Bombay
He produced a film titled Teesri Kasam based on Phanishwar Nath Renu's immortal story Mare Gaye Gulfam. However, it bombed in the box office. The film's failure left him heartbroken. The people whom he had considered his well-wishers turned their backs on him and he came under a huge debt. He became seriously ill and passed away on 14 December 1967. He was only 46. In his last days, he had become an alcoholic
Later, Teesri Kasam was chosen as the official entry for the Moscow International Film Festival and received global acclaim, but Shailendra was not around to witness the success.
He was conferred with the Filmfare Award thrice for his songs but this great artist, born into a Dalit family, was largely ignored by the media, the government and the Savarnna community – both when he was alive and after his death. Unfortunately, even the Dalit community has forgotten Shailendra.
Published in the February 2016 issue of the Forward Press magazine
---
For a detailed exposition of the concept of Bahujan literature, read Forward Press Books' Bahujan Sahitya Ki Prastavna.

Contact The Marginalised Publications to order a copy; phone: 9968527911, email:themarginalisedpublication@gmail.com

The English edition of the book is titled The Case for Bahujan Literature, which is also available with The Marginalised Publication.

To order the books on Amazon, click here and here.

For the e-book version, click here.