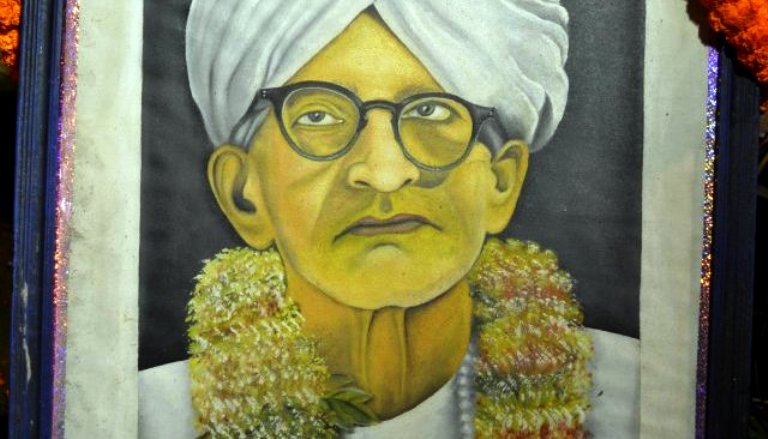 On 10 July, an auditorium of Jawaharlal Nehru University, New Delhi, reverberated with loud applause when 92-year-old Ramchandra Manjhi came on stage dressed as a woman. He got a standing ovation even as the musicians on the stage played the tune of Bidesia
The occasion was the 100th year of "Launda Naach" and the 46th death anniversary of its creator Bhikhari Thakur (18 December 1887 – 10 July 1971). Another highlight of the evening was Sarita Saj singing the songs of Bhikhari Thakur's plays – Bidesia to Betibechwa – in her distinct style.
Jainendra Jain, playing Labar, the comedian, appeared on stage and announced the arrival of Ramchandra Manjhi in Bhojpuri dialect. During his solo performance that went on for about one and a half hours, Manjhi talked about his association with Bhikhari Thakur and also about how "Launda Nach" has survived a century. His dialogues, delivered in unadulterated Bhojpuri, enthralled the JNU students in attendance. Manjhi sang many songs and performed the 'Launda Nach'. He said that he was around 11 years old when he joined Bhikhari Thakur's troupe.
Citing an instance of the impact of Bhikhari Thakur's plays, Manjhi recalled that when his plays were staged in Calcutta, mill owners warned the police that if the plays went on, they would have to padlock the main gates of their factories. Reason? After seeing Bidesia, workers left for their homes the very next day. Acting on the complaint, a police officer asked Bhikhari Thakur to stage the play on the premises of a police station. Thakur agreed, and when the play ended, the police officer was in tears. He said he would leave for his "muluk" (native state) the very next day. The officer was a native of Bihar.
Bhikari Thakur used to perform, not write, his plays. His characters used to speak to the social landscape. This was what made his plays special and that was what made people throng his performances again and again. This was the specialty of his plays, which made people throng the performances again and again. Ramchandra Manjhi talked candidly about his own personal life too. He said that he was so devoted to Bhikhari Thakur that he returned home from a performance on the day of his wedding and left for another show the next day. He said that in those days he had also played roles in many films and had danced with famed actresses like Suraiyya, Madhubala and Sadhna.
Manjhi also recounted how the Bombay's film producers had duped Bhikhari Thakur. Bidesia was the most popular work of Bhikhari Thakur. In the 1960s, a gentleman who used to a run a cinema hall at Buxar invited Thakur to perform Bidesia. Later, he even signed an agreement with Thakur at the Chhapra court for a film. But when the film was released in 1963, the script had been entirely changed and only in the last scene, Bhikhari Thakur was shown singing a song. The film titled Bidesia was directed by S.N. Tripathi and produced by Bacchu Bhai Shah. Sujit Kumar, Padma Khanna and Kumari Naz played the lead roles in the film. The film was publicized saying that it would be based on Bhikhari Thakur's Bidesia and the man himself would stage the play in the film. But he was cheated.
Along with songs, dance sequences and dialogues, Manjhi also reminisced about staging the play before Jawaharlal Nehru and Indira Gandhi. Even Rajiv Gandhi had once seen the play. But among the politicians, it was Lalu Prasad Yadav who whole-heartedly appreciated his art. Referring to Lalu as "malik", he said Lalu had told him, "Ramchandra ji, till you are alive, let Bhikhari Thakur also live."
The programme began with a discussion chaired by S. N. Malakar, a professor of African Studies in JNU. In his address, he said, "Bhikhari Thakur needs to be seen not from above but from below. It was not a mere coincidence that in 1914-18, the world witnessed the First World War and the world's biggest revolution [in Russia], and it was also during that period that Bhikhari Thakur gave a cultural expression to the struggle of the deprived." Professor Chandradev Yadav of Jamia Islamia noted "Ram's significant presence in the plays of Bhikhari Thakur". References to Ram are a common feature in his plays, which attack social evils rather than religion itself. Dr Suman, of the National School of Drama, said that Bhikhari Thakur was a "dynamic" theatre personality. Jainendra Dost, a young theatre enthusiast and founder of Bhikhari Thakur Rangmandal Prashikshan Evam Shodh Kendra, Chhapra, in Bihar, moderated the discussion.
---
Forward Press also publishes books on Bahujan issues. Forward Press Books sheds light on the widespread problems as well as the finer aspects of Bahujan (Dalit, OBC, Adivasi, Nomadic, Pasmanda) society, literature, culture and politics. Next on the publication schedule is a book on Dr Ambedkar's multifaceted personality. To book a copy in advance, contact The Marginalised Prakashan, IGNOU Road, Delhi. Mobile: +919968527911.

For more information on Forward Press Books, write to us: info@forwardmagazine.in