The Thanthai Periyar Dravida Kazhagam (TPDK) is once again in the news for an event that targets brahmanical practices. They have announced a campaign to put the ceremonial "sacred thread" worn by Brahmin males on a pig. The function has been scheduled for August 7, in front of the Sanskrit College in Mylapore, Chennai. This is the day of Aavani Avittam, in the Tamil month of Avadi, on which the ceremonial rituals are carried out to accompany the annual event when Brahmin males change their sacred thread – known popularly as "janeu" in Hindi and as "poonool" or "poonal" in Tamil.
The announcement, made well in advance, has predictably raised hackles. Brahmanical organizations have issued statements condemning the "objectionable language" and offensive visuals in a poster released by the TPDK. The poster has the sketch of a fat pig wearing the sacred thread, and a tagline announcing the event.
"The pig is an avatar of Vishnu, the Varaha avatar", explains Manoj, a member of the TPDK, showing a picture of a modern-day sculpture on a temple gopuram (pyramidal tower over the entrance) with the Varaha avatar wearing the poonool. "We are not doing anything the Brahmins have not already done."
He adds: "The Brahmins hold this ceremony to show that only they have the right to wear this thread. Even though other castes, including some Shudra castes do wear the thread, these sections are never included in the Avittam day ceremonies. This is to show that only their thread has Vedic sanction."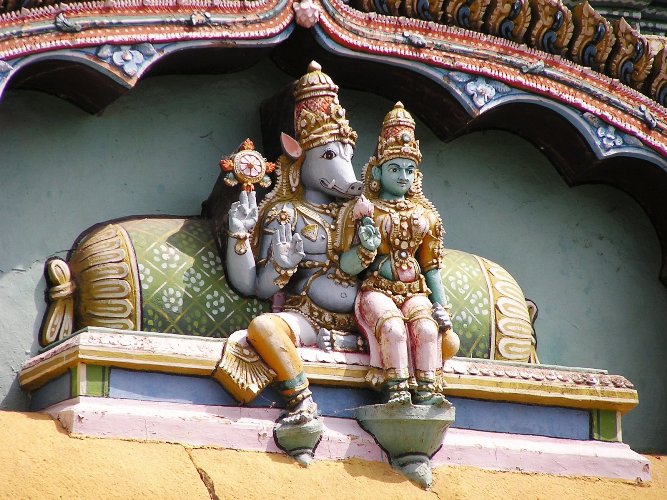 According to the newspaper, Dinamalar, dated 24 July, Brahmin outfits in Krishnagiri district held a rally to protest the planned event. The procession included women and children, who were carrying placards condemning the event and criticizing TPDK. The speakers who addressed the protestors at the rally also called for an end to the derogatory depiction of Brahmins in films.
S.V. Sekar, a well-known film and theatre personality and founder of a pro-Brahmin organization, has strongly condemned the TPDK's decision to hold the event.
---
Forward Press also publishes books on Bahujan issues. Forward Press Books sheds light on the widespread problems as well as the finer aspects of Bahujan (Dalit, OBC, Adivasi, Nomadic, Pasmanda) society, literature, culture and politics. Next on the publication schedule is a book on Dr Ambedkar's multifaceted personality. To book a copy in advance, contact The Marginalised Prakashan, IGNOU Road, Delhi. Mobile: +919968527911.

For more information on Forward Press Books, write to us: info@forwardmagazine.in