A workshop held on Dalit issues in Patna descended into chaos when a Dalit political leader called a Brahmin intellectual and academic a "Brahmin". The Brahmin in question asked the Dalit leader to stay within his limits. Both sides have continued to blame each other even after the workshop ended.
The workshop on "International Mobility in Dalit Caste" was held on 6 May 2018, at the A.N. Sinha Social Research Institute auditorium in Bihar's capital city, Patna. At the inauguration, the institute's former director, Professor D.M. Diwakar and former Union Minister, Dr Sanjay Paswan, were present. During the lamp-lighting ceremony, Dr Paswan invited Diwakar to join in while saying, "Being a Brahmin, you too should light the lamp. How are we going to start the programme without you?" This enraged the professor and even as Dr Paswan tried to pacify him, Diwakar said he should stay within his limits.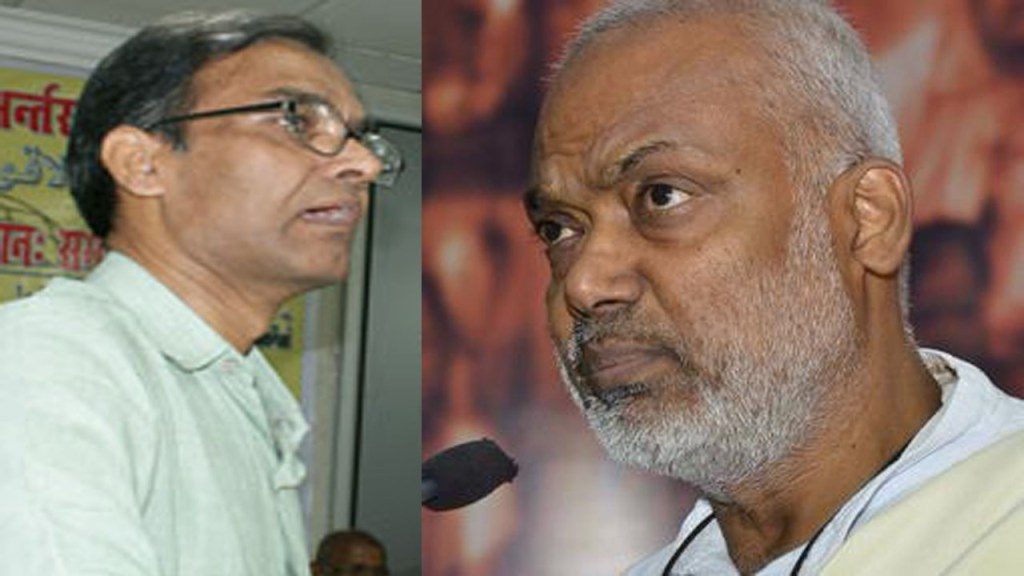 Following the incident, Diwakar shared a video footage[1] of the incident on his Facebook page, which has become a subject of heated discussion in various dailies and TV channels in Bihar. Dr Paswan has been fiercely criticized in media reports for his "misconduct".
On the other hand, friends of Dr Paswan have another version of the story. "Dr Paswan's comment was humorous, if anything, and intended to send a social message to his followers. But Diwakar made a mountain out of a molehill and it was he who started misbehaving. Despite this, Dr Paswan tried to pacify him with due respect and humility. He even took his words back and kept inviting the professor on to the stage to light the lamp. But, instead of keeping calm, Diwakar displayed his arrogance of being a Brahmin and asked Dr Paswan to stay within his limits, while pointing at his Dalit identity. What Paswan did thereafter was just to save his Dalit identity," they said.
What does the video actually show?
The video shared by Diwakar on Facebook shows Dr Paswan trying to placate and request him to participate in the lamp-lighting ceremony. Dr Paswan is also seen holding Diwakar's hand and requesting him. According to the professor, however, the former union minister twisted his arm. In a statement given to a newspaper, he said, "I refused to light the lamp in protest against being called by my caste (Brahmin). Following which, the MLC [Member of Legislative Council] made me light it by force. It was then that I told him to stay within his limits."
The video clearly shows that this allegation is false.
According to eyewitnesses, the situation had simmered down after the intervention of officials from the institute. However, in the ensuing chaos, Diwakar loudly said, "Han Main Brahmin hun aur mujhe iska abhiman hai. (Yes, I am a Brahmin and I am proud of it)."[2]
Whereas, on this matter, Dr Sanjay Paswan said, "I was invited as the chief guest in the seminar. As he is a Brahmin, I invited Prof Diwakar to come and light the lamp. He got upset and I humbly held his hand and made him light it. I did not use any demeaning word."
Why so proud of being a Brahmin?
Eminent social scientists, Gail Omvedt and Bharat Patankar were also present in the gathering.
"What happened during the inauguration was a sudden explosion," Bharat Patankar told FORWARD Press over a telephonic conversation.  "We could not figure out what had happened. But it has come forth that the situation arose due to use of the term 'Brahmin'. I believe that the term should not be used for someone who has disassociated himself from the Brahmin dharma. Even Babasaheb Ambedkar believed that it is the Brahmin dharma that should be protested against, not someone belonging to that dharma. But I was astounded when Diwakar, who claimed to have rejected caste bias,  said in the melee that he was a proud Brahmin. What kind of pride is it?"
Patankar added, "What Dr Paswan said in his speech was also disappointing. He said that Brahmins still possess the richness of knowledge and he duly respects it. He had an apologetic tone, although he did nothing wrong by calling a Brahmin a 'Brahmin'. If he had to apologize, he ought to do it for the use of sexist terms."
Speaking out against the so-called knowledge possessed by Brahmins, Patankar said the knowledge pertaining to the Vedas, Puranas, Ramayana and Mahabharata is not real knowledge. "The veritable knowledge is that which is transferred from one generation to the next in the Sraman tradition and evolves further," he said. "But even today, Brahmins are said to have predominance over knowledge and many glorifying them come from the Dalit and Bahujan community."
Dr Sanjay Paswan has been known to switch sides in the political circle. A former political ally of Lalu Prasad, Dr Paswan was also a minister of state in the Atal Bihari Vajpayee Government. Currently, he is a member of the BJP National Executive and was recently nominated as a member of the Bihar Legislative Council. In the past, Dr Paswan, as the president of BJP's Scheduled Caste Morcha, has been in the limelight for demanding that Bahujan Samaj Party (BSP) founder Kanshi Ram be honoured with the Bharat Ratna and even putting a portrait of Kanshi Ram in his chamber at the BJP headquarters in Delhi.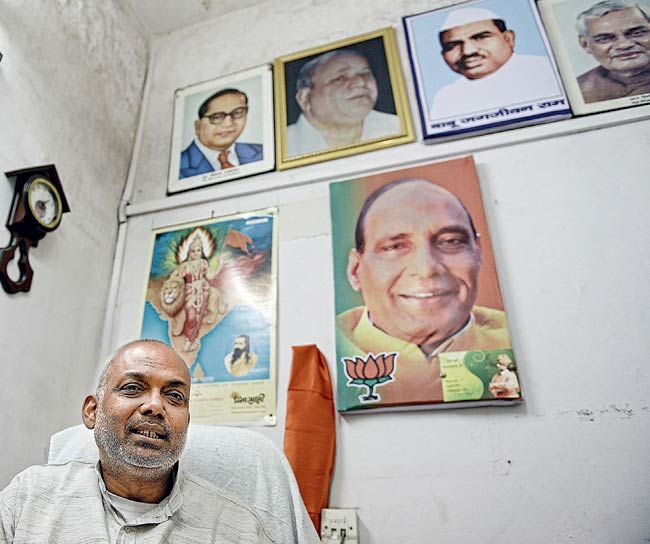 Dr Paswan also runs an organization called "Hum Kabir ke Log", whose purpose is to spread awareness among the deprived community. A prolific writer, he has written six books so far. Among them are The Problems of Scheduled Castes of Bihar, The Roots of Rural Violence, The Encyclopaedia of Dalits in India, Rahtranishtha Babu Jagjivan Ram and The Social Face of Indian Parliament, apart from the autobiography of former Bihar Chief Minister Bhola Paswan Shastri.
On the other hand, born in a poor Brahmin family, Digambar Mishra Diwakar is an established leftist intellectual. The Nitish Kumar government first appointed him as the director of AN Sinha Institute of Social Studies and he got a second term too. Not a stranger to controversies, eyebrows were raised when Diwakar designated himself professor while still occupying the post of director at the institute. A vocal proponent of Dalits, Diwakar has written many books in support of Dalits.
Translated by Devina Auchoybur; copy-edited by Rohit James
[1] https://m.facebook.com/story.php?story_fbid=10208929937525698&id=1833473619
[2] https://www.prabhatkhabar.com/news/patna/bihar-patna-mlc-sanjay-paswan-and-dm-diwakar-among-others-talked-about-caste/1152965.html
---
Forward Press also publishes books on Bahujan issues. Forward Press Books sheds light on the widespread problems as well as the finer aspects of Bahujan (Dalit, OBC, Adivasi, Nomadic, Pasmanda) society, culture, literature and politics. Contact us for a list of FP Books' titles and to order. Mobile: +919968527911, Email: info@forwardmagazine.in)
The titles from Forward Press Books are also available on Kindle and these e-books cost less than their print versions. Browse and buy:
The Case for Bahujan Literature
Dalit Panthers: An Authoritative History
Mahishasur: Mithak wa Paramparayen