(Muthuvel Karunanidhi: 3 June 1924 – 7 August 2018)
Karunanidhi (born 3 June 1924), the colossus of Tamil politics, passed away on the evening of 7 August. He was 94 and was ailing for some time – which was natural for his age. The death of any person at this age should not be grieved. Rather, it should be an occasion for his evaluation. Karunanidhi was more than a person – he was institution. That is why whenever any crisis gripped Indian polity, his opinion and reaction were sought and valued. He represented the political and ideological consciousness of the region south of the Vindhyas. M.G. Ramachandran and Jayalalitha were also immensely popular in Tamil Nadu and had had their share of electoral victories. But they were not the transmitters of Dravidian consciousness. As long as he was alive, Karunanidhi did not allow the fire of Dravidian consciousness to die, though its intensity did lessen. To my mind, this was the one thing for which he would be remembered.
It was due to the joint effort of Annadurai and Karunanidhi that Madras State became Tamil Nadu in 1969. Tamil Nadu had a long tradition of social movements, which north Indians struggle to understand. Even today, it is not easy for us to understand the Tamil psyche. For instance, it is difficult for our minds, obsessed as they are with Hindi and Sanskrit, to accept that Tamil is an older language than Sanskrit and its corpus of literature is much richer. The Bahujan politics of the north and the Dravidian-Bahujan politics of the south are entirely different in character. Periyar Ramasamy Naicker launched the Dravidian identity movement in the 1930s. It was a movement centred on the self-respect of the people of the region and emerged as a tough competitor to the north Indian Aryan culture. Periyar created a stir by demanding Dravida Nadu. He countered the Congress with his own brand of politics, which had no place for god, religion and Brahmins. That is partly the reason the nationalists, whose vision revolved around god, religion and Brahmins, found it anti-national at first glance. Periyar had raised some very pertinent and searching questions on the concept of nation. This is the time when an objective analysis of his theorizations should be attempted. It was a subaltern revolt, which might have been crude but was not devoid of thought. The rise of this movement not only led to the evolution of sociopolitical consciousness in the non-Brahmin community of the region but also gradually weakened the hold of Brahmin leaders like Rajaji on the Congress, with leaders from backward classes like K. Kamaraj coming to the fore.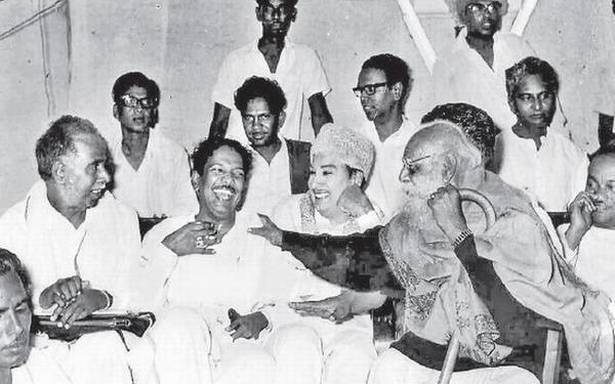 By 1959, Rajaji had parted ways with the Congress and founded his own Swatantra Party. This further weakened the Congress, because the Brahmins became divided into two camps. It gave Dravidian politics bigger space and greater opportunity to grow. Thus, Periyar's movement gained popular currency after 1969, following a long struggle. Meanwhile, Annadurai, who was a close associate of Periyar, developed some differences with him and took control of Dravidian politics. Karunanidhi, a friend and an associate of Annadurai, took his politics further. There were contradictions and anomalies, but the movement moved forward.
Karunanidhi was an interesting personality. He was basically a writer and, as far as I know, enjoyed formidable reputation as a scriptwriter for films. Ideologically, he was a socialist. One of his sons, who is also his political successor, was named Stalin after the Russian Communist leader Joseph Stalin. This shows the ideological leanings of Karunanidhi at the time. Like his mentor Periyar, he was also known for his fierce opposition to social obscurantism and superstitions, and for his atheism. The way he challenged the established social order and altered the direction in which society was headed is remarkable, rare.
Political successes bring with them controversies. This was the case with Karunanidhi, too. He served as chief minister of the state five times and was an MLA for 11 terms. He took over the leadership of his party Dravida Munnetra Kazhagam after the death of Annadurai and continued at its helm till his death. He was a confirmed atheist but he did try to establish himself as god. He was also not averse to dynastic politics. Whenever Karunanidhi becomes the talking point, these issues will also crop up.
But we can also learn many things from him. On several occasions, he suffered massive political reverses and was at the receiving end of accusations, thrown behind bars and harassed by the government of the day. But he never gave up, he never lost his cool. He rose from his ashes and achieved successes. We, Hindi speakers, have our own view on his stiff opposition to the foisting of Hindi on Tamils, but we should also try to understand his affection for and attachment to his language and culture. Later, in keeping with the changing circumstances, he changed his politics and himself, too. He toned down the separatist character of the Dravidian movement and merged it with the idea of Indian-ness. He took serious interest in national politics from time to time.
Now, he is no more. I hope the nation will remember him. My humble tribute to the late leader.
Translated by Amrish Herdenia
---
Forward Press also publishes books on Bahujan issues. Forward Press Books sheds light on the widespread problems as well as the finer aspects of Bahujan (Dalit, OBC, Adivasi, Nomadic, Pasmanda) society, culture, literature and politics. Contact us for a list of FP Books' titles and to order. Mobile: +917827427311, Email: info@forwardmagazine.in)

The titles from Forward Press Books are also available on Kindle and these e-books cost less than their print versions. Browse and buy:

The Case for Bahujan Literature

Dalit Panthers: An Authoritative History

Mahishasur: Mithak wa Paramparayen