For Prime Minister Narendra Modi and his ruling Bharatiya Janata Party (BJP), appearing on the cover of Time magazine midway through the General Elections 2019 as he seeks a second term in office should have been a matter of pride and a cause for celebration, as it has been the case in the past. Instead the party and Modi himself has had to put up a defence against the editorial label of being "India's Divider in Chief".
Aateesh Taseer, a novelist and journalist, who recently wrote about the idiosyncrasies of the Brahmin community in and around Varanasi in his book titled The Twice Born: Life and Death on the Ganges has authored the cover story in Time's 20 May 2019 issue. He is the son of veteran Indian journalist Tavleen Singh and late Pakistani politician Salman Taseer. But those who lashed out at Aateesh Taseer, calling him a 'Pakistani', have not bothered to go beyond the headline on the cover. While he has pointed out Modi's economic failures and how his "vikas" slogan has turned out to be hollow, he has also written about the perception that Nehru's secular India has given rise to an elite that has pitted itself against the "Hindu majority".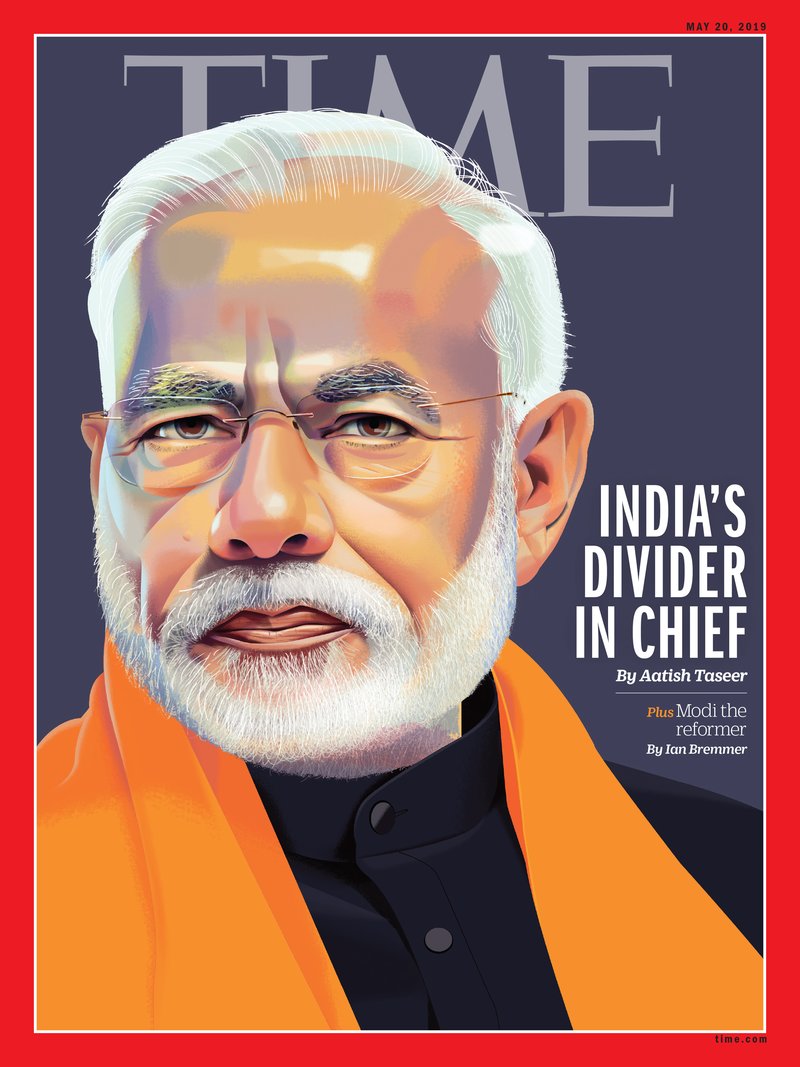 He writes: "The cherished achievements of independent India –secularism, liberalism, a free press– came to be seen in the eyes of many as part of a grand conspiracy in which a deracinated Hindu elite, in cahoots with minorities from the monotheistic faiths, such as Christianity and Islam, maintained its dominion over India's Hindu majority. Modi's victory [in 2014] was an expression of that distrust."
He does not spare Modi's glorification of a mythical ancient India or his presiding over a continuous assault on India's "dogmatically left-wing Indian academia".
The cover story also provides some global perspective:
"Populists come in two stripes: those who are of the people they represent (Erdogan in Turkey, Bolsonaro in Brazil), and those who are merely exploiting the passions of those they are not actually part of (the champagne neo-fascists: the Brexiteers, Donald Trump, Imran Khan in Pakistan). Narendra Modi belongs very firmly to the first camp."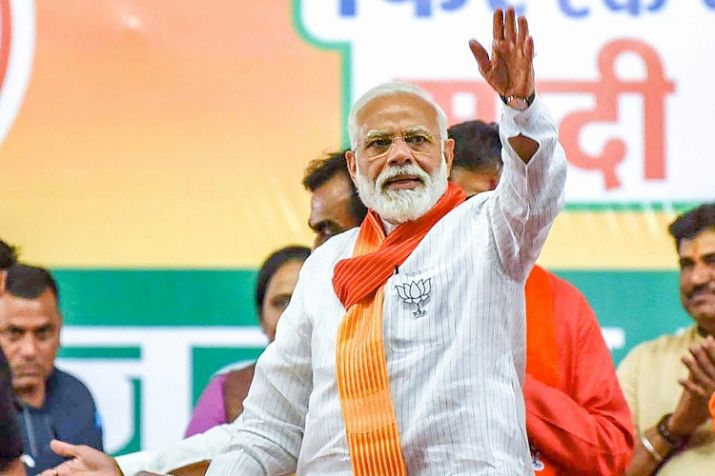 Taseer concludes with a scathing criticism of the Congress Party and paints an ominous picture of what is to come:
"Modi has won – and may yet win again – but to what end? His brand of populism has certainly served as a convincing critique of Indian society, of which there could be no better symbol than the Congress Party. They have little to offer other than the dynastic principle, yet another member of the Nehru-Gandhi family. India's oldest party has no more political imagination than to send Priyanka Gandhi – Rahul's sister – to join her brother's side. It would be the equivalent of the Democrat's fielding Hillary Clinton again in 2020, with the added enticement of Chelsea as VP."
"Modi is lucky to be blessed with so weak an opposition – a ragtag coalition of parties, led by the Congress, with no agenda other than to defeat him. Even so, doubts assail him, for he must know he has not delivered on the promise of 2014. It is why he has resorted to looking for enemies within. Like other populists, he sits in his white house tweeting out his resentment against the sultanate of "them." And, as India gets ready to give this willful provincial, so emblematic of her own limitations, a second term, one cannot help but tremble at what he might yet do to punish the world for his own failures."
Aateesh Taseer, who attended the elite Kodaikanal International School, in Tamil Nadu, India, and then pursued further studies in the United States, must be well aware that he is a member of the liberal Indian elite in question. To sum up, his Time cover story on Modi is more a critique of independent India's society and politics rather than a critique of Modi himself, whom Taseer considers symptomatic of all that has gone wrong here. Those who have attacked Taseer and the Time have also paid no heed to 'Modi the Reformer' subtitle on the cover that refers to another article in the issue highlighting his "economic reform" measures (GST being one of them).
---
Forward Press also publishes books on Bahujan issues. Forward Press Books sheds light on the widespread problems as well as the finer aspects of Bahujan (Dalit, OBC, Adivasi, Nomadic, Pasmanda) society, culture, literature and politics. Contact us for a list of FP Books' titles and to order. Mobile: +917827427311, Email: info@forwardmagazine.in)

The titles from Forward Press Books are also available on Kindle and these e-books cost less than their print versions. Browse and buy:

The Case for Bahujan Literature

Dalit Panthers: An Authoritative History

Mahishasur: Mithak wa Paramparayen

The Case for Bahujan Literature

Dalit Panthers: An Authoritative History

Mahishasur: Mithak wa Paramparayen