Annabhau Sathe (1 August 1920 – 18 July 1969)
"Forge ahead! Change this world with a big blow. This was what Bhimrao said. You are as strong as an elephant. Why are you then trapped in the morass of slavery? Shun lethargy, shake up your body, come out and pounce (on your enemy)."[1]
– Annabhau Sathe
Who was Annabhau Sathe? What did he do? Where did he live? Few know the answers to these questions, especially in the Hindi belt. The word "Anna" conjures up the image of Anna Hazare in our minds – because the capitalist media, which manipulates news to serve its vested interests, keeps on parroting his name. Even Nehru was taken aback when asked about Annabhau. At the time, India and the Soviet Union were great friends. Nehru was on a visit to the Soviet Union. A Russian asked him, "How is Annabhau Sathe, the artiste and social worker of your country who speaks up for the poor and the deprived?"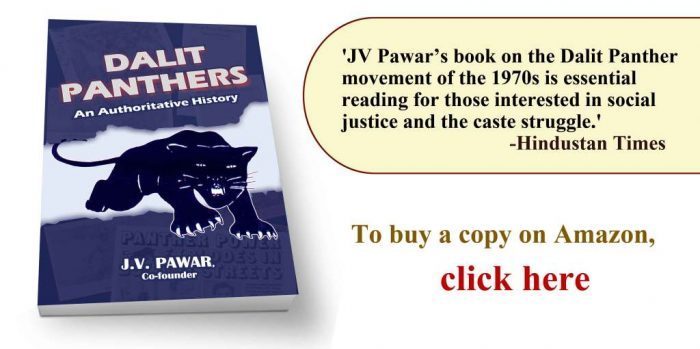 Nehru was caught off guard. He has never heard of Annabhau Sathe. After his return, he made inquiries. Intense efforts yielded the information that Annabhau lives in a chawl in Mumbai – a five-foot, wheatish-complexioned man with a slim body, shining eyes and a sharp voice that pierces one's heart. He sings and plays musical instruments, takes part in labour agitations and speaks up for the toilers. When he stands up to speak, pindrop silence reigns. He is so popular that huge crowds turn up to hear him speak. He sees the huge gulf between the rich and the poor through the Marxist lens. But when he talks about untouchability and casteism, he remembers Ambedkar. He feels that social justice cannot come about without a working-class revolution.
Annabhau Sathe, a leading light of Marathi literature and art, was born Tukaram on 1 August 1920 at Maangwada (Wategaon village, Valva tehsil) in Sangli, Maharashtra. His father was Bhaurao and his mother, Baluvai. He belonged to the Maang (Matang) caste – one of the most impoverished communities of the country. They were Untouchables without a stable means of livelihood. The members of the caste used to beat drums and play the trumpet on festive occasions and in wedding ceremonies. They danced and sang to entertain people. They also wove ropes. They managed their households with whatever meagre amount they could earn. But you couldn't bank on these jobs for a regular income. So, they did manual labour, too. Being Untouchables, their settlements were outside the village limits. But even that did not mean a peaceful life. Whenever any crime was committed in the village, the "Maangwada" was the first stop of the policemen. The colonial government had branded the Maang tribe as "criminal" under the Criminal Tribes Act 1871. Some cunning villagers appointed Maangs as village watchmen. It was said that a Maang home might not have a pinch of flour but you would always find a gun hanging on the wall.
Anna's father worked as a gardener at the residence of a British man in Mumbai while his family lived in the village. As Bhaurao was employed, the family was slightly better off than others of their caste. But life was a struggle. Bhaurao wanted to educate his son. On one of his visits to the village, his wife suggested that Bhaurao admit Anna in a school. But the schoolmaster, a Kulkarni, was unwilling to admit the boy from a "criminal" community. He relented after multiple requests but the casteist bias stayed. Anna endured the hostility and humiliation in the school for some days. But he was too self-respecting to continue. He left even before completing his primary education and took admission in the school of life. He travelled aimlessly. Experiences of life were his teacher. Whatever he learnt, he gave back to society.
At the time, song and dance performances were the chief means of entertainment. Anna had a sharp mind and a prodigious memory. Even as a child, he could sing many folksongs from memory. Occasionally, he also came up with something new. He was also adept in wielding the sword, spear, dagger and other weapons that were used to showcase martial arts. The feudal lords, who had lost their valour and prosperity, took great pleasure in witnessing the display of the art of using the weapons. The Pandits, who swore by justice, morality, religion and culture, would be silent when asked about discrimination in the name of caste.

It was the time of the Freedom Struggle. Anti-British activities were on the rise. The British had grown suspicious of the Indians. The Great Depression of the 1930s turned the situation graver still. Bhaurao lost his job. Crestfallen, he returned to his village, hoping to earn a living like the other residents. But there was still more bad news awaiting him. Maharashtra was in the grip of a severe drought and a famine-like situation had arisen. People were migrating to Mumbai, which was fast emerging as an industrial city, in search of jobs. Bhaurao, too, decided to move back to Mumbai, as that was his only hope for survival. But he did not have the money for conveyance. A desperate Bhaurao decided to walk to Mumbai, along with his family. They walked from village to village, doing odd jobs on the way to fill their stomachs. They reached Pune and began working as stonecutters for a contractor. Anna, too, toiled but the arduous labour soon began taking a toll on his health. A Pathan helped them escape the clutches of the contractor, who treated them as bonded labourers. They continued walking, enduring humiliation and hardships on the way. Mumbai was about 255 km from Wategaon. It took them two months to reach the city.[2]
They had many bitter experiences on the way. Once, while they were trudging on, Anna was very hungry. He saw a mango tree laden with the ripe fruit. Unable to resist, he plucked some mangoes. The orchard's owner appeared from nowhere and caught hold of him. Anna offered to return the fruits but the owner refused to let go of him. He insisted that Anna should put the mangoes back on the tree.[3] The anger born of such humiliation informs his writings. A character of his famous story Khulanwadi says, "They are not corpses. They are living men of flesh and blood. They can ride a wild horse. It is impossible to defeat them in swordsmanship."
Tukaram, alias Annabhau, was just 11 when he arrived in Mumbai. In the village, no one gave them work as they were Untouchables. But there was no dearth of work in Mumbai. Anna worked as a porter and did the dishes in hotels. He became a waiter and a domestic help and the keeper of the dogs of a rich man. He also went from door to door selling goods. He shined shoes. He also suddenly developed a great liking for films. It was the era of silent films. He used to spend a substantial part of his limited income on show tickets. While trying to read the writings on hoardings of shops and film posters, he learnt to read and write. He lived in Chembur, Kurla, Matunga, Dadar, Ghatkopar and wherever his work took him.
Bapu Sathe, a close relative of Annabhau, used to run a "tamasha" [folk entertainment] troupe. Anna, who had an interest in singing, joined the troupe. It was an incident during his association with the troupe that gave him a new perspective. The troupe was about to perform in a village. Before the show, Nana Patil, famous as "Krantiveer" in Maharashtra, delivered a fiery speech, berating the exploitative policies of the British government. He also talked about how the capitalists were sucking the blood of the mill workers. After hearing the speech, Annabhau felt that singing and playing musical instruments was futile. When he was a child, he used to sing "abhangs" hailing Vithal, the deity. The "abhangs" assailed caste inequality. They talked of equality. Annabhau soon realized that poverty had nothing to do with destiny and was the biggest impediment to achieving social equality; that economic inequality was the result of a few people having a stranglehold over national wealth and resources. Singing thus could not only entertain but also arouse society from its deep slumber. That was the day when Anna set off on the path to becoming "Lok Shahir" (people's poet) Annabhau. He began seeing the deep chasm between the rich and the poor through the lens of communism. That would ultimately take him to the Communist Party.
Working with the tamasha troupe gave him an opportunity to display his talent. He could play virtually any instrument and essay any role. He kept on learning and experimenting. He soon became the star of the troupe. In 1944, Anna, along with two of his associates, formed a new tamasha troupe called Lal Bavta Kalapathak (Red revolution art group). With the help of the troupe, he staged many shows centred on revolution. That was the time when people were becoming conscious of the importance of freedom. Tamasha was a means of communicating directly with the people. Annabhau used Lal Bavta to bring the struggles of the labourers to the audience and to make them aware of the importance of freedom. His popularity grew by leaps and bounds. He reached out to the remotest of the villages of Maharashtra with the troupe. He urged the people to be ready for freedom and to fight for their rights. People started addressing him as "Shahir Annabhau Sathe" and "Lok Shahir".
Sometime later, the government banned tamasha. Lal Bavta had to be disbanded. But the artiste in Annabhau was not ready to give up. He started using folk songs as a vehicle for his thoughts. He began working in a mill, where he became acquainted first-hand with the problems of workers. Krantiveer Nana Patil's speech had already drawn him towards Communism. While working at the mill, he came in contact with the Communist Party and became its active member. He used folk songs to spread the Communist ideology. He did everything – from delivering speeches to spreading mats on the floor – at public events of the party. He got married, too, but the union did not last. He
re-married, this time a deserted woman. The couple had a child. But the second marriage also failed.
Mumbai, which was emerging as an industrial city, was the beacon of hope for thousands of labourers and farmers. Villages were synonymous with poverty, unemployment and feudal oppression. Mumbai gave them sanctuary. But haphazard industrialization and mechanization had created a new set of problems. Sprawling slum clusters and magnificent buildings stood side by side. When Annabhau saw the huge gap that separated the rich and the poor in Mumbai, he realized that his dream was unlikely to be realized. Equality was as elusive in the industrial Mumbai as in the agricultural rural hinterland. It had been 25 years since the Bolshevik Revolution in Russia. Annabhau heard about the rapid progress the Soviet Union had made since the revolution and was very impressed. Stories of the Soviet Revolution overwhelmed him with joy. Around 1943, he wrote a "powada" (story of valour) on the Battle of Stalingrad, which was translated into Russian. Annabhau's fame soon reached overseas.
He wrote many novels and short stories and read Communist literature. He realized that economic development and social development were interdependent. One could not be achieved without the other, especially in a country like India where the institution of caste was deep-rooted and enjoyed religious sanction; where people believed that their condition was their destiny; where the so-called heavenly justice was considered supreme; where a majority of people saw the hand of God behind everything. Indian society was riddled with social and economic inequalities. Some people were considered "high", others "low". Some wallowed in luxury, others suffered in misery. Yet, it was the most unsuitable land for class struggle. The status quoist mentality of the people smothered any attempt at change. Whenever there was a clamour against status quo, religious institutions scrambled to teach fatalism to the masses. Gautam Buddha challenged caste. His aura and his stature sent the reactionary forces into hibernation during his lifetime and even for some years that followed. But as his influence began to wane, brahmanical literature flooded the country. Puranas and Smritis were written to give divine sanction to fatalism. Centuries later, when saint-poets challenged the caste system, Tulsidas wrote Ramcharitmanas, pushing social equality out of the picture. That religion is the shield of caste was a secret until it was uncovered in the 19th century. Modern education and thinking made the people realize that freedom from caste was not possible without challenging religion; that socio-economic equality could not come about without dismantling the edifice of cultural hegemony. Jotiba Phule was the first to come up with this formulation. It was the mantra for freedom. Dr Ambedkar converted this mantra into an action plan. Ambedkar had faced the sting of caste, so had Annabhau. Both Marx and Ambedkar inspired Annabhau. Marx added vigour to his folk songs while Ambedkar egged him on to struggle.
Annabhau took part in the Freedom Struggle, the Samyukta Maharashtra Movement and Goa Freedom movement as a revolutionary artiste. He took the lead in all these movements. His powadas and lavnis (folk songs) energized them. In 1945, Annabhau began working for the weekly Lokyuddha. The newspaper was committed to the communist ideology. As a journalist, Annabhau consistently brought to the fore the struggle, the pain and the deprivations of the common man. That made him a hero of the masses. While working for the newspaper, he wrote plays like Aklechi Gosht, Khhapya Chor and Mazhi Mumbai. After the ban on tamasha, Annabhau turned the plays he had written for Lal Bavta into lavnis and powadas. While staging tamashas, he used to sing alone. But now his folk songs were on the lips of the common man. Twelve films based on his writings had a successful run at the box office.
His life was a constant struggle. Yet, he managed to write 14 plays, 35 novels, more than 300 stories and around 250 lavnis. He wrote the screenplay for six films and also a travelogue. Fourteen of his short stories and novels were adapted into movies. He was the first Dalit to write a travelogue – My Journey to Russia. His novels and plays won appreciation in India and abroad. His novel Fakira was especially well received. Dedicated to Dr Ambedkar, the novel related the story of valour of a Matang revolutionary of the same name, interspersed with a depiction of his social life. This novel was translated into 27 Indian and foreign languages. In 1961, he was awarded the highest literary award of the Maharashtra government for the novel. His other works were translated into Russian, French, German and Czech. Apart from Fakira, he wrote Varan Ka Sher, Alguz, Kewde Ka Bhutta, Kuroop, Chandan, Ahankar, Vaarna Nadi Ke Kinare and Ranganga (novels); Chirag Nagar Ke Bhoot, Krishna Kinare Ki Katha, Jail Mein, Pagal Manushya Ki Farari, Nikhara, Bhanamati and Aabi (collections of stories); and Inamdar, Pengya Ki Shadi and Sultan (plays). The folk plays written by him include Tamasha (Nautanki), Dimagh Ki Kahani, Khhapya Chor, Deshbhakt Ke Ghotale, Neta Mil Gaya, Bilandar Paise Khane Waale, Meri Mumbai and Maun Morcha, among others. He also wrote screenplays for many films, including Fakira, Satra Ki Karamaat, Tilak Lagati Hoon Rakt Se, Pahadon Ki Maina, Murli Malhari Rayani, Vaarne Ka Bagh and Vara Gaon.
While living in Mumbai, Annabhau did all sorts of jobs to make ends meet. But poverty never left him. For 22 years, he lived in tenements of Ghatkopar. Annabhau was in contact with many leading actors and film producers. Despite his shorts stories and novels being adapted into movies and Fakira being translated into many languages, he could not buy a decent house for himself. A friend of his once asked him, "Why don't you build a bungalow for yourself?" Annabhau laughed and said, "I can. But when I write while sitting on an easy chair, I would only be able to imagine poverty. The pain and the misery of the poor can only be gauged while on an empty stomach."
Annabhau lived among the poor and the labourers just to see things as they really were. He lived among them without any sense of superiority or condescension. In 1968, the state government allotted a small house to him. But this lively man – who loved living among the workers like they did – could not enjoy this government patronage for long. Within a year, on 18 July 1969, he bid farewell to Mumbai and this world.
On 1 August 2002, the Government of India issued a postal stamp on Annabhau's 82nd birth anniversary. But this was like limiting the legacy of this born rebel, endowed with a blazing intellect, in his portrait. None of the dozens of government literary academies and other bodies ever thought of getting the works of Annabhau translated into Hindi. The result is that the Hindi literary world is unaware of the monumental literary and artistic contribution of this great genius of Marathi literature, art and culture.
Annabhau's visit to Russia: A dream come true
Annabhau was born three years after the Bolshevik Revolution. Three years is not a long time in the journey of a nation. So, Annabhau's life and Soviet Union's development almost ran parallel. Russia lived in Annabhau's dreams. He was very keen to see from close quarters the changes brought about by the revolution in Russian society. Whenever he read any account of the trailblazing development of the Society Union, his desire grew even more intense. In his travelogue, he has described how keen he was to visit the Soviet Union:
"An inner voice told me that one day I would definitely visit the Soviet Union. My desire to travel to Russia kept on growing. Every time I imagined the post-revolution Soviet Union, my excitement knew no bounds. How Lenin must have turned Marx's dream into reality? How the new world, the new culture and the new society must be. I had read many banned books in 1935. Among them, History of Soviet Revolution and Lenin's Biography impressed me very much. I was dying to see the Soviet Union."[4]
Annabhau applied for the passport twice. The first time, his application was rejected and no reason was given. The government did not want a brilliant artist like Annabhau, who could sway public opinion and who had the talent of communicating with the people in their own language, to travel to Russia. When he contacted the state's chief minister about the rejection, he got a curt reply. "You are hostile to us. It is due to our magnanimity that you are free; otherwise, you would have been behind bars."[5] Hostile? Was it because Annabhau was popular among the masses? Through his folksongs, Annabhau painted a vivid picture of the tragedies that visited the lives of the labourers settled in Mumbai. He showed how their dreams lay shattered. Such writings could not have been to the liking of any government.
Here, it would be pertinent to refer to two of his lavnis – Mumbaiyachi Lavni (The lavni of Mumbai) and Majhi Maina Gawaveer Rahili (My sweetheart lives in the village). The industrialization of Mumbai had begun towards the end of the 19th century. That triggered migration of labourers and artisans from the villages to Mumbai in search of work. Most of them had faced grinding poverty and merciless exploitation in their villages. They hadn't been earning enough to put food on the table for their families. They moved base to Mumbai, hoping for freedom from exploitation and a steady job. But once there, they realized that the situation was the same and only their exploiters had changed. They had been victims of feudal oppression and casteism in the village. Mumbai did not free them from casteism and the police and the institutions supposed to enforce laws replaced the feudal lords. Mumbaiyachi Lavni takes a jibe at this state of affairs:
"At the summit of Mumbai are the Malabar Hills … it is Indrapuri – the abode of the Indras … it is inhabited by the phenomenally rich … the affluent, who wallow in luxuries day and night live there … then, there is Parel, where the poor, the labourers, the rag-and-bone men and the beggars put up. They toil day and night. They survive on whatever they get from their sweat of their brow. In Teen Batti, Golpeeth and Foras Road, innumerable bodies are sold everyday – just to remain alive."
The other lavni Majhi Maina Gawaveer Rahili relates the pain of separation and the misery of the labourers who came to Mumbai, leaving their families and their homes, with dreams in their eyes and hopes in their hearts. However their dreams lay in tatters. The inequality born of unplanned mechanization in England perturbed Karl Marx so deeply that he embarked upon a rigorous study of capitalism. That gave the world the great treatise, Das Capital. Likewise, Annabhau was deeply hurt by the pain and the wretchedness of the poor and the labourers. It found expression in his novels, short stories and folk songs. His writings exposed the reality of life in Mumbai. Such a person may rule the hearts of the people but the governments, which are dominated by the rich, can never develop a liking for him. Because of his concerns, Annabhau had become a nuisance for the government.
Annabhau got the second opportunity to travel to the Soviet Union in 1948. He was invited to attend the World Peace Conference. His friend Balraj Sahni arranged the tickets. But due to other preoccupations, he could not undertake the visit. In 1961, when his novel Fakira (1959) won the highest literary award of the Maharashtra government, the atmosphere had somewhat changed. The government was less hostile towards the communists. The Indo-Russian Cultural Committee invited him to Soviet Union. Neither the Indian government nor the Soviet government had any objection and getting passport and visa was not a problem at all. But as always, money again came in the way. However, the moment the news of Annabhau getting an invitation to visit the Soviet Union was published, in his own words, "it began raining money. Within no time, half of the money that was needed was collected." The response of the people only served to buttress the belief of Annabhau that people stand like a rock by an artiste who lives for them.
When Annabhau boarded the flight from Mumbai that was to take him to Russia via Delhi, his simple attire set him apart from the other passengers. But an incident on the flight proved that he had no reason to regret. He writes:
"The Sri Lankan delegation to the conference was also on the same flight. One member of the delegation, who was an MP and the editor of the organ of the Communist Party of Sri Lanka, recognized me. That month, Manohar, a literary magazine had published a story on me, along with my photo and an image of my tamasha Khhapya Chor. Soon after the aircraft took off, a passenger recognized me. Waving the issue of the magazine in the air, he challenged other passengers to recognize the 'Khappya Chor' on the flight. A murmur rose among the passengers. Ultimately, they recognized me and my Sri Lankan friend."[6]
By that time Chitra, another novel by Annabhau, had also been rendered into Russian. Many of his short stories had also been translated into Russian. They included Sultan, based on the story of a prisoner whom the writer met at Amravati Central Jail. Sultan had reached Russia before Annabhau. No wonder, Moscow newspapers carried stories announcing that the author of Sultan was in the country. Annabhau's play Stalingrad was also much talked about in Russia.
In Moscow, he befriended waiters, gardeners, photographers, drivers and lift operators to know about the life there. He saw coins dating back to the rule of Chandragupta Maurya at a museum in Leningrad. In his travelogue, he mentions an incident that shows how popular Nehru was in Russia and how Annabhau was a secret admirer of Nehru.
"An unlit cigarette dangling from my lips, I was walking from Red Square towards Kremlin. I was looking for a matchbox to light up. Suddenly, a person stopped and lit my cigarette with a lighter. It was an unexpected courtesy.
"'Are you an Indian?', the man asked.
"'Yes …', I said. I was about to thank him when he warmly embraced me and asked, 'How is Nehru?'
"'He is doing very well,' I said, 'and today is going to make a speech at the UN.' The man was visibly happy to learn this. He walked away, saying some good words about Nehru."
Annabhau was the most undistinguished-looking member of the delegation of Indo-Russian Cultural Committee. However, by the time the visit ended, other members of the delegation had developed a great respect for him. Jacob Jim, a guitar player from Madras, was also part of the delegation. When they were on a flight from Stalingrad to Baku, the capital of Azerbaijan, Jacob told Annabhau, "Sathe ji, when we met you at the Palam Airport [Delhi], we thought that you would know very little about Russia and would be a misfit in our team. However, we were wrong. You are well known here and you are undoubtedly a good writer. I have learnt many things from your powerful speeches."
Annabhau had many interesting experiences during his 40-day stay in Russia. It was like he was in a dream. Soviet Union exemplified the ideal he was nurturing for years – a free society with no discrimination. He realized that if you dream big and your intentions are noble, the gap between the ideal and the reality decreases. Dreams start turning into reality.
Advocating class struggle and social justice simultaneously
Annabhau was introduced to the leftist ideology in his teens. He had seen and experienced social inequality and untouchability from his childhood and so he held Ambedkar – who fought against both these evils – in great reverence. He dedicated his novel Fakira to Dr Ambedkar. His writings document his own experiences. In the preface to a collection of his stories, he is frank and forthright:
"The life I lived; the life I endured, that is what I have written … I am not a bird which can fly on the wings of imagination. I am like a frog, which remains close to the ground."
In one of his famous verses, which refers to the Hindu belief that the Earth stands on the hoods of Sheshanaga – a multi-headed mythical snake – he wrote, "The Earth does not rest on the forehead of Sheshanaga. It is safe in the hands of the Dalits, the farmers and the workers." He believed that art is like the third eye of Lord Shiva, which could penetrate this world and reduce the myths to ashes, and that this eye should always be alert and protect the interests of fellow humans.
Annabhau's concerns were humanistic. He used his imagination only to the extent creative writing demanded it. Annabhau was an ardent admirer of, among Russian writers, Gorky, who gave the marginalized a place in mainstream literature. In his lavnis, folk songs, short stories and novels, Annabhau gave ample space to the worries and the concerns of the common man, especially the Untouchables and the noble facets of their personality. That was why, he rarely ventured into the realm of fantasy while writing. "All my characters are a part of the living society," he wrote.
Annabhau's short stories and novels were about the people oppressed by poverty and casteism – people who were largely ignored in literary works. His stories abound with Mahars, Maangs, Ramoshis, Balutedars and leather workers. He portrays their pain and their struggles in a dignified manner. Teen Bhakri is one of the most touching short stories by Annabhau. A woman and her daughter-in-law live in a village. Both are manual labourers. If they miss work even for a day, their "chulha" (earthen stove) remains unlit. Reeling under grinding poverty, the two women persistently quarrel with one another. The residents of the village are unlettered obscurantists, who believe in spirits and ghosts. The women are Untouchables and the villagers neglect and spurn them. One day, Santaji, a character in the story, reveals that both are on the verge of starvation. They have corn enough for just three rotis. Neither of the two women knows how they would divide the three rotis among themselves. Both believe that one who prepares the rotis would have the right over two of them. So, none of them cooks, and both go to sleep. The next morning, both die of starvation.
Sultan, the protagonist of his most famous short story of the same name, believes that every man is entitled to his basic needs – food, clothes and a house. Sultan is very poor and one day, he deliberately gets himself arrested because he knows that his basic needs would be met in prison. Bhomakhya, a character of another story, does the same while his wife Gopikabai takes sanctuary in the home of a farmer. Neither Sultan nor Bhomakhya are criminals. They prefer to stay in jails because their basic necessities are met there. Annabhau does not consider the jail a solution to the problem of starvation. In fact, he believes that the jail is a place where the development of the citizen's life and humanity comes to a standstill.
Another of his stories Saanwala deserves a mention. The protagonist Saanwala raises his voice in favour of women in a patriarchal society. Along with his friends of Ramoshi and Maang castes, he takes on the British rulers. Then, they come to know of a woman named Kashi, who is being harassed by her in-laws for dowry. When Saanwala and his friends try to free Kashi from the clutches of her in-laws, they accuse him of raping Kashi. An incensed Saanwala asks the father-in-law, "Dada Patil, do you think only you have a flawless character? Do you think we are characterless? Who told you this?"
"People say that all Maangs are rapists," the father-in-law replies. This infuriates Saanwala. "Who are they? Let me know and I will burn down their world." The story makes a strong statement in favour of equality and freedom of women. Annabhau's stories are full of such rebel characters.
No discussion on Annabhau's writings can be complete without talking about his novel Fakira. Like his other characters, Fakira, too, is inspired by a real person. He is a Maang by caste and a perennial rebel. But he is benevolent. He doesn't kill his father's murderers – he lets them off with a punishment. The novel comes down heavily on social evils and also brings to the fore the pain of the untouchable castes. In some parts of Maharashtra, Maangs and Mahars are seen as rivals. In this novel, Annabhau emphasizes the unity of the two castes.
To sum up, Annabhau's writings are about the struggles and qualities of the marginalized sections of society. It is regrettable that Hindi translations of his works are not available even 50 years after his death. Annabhau had great regard for both Ambedkar and Marx. He wanted to fuse Ambedkarism and Marxism. Most of the Dalit writers have been ignoring Marxist literature. This is probably one reason why Annabhau's writings were never rendered into Hindi. But this is a grave injustice that has been done to Annabhau and can never be compensated.
 Translation: Amrish Herdenia; copy-editing: Anil
[1] Jag badal ghaluni ghav / Sanguni gele mala Bhimrao / Gulamgirichya ya chikhlat / Rutun basla ka Airawat / Ang jhaduni nigh baheri
[2] Sathe, Annabhau My Journey to Russia, translated by Dr Ashwin Ranjanikar, New Voices Publications (Juna Bazar, Aurangabad), 2014, pages 5 and 47.
[3] Sunil Bhise, Annabhau Sathe: A Socialist Thinker, as quoted from Kathale Nanasaheb, 2001, (2nd Edition), Annabhau Sathe: Jeevan Aani Sahitya, Samata Sainik Dal Prakashan, Parasaran Vyavastha, page 32.
[4] Sathe, Annabhau, My Journey to Russia, translated by Dr Ashwin Ranjanikar, New Voices Publications, Juna         Bazar, Aurangabad, 2014, pages 5 and 47.
[5] Ibid
[6] Ibid, p 12
---
Forward Press also publishes books on Bahujan issues. Forward Press Books sheds light on the widespread problems as well as the finer aspects of Bahujan (Dalit, OBC, Adivasi, Nomadic, Pasmanda) society, culture, literature and politics. Contact us for a list of FP Books' titles and to order. Mobile: +917827427311, Email: info@forwardmagazine.in)