Previously published in the print edition
Kanshi Ram, most lovingly referred and remembered as Saheb (in Maharashtra) or Sahab (in North India) or as Manyavar among his followers, remains an unsung hero of the Bahujan samaj. He remained an enigmatic personality throughout the 1980s and '90s when he played the most significant role in India's post-independence politics. It is believed by many that he proved that the politics of the socially marginalized and poor people can succeed without the help of the literate, intellectuals, urban gentry and the business houses. He single-handedly changed mainstream politics of the most populous state of Uttar Pradesh and, thereby, of Indian polity itself.
An Organic Leader Without Structural Support
A simple man away from show and pomp, Kanshi Ram was an organic leader who had struck a chord with the excluded and the oppressed. He was not a leader imposed on the masses from above just because he was born in a family of politicians or to parents of high caste or class. He was not from a twice-born caste like Gandhi, Nehru, Tagore, Sarvapalli Radhakrishnan to name just a few. Neither had he the support of the Brahmanical social structure. Rather, he arose from a humble background – a Ramdasia (Chamars converted to Sikhism) family of Ropar in Punjab who vehemently criticised and condemned the brahmanical social order. He categorically divided Indian society in two broader categories – Manuvadis (believers of Manu's Dharmashastra) constituting 15 per cent of the India's population and the Bahujans with a majority 85 per cent who were the victims of Manu Dharmashastra. That is why he gave a slogan 'Thakur Brahmin Baniya Chhod: Baki Sab hai DS-4' (Except for Kshatriyas, Brahmins and Vaishyas, all are members of the exploited Dalit social struggle committee).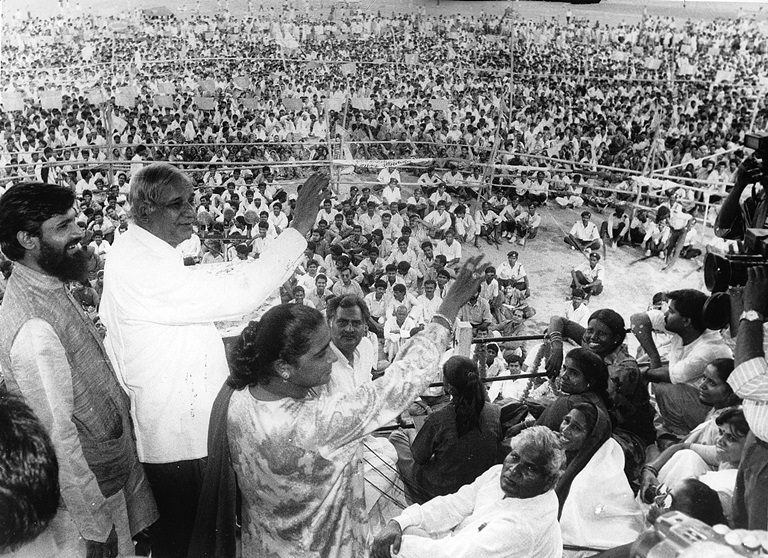 He was neither foreign educated, nor a great intellectual, nor a great orator but, of course, an organizer par excellence. He knew his audience and hence used very simple language and repeated sentences. His appeal to the masses can be judged by the huge crowds at his rallies. People who attended his rallies were not charmed by his money or gifts, but had faith in him and were convinced by the future he dreamt of. Hence it is more important to recognize his achievements as an individual, which are more genuine than that of so many of the so-called upper-caste leaders.
Carving Out History and Pantheon of Leaders
Manyavar Kanshi Ram used to say in his cadre camps, "The people whose non-political roots are not strong cannot succeed politically". It is in this context that Manyavar started constructing the history of Dalit society. The only available history he found was history of Dalit exploitation and their struggle against it. He had himself written that, "As victims of the brahminical culture, for centuries, the Shudras and Ati-Shudras, now known as Backward Classes (SC, ST, and OBC) were passing through the Dark Age. Around 1848 Jotirao Phule initiated a revolt against the Brahminical culture." He further wrote, "From the beginning of the 20th century the oppressed and exploited communities all over India started revolting against the system of which they were victims for centuries. A look at the map of India from the North-west to the North-east and then to the South will indicate a fair sprinkling of the revolt in every nook and corner of the country.
Along with the history of the struggle of Dalits and OBCs the Manyavar also traced a pantheon of Bahujan leaders who revolted against the brahmanical social order in different parts of the country. Five social reformers, who were born in the Bahujan society and revolted against the brahminical social order were Mahatma Jotiba Phule (Maharashtra), Narayna Guru (Kerala), Rajarishi Sahuji Maharaj (Maharashtra), Babasaheb Bhimrao Ambedkar (Maharashtra) and E.V. Ramasami Naicker "Periyar" (Tamil Nadu). To popularize these five great leaders, he used the local language by referring to them as Pagriwala Baba (Old man with a turban) for Phule, Phetewala or Achkanwala Baba (man with a fluffy turban and gown for Sahuji Maharaj, Tiewala Baba (man with a neck-tie) for Ambedkar and Dadiwala Baba (man with a beard) for Periyar. In this way Manyavar Kanshi Ram created an unbroken history of the Bahujan struggle. When his movement spread to the nooks and corners of India, he added Birsa Munda, the tribal leader from the Munda Tribe of Jharkhand. He also added Guru Ghasi Das in Madhya Pradesh.

Filling the Void of the Bahujan Media
Along with constructing a continuous history of 158 years of Bahujan struggle, which began in 1848 with Jotiba Phule, and constituting a pantheon of Bahujan leaders, Kanshi Ram tried to establish a parallel Bahujan media to mobilize the masses. He dubbed the mainstream media as Manuwadi. Therefore, he started publishing his own magazines and newspapers. The Untouchable India, a fortnightly, was the first magazine published on 1 June 1972. Since 1979, he along with BAMCEF published the monthly magazine The Oppressed Indian. Kanshi Ram himself wrote the editorials of this magazine. Bahujan Times was the Dalit daily newspaper started on 31 March 1984 in Marathi, 14 August 1984 in English and on 6 December 1984 in Hindi. These papers were simultaneously started from New Delhi and Maharashtra. In fact, the Manyavar had also started publishing monthlies with the titles Bahujan Sahitya, Shramik Sahitya, Economic Upsurge, Arthik Utthan, and B R C Bulletin to raise the different issues of the Bahujans. These magazines and newspapers died out because of failing finances and fading readership. Bahujan Sangathak and Bahujan Nayak were two weeklies published in Hindi and Marathi respectively from New Delhi and Maharashtra. Bahujan Sangathak continued for many years even after Kanshi Ram's demise. These Bahujan media did help in raising Bahujan consciousness.

A Democrat to the Core
A democrat to the core Kanshi Ram believed in democratic values and constitutional processes. He was convinced of the power of political elections and voting rights to Bahujans which have been enshrined in the constitution. He believed that the right to vote with 'one man-one vote and one vote-one value' is a valuable equalizer. However this can help only when 'you learn to use it meticulously'. So he taught his cadres the judicious use of their votes by even going on fast on the day of voting. It is toward the realization of political power for every last person of the caste ridden Indian society, Kanshi Ram argued, that political power is the master key with which solve all problems and therefore he formed democratic organizations to mobilize his people.
Recognizing the Dynamism of Kanshi Ram's movement
Kanshi Ram's movement was dynamic in nature. He perpetually experimented by mobilizing people and envisaging a larger goal for his movement by incorporating more and more people in it. He politically socialized them by forming different types of organizations, in his cadre camps which used to run for days and by organizing political programmes which used to run for months. Dynamics can be observed in the formation of organizations. He began by organizing the Scheduled Castes (SC) and Scheduled tribes (ST) employees in a small district of Maharashtra that is Poona (now Pune) in 1971. He then added Other Backward Classes (OBC) and 'Converted Religious Minorities' to these SCs and STs under the umbrella of Backward and Minorities Communities Employees' Federation (BAMCEF) in 1978 at the national level. In 1981, Kanshi Ram established a separate organization called Dalit Shoshit Samaj Sangharsh Samiti (DS-4) for mobilizing the Bahujan samaj through which he tested the political strength of the Bahujan samaj. Finally, he launched a political party called Bahujan Samaj Party (BSP) on 14 April 1984. In this manner he moved from a non-political, non-agitational and non-religious organization BAMCEF to a limited political and agitational agenda of DS-4 to BSP with an overt political agenda.

His politics ranged from independent mobilization to alliance to coalition politics. Through the BSP he weaned out Dalits from the fold of the Congress (I) by establishing an alliance with OBCs, religious minorities and some so-called upper castes independently on his own. Initially it came to power in alliance with the Samajwadi Party (1993), once with outside support of the Bharatiya Janata Party (BJP) in June 1995, once (1997) forming coalition government with the BJP, the chief minister's alternating every six-months between the two parties. Twice it has come to power on its own (2003) and 2007, the second time for a full five-year term.
However, it never looked that the BSP was not in control of the
political situation and that it had compromised its ideological position. Throughout its regimes, Uttar Pradesh remained free from communal frenzy. Not a mean achievement in an otherwise communally sensitive state, witnessed before and since Mayawati as CM. Nobody could have imagined this scenario 25 years ago, that by his organizational strength and political mobilization Kanshi Ram would relegate the two national political parties in Uttar Pradesh to the political periphery and establish the BSP as a national political party.
The Real Heir of Babasaheb Ambedkar
From his life and struggle one can definitely establish that Kanshi Ram was the true inheritor of Babasaheb's legacy; however, Manyavar himself always argued that he was only giving a "practical shape to Babasaheb's theoretical formulation and in turn trying to fulfil the unfinished movement of Babasaheb". The way he popularized his ideas, particularly the emphasis on the capture of political power by the Dalits and erstwhile servile classes, the way he took forward his anti-congressism and propagated independent movements both social and political, established parallel media, etc., establishes him as the real heir of Babasaheb. The following slogans framed by the cadres of BSP tell how people had pinned their hopes in him to fulfil Ambedkar's dream:
Baba Tera Mission Adhura
Kanshi Ram Karega Pura
(Babasaheb, Kanshi Ram will complete your
unfulfilled mission).
Kanshi Teri Nek Kamai
Tune Soti Qaum Jagai
(Kanshi Ram, you have done good job by waking
up the sleeping community.)
To conclude, Manyavar Kanshi Ram had set out with an agenda of social transformation and economic emancipation of Bahujan samaj through a democratic revolution. He succeeded to a large extent by organizing a good part of 85 per cent of the Indian population. The comprehensive nature of his accomplishment can be judged by the success of his endeavour in creating of a history of Bahujan struggle, successful Bahujan political organization and in the definition of the Manuwadis as the "Other" against whom Bahujans can battle. By doing all this he has successfully challenged the upper-caste political hegemony and has strengthened Indian democracy. Long live the legacy of Kanshi Ram!
Published in the March 2013 issue of the Forward Press magazine
---
Forward Press also publishes books on Bahujan issues. Forward Press Books sheds light on the widespread problems as well as the finer aspects of the Bahujan (Dalit, OBC, Adivasi, Nomadic, Pasmanda) community's literature, culture, society and culture. Contact us for a list of FP Books' titles and to order. Mobile: +919968527911, Email: info@forwardmagazine.in)