Dr Vijay Kumar Bharti is a well-known Dalit Hindi author and scholar from West Bengal. He is a member of the Bengal Hindi Sahitya Academy and Bengal Dalit Sahitya Academy. Jyoti Paswan talks to him about issues related to Hindi and Bangla Dalit Literature in Bengal. Edited excerpts: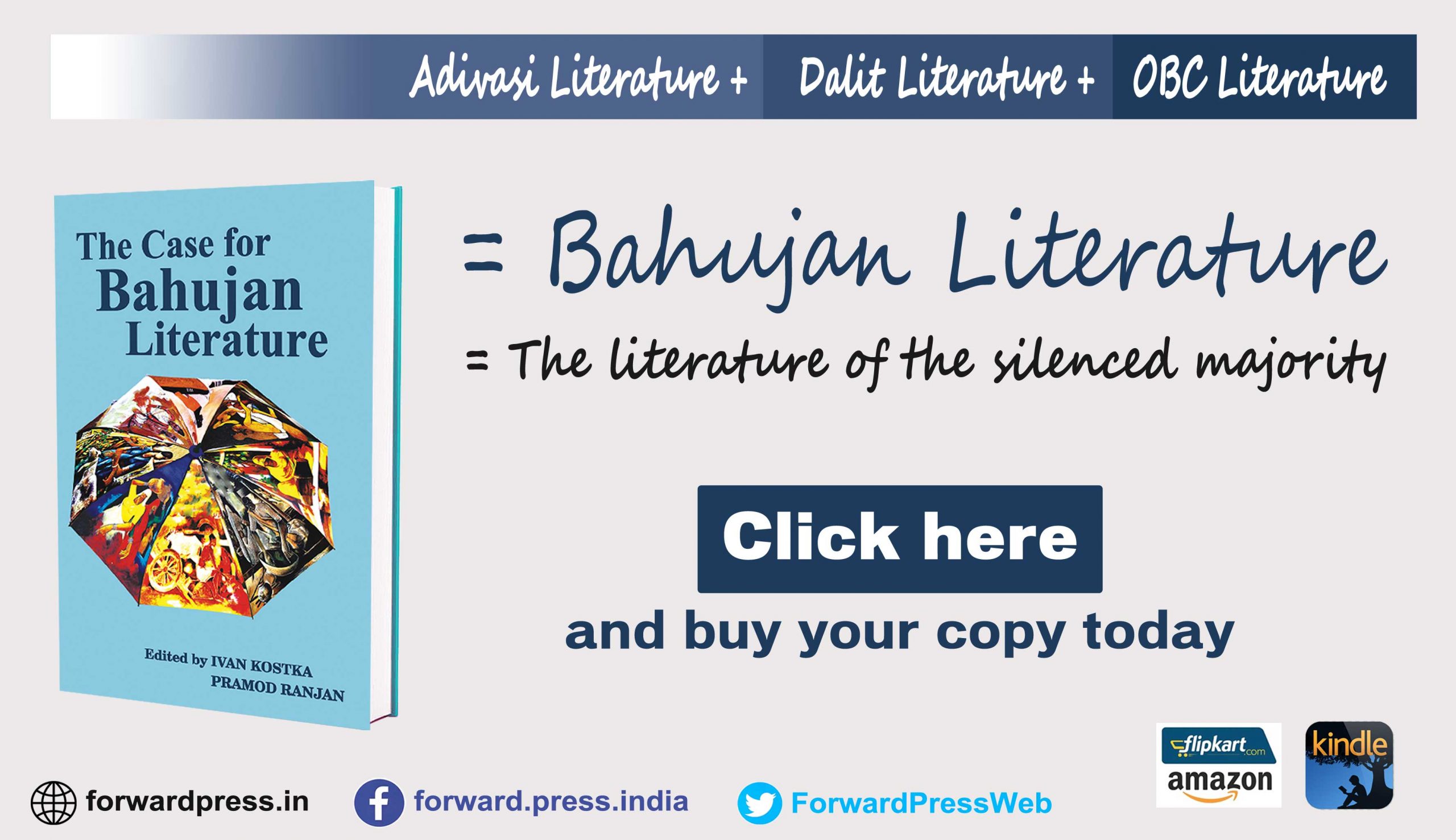 Tell us about your birth and family background. What kind of problems did you face in acquiring a higher education?
I was born on 1 June 1967 at Naihati, a small town near Gauripur in West Bengal. Naihati is also the birthplace of Bankim Chandra Chattopadhyay. Famous fiction writer Sandesh Basu was also born there. My grandfather, Devnath Das, originally belonged to Ghazipur in Uttar Pradesh. He was in the Indian National Army and fought in Burma under the leadership of Netaji Subhash Chandra Bose. In the battle, he lost sight in one eye due to a shrapnel injury and had to quit the army. He started living in West Bengal. After India became independent, he got a job in a railway workshop. He bought some land at Gauripur and our family settled in West Bengal. My father, Ramsakal Ram, was a brilliant man. He joined the Indian Railways as a khalasi and retired as an office superintendent. He formed an organization of Scheduled Caste-Scheduled Tribe railway workers and fought for their interests. He used to hold programmes on Ambedkar Jayanti and Ravidas Jayanti every year. Dalit workers of a jute mill would also participate in the programmes that he organized. My father had met Kanshi Ram and Babu Jagjivan Ram. My mother, Anuradha Bharti, came from a poor family. Her mother used to work in a jute mill. My mother studied only up to Standard 4. My family was financially weak. We were five brothers and a sister. I was the second among my brothers.
I remember that for years, there was no power at my home. We got electricity after I went through middle school. We were not poor but we had little money to spare. My father was in a junior post and his salary was low. Sometimes, I couldn't pay my school fees on time. When I was in Standard 10, I started working as a tutor to earn some extra money. Before that, I used to sell milk.
I completed my primary education from a Hindi medium school at Gauripur. The school was just beside our home. I graduated in Hindi with honours from Seth Anandram Jaipuria College (Kolkata). Then, I went on to complete my MA in Hindi from Kolkata University and PhD from Shanti Niketan. Though many problems came my way, I could somehow complete my higher education. In 1990, when I was in the middle of my MA my father's younger brother became involved in a land dispute. This dragged our entire family to court. I had to make rounds of courts and police stations. My sister had quit her studies.  
You were drawn to Ambedkarism due to your father? 
Yes. I have inherited a love for Ambedkarism from my father. For as long as I can remember, my father was a staunch Ambedkarite. I remember that when I was in Standard 4, my father took me to an Ambedkar Jayanti function. He took me to the dais and asked me to say something. I remember I could just say "Jai Bhim". 
Did you every face any discrimination because of being a Dalit?
Bengal has both a Hindi-speaking as well as a Bangla-speaking population. The place where we live has primarily Hindi speakers. Casteism has a very different form in the Bengali community. The Bengalis have changed themselves. I am not saying that casteism has disappeared from Bengal. But it is not as horrific as it is in some other parts of the country. The practice of Untouchability is not common. About 100 metres from where I live is a Bengali locality. People fill water from public taps. There are Dalits, too. But they don't face any discrimination. But the Hindi-speaking people are unable to break free from the mindset of Hindi states. Their behaviour with the Dalits, and especially with the Untouchables like us, is very different. They can't tolerate the progress of Dalits.
OBCs also live in our area. They also practice untouchability with us. I will give you an example. We didn't have running water at our home. We used to fetch water from a public tap. We had to wait for hours because the OBCs got preference. If, by chance, our bucket happened to touch theirs, they would throw away the water, wash the bucket and then refill it. This happens in the area even today. It raises the questions that 'Thakur Ka Kuan' (Munshi Premchand's short story) raises. How are they superior? We looked OK and had brass utensils. They were always clean and shining. Many of the OBCs wore a shabby look. But they would throw away the water if our bucket touched theirs. Sometimes we had to return home without water because there were fixed hours for the supply. Whenever that happened, my mother would just say, "It's OK, my son. You can fill water in the evening."  
I don't know how many times I have heard the word "Chamra" for myself. This word started chasing me around when I was a child and it continued to haunt me till I started teaching at a university. The people in my area tried to portray us as lowly and helpless. Ours was the only SC family in the locality. All others were OBCs. This is an example of how casteism has spread its tentacles in our society. We point fingers at the Savarnas. But are the OBCs free from this disease?  
The Hindi-speaking community in Bengal hasn't been able to shed its sick mentality and embrace the liberalism that marks the Bengali society. Bengal can't be blamed for this situation. People from Uttar Pradesh and Bihar living in Bengal are still stuck with their casteist mentality. This is really sad. 
You said that in 1990, your family became embroiled in a land dispute and had to suffer a lot. At the time, the CPM was ruling the state. Did the government not help you? 
Yes, it did. After we made some effort, the CPM did help us. Shanta Sen was around 70 at that time. She was a Brahmin but used to support the Dalits. She was also a feminist. She had a love marriage. One day, there was some violence. My mother phoned her. She came alone to our locality and challenged the people. My mother changed a lot after coming in contact with Shanta Sen. She joined the Mahila Sangathan. You know very well that in the Hindi belt, women do not venture out of their homes. But my mother was the first to mobilize Hindi-speaking Dalit women and persuade them to attend the meetings of the party. The party fielded my mother in the local elections. She was elected as a councillor thrice. Now, I will tell you what was wrong with the CPM. Around 2009, good leaders started being sidelined and corrupt elements came to the fore. Shanta Sen was a true Marxist. She was also sidelined. She became weak. There was opposition to my mother, too. 
You will be surprised to know that in the land dispute, our adversaries belonged to the Congress party and we were in the CPM. But when it came to grabbing the land of a Dalit, both Congress and CPM partymen were united. At the time, I had started teaching at a college in Burdwan. Just imagine – when a college teacher had to endure all this, what must be the situation of the common people? Having seen all this, I never joined any political party. I could see what Dalits faced in all parties. Casteism was one of the reasons behind the downfall of the CPM. It never allowed the Dalits to progress. Dalits were always suppressed.
You have been a teacher for 25-30 years and for the past 22 years, you have been associated with a university. Besides as a professor, you have also worked as a dean. Being a Dalit, what kind of problems did you face in academia?
I have already told you how I completed my MA amid adverse circumstances. Around 1999, the University Grants Commission (UGC) notified new rules, following which I took the National Eligibility Test (NET) and cleared it. After I completed my MA, I was appointed as a Hindi teacher under the Rajbhasha Department of the West Bengal government for five months. I had a very bitter experience. There was a clerk called Pande ji. He allotted one class each to all my colleagues. But no class was allotted to me. Whenever a teacher was absent, I was sent to teach his class. For four months, no class was allotted to me. I could not be appointed in a school because I did not pay a bribe. Another Dalit candidate grabbed the post by paying a bribe. 
In 1993, the CPM government took a tough stand on reservations. The government said that the excuse of "no candidate found suitable" could not be used for de-reserving posts. It was also decided that till all the reserved posts were filled, general posts would not be advertised. In 1994, I joined a school in Hooghly as a teacher. That school was run by Bhumihars. There was a peon called Rai ji – an OBC. Rai ji would serve water to all other teachers but whenever I asked for water, he would ask a student to take the glass to me. Then I was selected as a teacher in a school in Darjeeling. During that period, I also undertook military training and was appointed as a lieutenant in the army. 
You have been nominated as a member of the Bengal Hindi Academy and Bengal Dalit Sahitya Academy. What are your plans vis-à-vis the development of Hindi Dalit Literature in Bengal?
The Dalit Sahitya Academy's chairman Manoranjan Byapari, who has also been elected as an MLA, and his associate Dr Ashish Heera are doing great work. We have drawn up many plans. We are building a library which will be stocked with books by Bangla and Hindi Dalit litterateurs. I am the only Hindi-speaking member of the academy and so I have to be the link between the Bangla and the Hindi Dalit authors. We want to bring the Dalit authors of both the languages on one platform. The academy also plans to organize programmes in different regions of West Bengal with the objective of encouraging Dalit writers and editors. We are also bringing artisans and artistes on board. 
What is your take on the lack of Dalit Literature in Bengal, especially in the curricula of institutions of higher learning? 
It is not correct to say that the curricula lack Bangla Dalit Literature. The situation in research is a little different. As for Bangla Dalit Literature, a lot of work is being done. Research is being done on Hindi Dalit Literature, too. If you visit the Hindi department of any West Bengal University, you will find that research is being done on Dalit Literature at MPhil and PhD levels. The University of Calcutta has taken the initiative in this regard. Professor Jagdishwar Chaturvedi was the first to initiate research in Dalit Literature. If research was not undertaken the only reason was the casteist mindset. People were not ready to believe that there is something called Dalit Literature. I remember that when I proposed an MPhil dissertation on Omprakash Valmiki, someone in the department asked whether Dalit Literature could be a topic of research. They made fun of my proposal. I decided that I would get the dissertation on Valmiki written. And I did that. The title of the dissertation was "Om Prakash Valmiki Ki Kahaniyon Mein Dalit Chetna" [Dalit consciousness in Om Prakash Valmiki's short stories]. I was the first in Bengal to initiate research on Omprakash Valmiki's works. My first book was also on him. I asked one of my research scholars to undertake research on Valmiki's entire corpus of works. But it could not be completed. Soma Bandhopadhyay had also got research work done on autobiographies of Hindi Dalit writers. 
I think the first thing we should do that to promote Dalit Literature in Bengal is to introduce the people to Dr Ambedkar. In Bengal, people do take advantage of the reservation system but they are not aware of the history of reservations. They don't know about the people who contributed to the creation of the system. Now, if the people are not acquainted with Ambedkar's ideology, how will Ambedkarite consciousness grow? And even if it does, it would be hollow and incomplete. That is why you will find many pseudo-Ambedkarites around you. The second thing we should do is to include Ambedkar in the curricula. Students should be taught Ambedkar just as they are taught Rabindranath Tagore and others. 
(Translation: Amrish Herdenia; copy-editing: Anil)
---
Forward Press also publishes books on Bahujan issues. Forward Press Books sheds light on the widespread problems as well as the finer aspects of Bahujan (Dalit, OBC, Adivasi, Nomadic, Pasmanda) society, culture, literature and politics. Contact us for a list of FP Books' titles and to order. Mobile: +917827427311, Email: info@forwardmagazine.in)

The titles from Forward Press Books are also available on Kindle and these e-books cost less than their print versions. Browse and buy:

The Case for Bahujan Literature

Dalit Panthers: An Authoritative History

Mahishasur: Mithak wa Paramparayen