Dr Bhimrao Ambedkar dedicated his treatise, 'Who were the Shudras?' to Jotirao Phule, whom he described as "The greatest Shudra of Modern India who made the lower classes of Hindus conscious of their slavery to the higher classes and who preached the gospel that for India social democracy was more vital than independence from foreign rule." 
It was thus fitting that the first in-person launch of the recently published annotated edition of Phule's 'Gulamgiri' was held on 6 December 2021 as part of an event organized by Dr Bhimrao Ambedkar Vichar Manch Evam Janmotsav Samiti to mark Ambedkar's death anniversary. The book comprises the Hindi translation of the text from the original Marathi by Ujjwala Mhatre, an introductory essay by Ivan Kostka and annotations by Ram Surat and Ivan Kostka.The venue was Ambedkar Park, in Mata Colony, Vijay Nagar, Ghaziabad (Uttar Pradesh), which boasts a majestic statue of B.R. Ambedkar. 
Also released on the occasion were Dr Alakh Niranjan's book titled 'Dalit Andolan ka Saidhantik Paksha' and labour rights activist Shiv Kumar's 'Mazdoor: Third Degree'. A seminar followed the book launch, with various speakers speaking on the topic 'Matadhikar ka Prayog aur Bharatiya Loktantra ki Dasha aur Disha' (Putting to use the right to vote and the present and the future of Indian Democracy).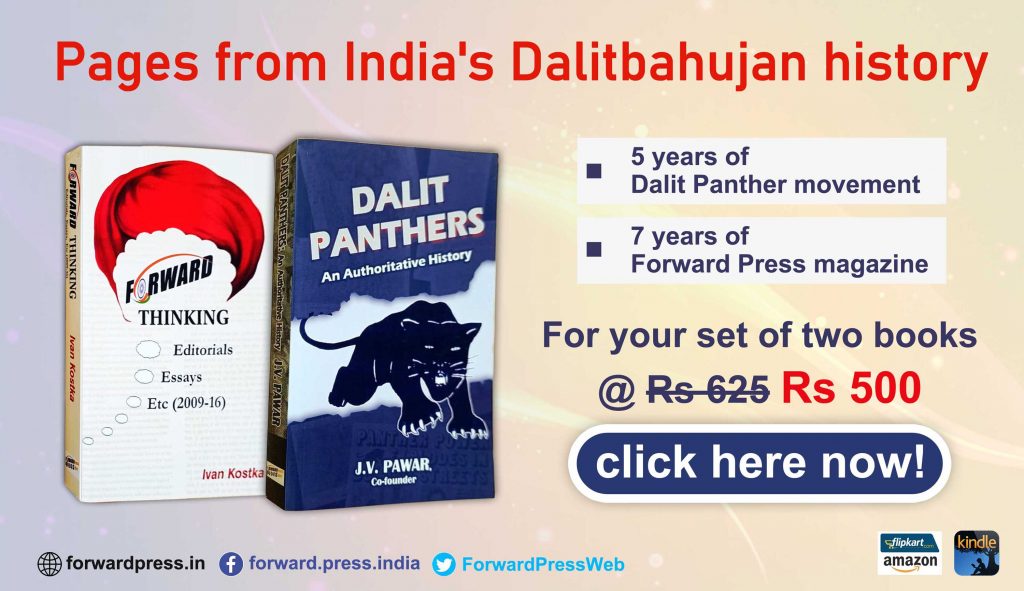 Among those who participated in the event were Shiv Kumar, Suresh Bansal (former MLA), R.P. Singh (social worker), Dr Chandrapal (former IAS officer), Dr Mehboob Lari (senior politician), Prof Satish Prakash (Department of Physics, Meerut College, Meerut), Dr Siddharth (consulting editor, Janchowk), Bharat Satyarthi (Director, Global Law College, Ghaziabad), Sandeep Rauzi (chief editor, Workers' Unity), Prof Dr Chandrasekhar Paswan (Department of Hindi, Gautam Buddha University), Prof Savitha Pathak (Maitreyi College, Delhi University), Sanjay Kabir (senior journalist and environmentalist), Akhlaq Ahmed (senior journalist), Kalyan Singh (former Deputy Superintendent of Police), K.L. Ashok (retired bank official), Rameshwar Dayal (thinker), Mamta Shiva (social activist, Saharanpur), Hariom (retired engineer, Ministry of Defence) and Anil Varghese (managing editor, Forward Press).
Most of the speakers emphasized the unparalleled contributions of Dr Ambedkar to the struggle for social equality in India. Diya Rajput, an 8th grade student, set the ball rolling by eloquently laying out the history of voting rights in India and highlighting Dr Ambedkar's role in securing adult franchise. Prof Satish Prakash said that if one wished to bring about real change, they had to take to the street, just as has been the case with the Dalit movement. Dr Chanderpal, a retired IAS officer and now the leader of the Adarsh Samaj Party, recalled how Dr Ambedkar inspired him to look out for the poor when he served as the collector of Ghaziabad. Hariom, who retired as engineer from the Ministry of Defence, said he took Ambedkar's exhortation "educate, organize and agitate" seriously and he volunteered as a tutor after office hours and on weekends to help children in his locality progress in their studies. He noted that several of them had been appointed to state administrative services. Mamta Shiva described her journey from being a nurse, attending to the sick, to an activist opening the eyes of those blinded by beliefs propagated to enslave them. Savita Pathak quipped that people needed to read Bhimayana (the life story of Ambedkar) instead of Ramayana. Anil Varghese said Phule and Ambedkar were the epitomes of the true representative and that we should be using our votes to elect such dedicated visionary leaders to our legislatures. Only then, he said, the State and its institutions will truly be representative and just. 
Rampal Singh conducted the proceedings and Raghubir Singh chaired the meeting. 
Earlier in the day, an exhibition of artwork (Savitribai Phule Chitrakala Pradarshani) by students who had entered an art competition added colour to the event. The exhibition was inaugurated by filmmaker Nira Jalchhatri, artist N.S. Gautam and Raghubir Singh, which also featured paintings by N.S. Gautam and other well-known artists Hihani Gautam and Pramod Maurya as well as Komal, a young upcoming artist.
Lakhmichand Priyadarshi, treasurer of the Dr Bhimrao Ambedkar Vichar Manch Evam Janmotsav Samiti, said that observances of Ambedkar birth and death anniversaries at this venue go back around 35 years. Vir Singh is the convenor of the organization. 
---
Forward Press also publishes books on Bahujan issues. Forward Press Books sheds light on the widespread problems as well as the finer aspects of Bahujan (Dalit, OBC, Adivasi, Nomadic, Pasmanda) society, culture, literature and politics. Contact us for a list of FP Books' titles and to order. Mobile: +917827427311, Email: info@forwardmagazine.in)

The titles from Forward Press Books are also available on Kindle and these e-books cost less than their print versions. Browse and buy:

The Case for Bahujan Literature

Dalit Panthers: An Authoritative History

Mahishasur: Mithak wa Paramparayen