NARNAUL, Haryana: Roshni Devi, the former Dalit sarpanch of village Kothal Khurd of Mahendragarh district of Haryana, can be a source of inspiration not only for the women of the Dalit community but for all women fighting for their empowerment. Roshni Devi, whose tenure as sarpanch lasted from 2005 to 2010, fought doggedly for introducing prohibition in the village with the help of an 18-member, all-women team constituted by her. She and her team were feted by the then president Pratibha Devi Singh Patil on 11 July 2009 for their exemplary work.
As sarpanch, Roshni imposed a fine of Rs 500 on villagers who consumed liquor. Every evening, her team made rounds of the village and caught hold of men found drinking. Roshni says that initially she faced stiff resistance but by and by the villagers came to support her campaign. She says that since her teens she was interested in social work and that was why her husband Ramanand persuaded her to contest elections for the post of sarpanch of the village.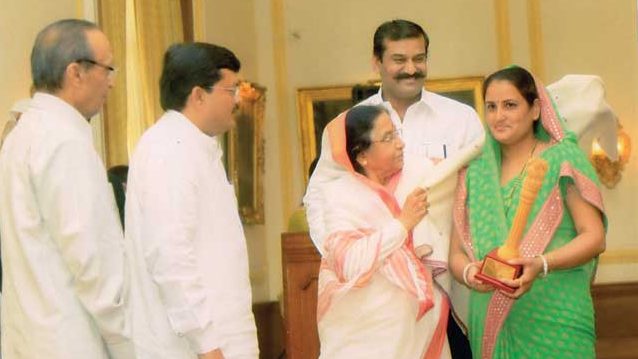 She says, "I was the first Dalit women sarpanch of the village and the first Dalit graduate too." In the elections, she was pitted against eight men. Even after she won the polls, she was ridiculed by her vanquished rivals but in the five years of her tenure, she proved herself. She says she believes in Allama Iqbal's famous lines: "Khudi Ko Kar Buland Itna Ke Har Taqdeer Se Pehle, Khuda Bande Se Khud Puche, Bata Teri Raza Kya Hai" (Elevate your self to such a height that at every turn of destiny, God himself asks you what your intent is).
Roshni has now settled at Narnaul (a major town in Haryana), where her husband – an officer with the LIC and also the working president of Haryana State SC, ST Employees' Union – has built a house for them. She says that she has shifted to the town because she wants to ensure that her children get good higher education. One of her sons is in Class XII while the other is studying for his BA degree. Even in the town, by associating herself with 'Sakhi Sewa Samiti", Roshni is working for raising awareness of evils like female foeticide, dowry and atrocities against women.
Published in the June 2013 issue of the Forward Press magazine