I am sick to death of TV panel discussions which ask whether human rights activists are soft on the Maoists, romanticise the Maoists and so on. Why doesn't someone ask if our honourable politicians and security experts are soft on police torture and extra judicial killings?
Television is not interested in a serious discussion – all they want are whipping boys. The sight of [Times NOW] Arnab Goswami mocking Prof. Haragopal [Centre for Human Rights, School of Social Sciences, University of Hyderabad] for giving an "academic analysis" was especially nauseating, compounded by his showing off about "Emily Durkheim" (sic!). Why bother to have a panel at all, if only hysterical calls for the army to be sent in to wipe out the Maoists count as 'analysis', and every other viewpoint is seen as biased?
The media's vocabulary is also very limited. I remember a particular excruciating interview with Binayak Sen where he said he "decried" violence and the anchor repeatedly asked him if he "condemned" it. As far as I know, the two words mean roughly the same thing. Nowadays, even before the media asks me, I start shouting "I condemn, I condemn." I wake up in my sleep shouting "I condemn." I am scared to use other words to describe complex emotions, because the media is unable to understand anything else.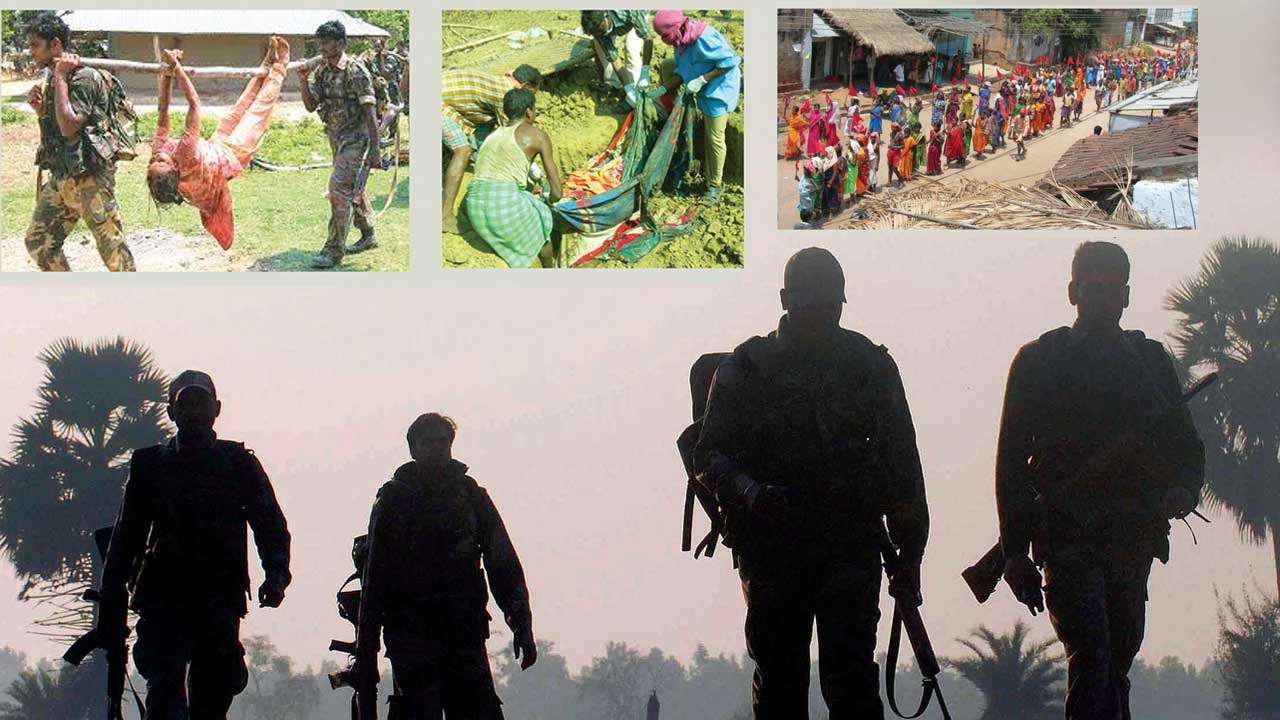 The only reason why I agree to participate in any television discussions at all or give interviews to the media, is because I have such limited space to express my views. Most of the time the media is completely unconcerned about what happens in places like Bastar, and when there are large scale deaths of civilians, no one runs non-stop news or panel discussions. Perforce "human rights activists" have to speak in unfavourable circumstances, because that's the only time when the media is interested in our views; and that too, not because they want to hear us, but because they need a "big fight" to raise their ratings. That's what is called "balance". One can almost see visible disappointment on the anchor's part when panellists who should disagree actually agree on many issues.
Since May 25th, I have been inundated with calls from journalists asking for my views. But when I want to write, there is little space. A leading national newspaper refused to publish me on the killing of Mahendra Karma, till they had enough pieces which promoted a paramilitary approach. Even when I do get published it is under strict word constraints. I wrote the first opinion piece ever written in the national media on the Salwa Judum in 2006, but was given 800 words, under the fold. In the first year of Salwa Judum, I can count on the fingers of one hand the number of articles on Salwa Judum. I personally met several editors and showed them photographic evidence and begged TV editors for panel discussions, but no one was interested. If they had been interested then, perhaps things would not have come to such a pass.
I am unable to write my own book on Salwa Judum because of the court case and all that it takes.  I have been wanting to write on it since 2005 because I am, above all, an anthropologist.  In any case, my mental space is so clogged by the media noise and the strain of being confined to "opinion pieces" that keep saying the same things because no one is listening, that I can't write. I am almost glad the IPL had taken over again, and we can all forget about Bastar and the Maoists till the next major attack.
I reproduce below an extract from my article, "Emotional Wars", on the public reactions to the death of the 76 CRPF men in April 2010.  This was published in Third World Quarterly, Vol. 33, No. 4, 2012, pp 1-17:
"Government anger was directed not just at the Maoists but at their alleged 'sympathizers in civil society', whose verbal and written criticism of government for violations of the Constitution and fundamental rights, was morally equated with the Maoist act of killing in retaliation for those policies. Within minutes then, given the government's role as the primary definer of news, whether the alleged sympathizers had adequately condemned and expiated for the attack, became as critical to the framing of the news as the attack itself.
The largely one-sided government and media outrage – the targeted killings or rapes of ordinary adivasis rarely, if ever, invite direct calls upon the Home Minister to condemn each such incident – easily summon to mind Herman and Chomsky's distinction between "worthy and unworthy victims" as part of what they call the media 'propaganda model'. While news coverage of the "worthy victim" is replete with detail, evokes indignation and shock, and invites a follow-up; "unworthy victims" get limited news space, are referred to in generic terms, and there is little attempt to fix responsibility or trace culpability to the top echelons of the establishment.
….In times of civil war, the emotions performed by the state range from the inculcation of fear to a calculated display of indifference to the exhibition of injured feelings, as if it was citizens and not the state who were violating the social contract, and that the social contract consisted of the state's right to impunity.

For example, after a Maoist attack in which 4 men of the Central Industrial Security Force were killed, the Home Ministry put out a statement asking "What is the message that the CPI (Maoist) intends to convey? These are questions that we would like to put not only to the CPI (Maoist) but also to those who speak on their behalf and chastise the government…We think that it is time for all right-thinking citizens who believe in democracy and development to condemn the acts of violence perpetrated by the CPI (Maoist)." Chidambaram slams Maoist sympathizers, Times Now, October 26, 2009.
An enquiry was immediately ordered into the Tadmetla attack headed by a former Director General of the Border Security Force, EN Rammohan.  He found several lapses in the leadership and functioning of the CRPF, including their failure to adhere to standard operating procedures. However, the commander responsible for this debacle, DIG Nalin Prabhat, while initially transferred, was given a gallantry medal a year later in 2011. Further, the government itself takes no responsibility for orchestrating this mindless war on its own people.
---
Old Story, Same Complaint
… . Even though the scale of Salwa Judum terror is far greater than Nandigram, it has gone almost entirely unreported.  According to the figures provided in a PIL before the Supreme Court, at least 540 persons have been killed by the Salwa Judum and security forces from June 2005 till the present [Nov. 2007], including 33 children (some as young as two and five), and 45 women. This is a small fraction of the killings by the Salwa Judum, most of which have gone unrecorded, and does not include the approximately 550 civilians and police personnel that the Naxalites have killed in escalating retaliatory action for Salwa Judum. At least 2,825 houses have been burnt by the Salwa Judum and at least 99 women have been raped. Approximately one lakh people, or one-eighth of the district's population has been displaced – half of them are in government controlled camps to which they were forcibly evacuated, and the other half are refugees in neighbouring states.
A petition – one of hundreds – submitted along with the PIL, after describing the killing and torture inflicted by Salwa Judum, asks despairingly, "Why is this happening in our country, why is this happening in Chhattisgarh? Why has the Chhattisgarh administration been running this? Has our Chief Minister been elected only for this?" And yet, not once have the atrocities committed by the Salwa Judum figured on the front pages of any national newspaper; not once has any team of parliamentarians gone to talk to the affected people; and not once have NHRC members visited.
When two lakh people rallied in Jagdalpur on 5 November this year to protest against the Salwa Judum and land acquisition by the Tatas and Essar for steel plants, there was not even a whisper in the national press; it is hard to imagine that a rally of even 10,000 would have gone unreported had it been in favour of Salwa Judum or industrial acquisition.
In part, this silence is explained by the natural anti-leftism of the media, and its warped notion of 'balance'. … But the media is not everything.
…  Chhattisgarh lacks a tribal middle class or a density of civil/political society organisations; many national newspapers do not have correspondents there since it is a new state; In an unprecedented show of unity, both the Congress and the BJP are jointly prosecuting the counterinsurgency.
Above all, Chhattisgarh also has a Public Security Act, which is even worse than POTA in terms of its censorship, and which has been used to arrest and intimidate people who have protested, like the General Secretary of the PUCL, Binayak Sen.
– NANDINI SUNDAR. OUTLOOK 27 November 2007
---
The news of how a Government lets its "lesser people" be killed, raped, their houses and granaries burnt, allows them to live in conditions of food scarcity, perhaps even die of starvation does not even make it to the national channels. Soon this will be forgotten, till the Maoists strike back and then we will only see channel after channel breaking news, calling the poor tribals, terrorists, monsters and killers. And the human rights workers will be verbally flogged with the pitch of the anchors going higher and higher on these very channels.
– KAVITA SRIVASTAVA. THE HINDU  10 April 2011
Kavita Srivastava is a national secretary of the People's Union for Civil Liberties, Rajasthan
---
I must admit I haven't scanned all the reports coming out of Darba Ghati, but whatever I saw and read contains the details of the massacre [27 May 2013], condemnations by political personalities (including Narendra Modi of all people) and the "bloody legacy of Mahendra Karma's Salwa Judum".
I missed the obvious connection which should have been made instantly. A week before this attack, eight civilians were killed by security forces in Ehadsameta village of Bijapur district in Chhattisgarh. Three of the dead were minors. The villagers had gathered for the annual Beej Festival. (I don't recall Sonia Gandhi and her son reaching the village to console the families or the Prime Minister making a trip there). A year ago, 17 villagers were killed in the very same district again by security forces. Reportedly, besides targeting Karma and seeking revenge for the death of "their" villagers last week, this attack was also timed to push back the government's pre-monsoon operation planned in Bastar. Media coverage of the incident should have taken these aspects into account.
– Missing the Maoist Mark by Kishalay Bhattacharjee, Newslaundry.com 27 May 2013
Published in the July 2013 issue of the Forward Press magazine