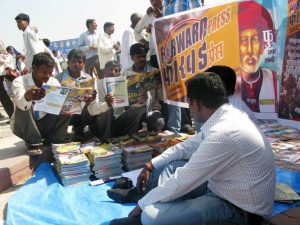 It was a couple of years ago that I first saw an issue of FORWARD Press. I read some of the articles and was very impressed. One reason was that the articles were about Dalitbahujan issues and I was interested in them. I think that Dr Ambedkar's movement, followed by the Constitutional provisions and the implementation of the Mandal Commission recommendations, initiated a radical democratic and non-violent transformation of Indian society and brought about far-reaching changes in the societal power equations. This was a silent revolution, which continues to date. It is in this context that I consider FORWARD Press an important publication. It is different from other Hindi magazines.
Yet another reason why I became an admirer of the magazine was that it asked questions about established assumptions and challenged their validity. The issue I read first and the subsequent ones carried articles challenging the beliefs and ideas that we have always considered historical facts and believed to be true. These articles gave me a new intellectual excitement.
Among such articles, the most important was Premkumar Mani's piece on the re-rendition of the mythological tale of the killing of Mahishasur. This article deeply influenced not only me but many others. It asked questions about the widely celebrated festivals like Durga Puja. Though I am not a religious person, I had been joining in Durga Puja celebrations from my childhood. The fair-like, colourful atmosphere during the festival drew me and many others too. The article forced us to think again. It created an inner conflict within us. I think Mani's article is a milestone in the intellectual history of Hindi literature. Following the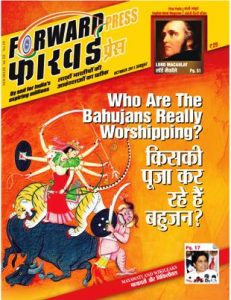 publication of this article, it became easy to ask questions about the traditional and established cultural-mythological beliefs, and (at least in JNU) it gave birth to a movement. This article revived the tradition of re-rendition of Hindu mythological stories initiated by Mahatma Jyotirao Phule in the 19th century. I was told that the article was first published in the Jan Vikalp magazine brought out by Mani from Patna. But at that time, it did not draw public attention and was not so talked about. The same had happened with Phanishwarnath Renu's epochal novel Maila Aanchal. When it was published for the first time from Patna, no one took notice. But it created a stir in the Hindi literary world when it was republished by New Delhi-based Rajkamal Prakashan.
I am also highly appreciative of some other articles by Premkumar Mani published in FORWARD Press. For instance, the article on 100 years of Rabindranath Tagore's novel Gora. Another important article published in FORWARD Press was about the battle between the Peshwa's army and the British in 1818 in which the Peshwa was defeated. The article was centred on the memorial at Koregaon built to commemorate the role of Dalit soldiers in the British army.
I feel that these articles and many more on similar issues published in FORWARD Press started an intellectual renaissance among Dalitbahujan intellectuals and thinkers. I, however, cannot appreciate the rather crude manner in which many articles – mainly by Rajendra Prasad Singh – in the magazine tried to establish the concept of Bahujan literature by linking it directly with caste. Notwithstanding this, there is a need for forging a literary-cultural-intellectual front to fight the political and cultural assaults of the Hindutvavadi and brahmanical RSS, and FORWARD Press can play an important role in this. This magazine has given a new intellectual edge and dimension to the new generation of Dalit-OBC castes studying in leading universities and other institutions of higher learning in the country. This print edition should not have shut down. In fact, its circulation should have increased. It should have reached the villages. I am proud that the de facto editor of this magazine is Pramod Ranjan, a research scholar in JNU and our student. He has brought a new sharp and research-based vision to journalism.
Published in the final print (June 2016) issue of the Forward Press magazine