Hundreds of Tribals and local Bahujans took to the streets in Manpur, a town in Muktibodh's ancestral district Rajnandgaon, Chhattisgarh, on the last day of April. They not only wanted to issue a stern warning to the dominant Brahmin community but also to send out a clear message to the government that they would not allow their culture to be ridiculed and their rights trampled upon.
Earlier, on March 12, a group had taken out a rally in Manpur in which slogans hurtful to the Tribals were raised. Some of them were:
'Mahishasur (Bhainsasur) ki auladon ko, jutey maro salon ko'
(Thrash descendants of Mahishasur with shoes)
'Ramayan-Gita ko nahin manne walon ko, juta maro salon ko'
(Thrash with shoes those who do not have faith in Ramayan-Gita)
'Abujhmadiyon hosh mein aao'
[Residents of Abujhmadh (A tribal-dominated region in Bastar, Chhattisgarh), wake up]
'Rakshason ke auladon ko, jute maron salon ko'
(Thrash descendants of demons with shoes)
Local residents claimed that among the sloganeers were supporters of Abhishek Singh, MP and son of the state's BJP chief minister Dr Raman Singh. Abhishek has been returned to the Lok Sabha from Rajnandgaon. The rally was taken out against a two-year-old Facebook post in which Devi Durga was allegedly insulted. This post went viral on WhatsApp thanks to a group of Hindutvavadis in February-March this year. They demanded that Vivek Kumar, a journalist who wrote the post, be arrested.
 Reaction two years after 'insult' of Durga
Vivek Kumar had commented on the mythological tales about Durga on his Facebook wall after police action against FORWARD Press in October 2014. At that time, no one noticed the comments. But the issue suddenly gained prominence in February 2016. Why? Because the local residents had celebrated Bhoomkaal Diwas on February 7-9, during which a huge rally of Tribals was taken out under the auspices of Bhoomkaal Shanti Sena. The event was meant to commemorate Tribal martyr Veer Goonda Dhur, who had forged Bhoomkaal Sena in 1910 to fight the British. Vivek Kumar, who is also a social activist, had played a key role in organizing the event. A chartered accountant and cement trader, Vivek Kumar, brings out a newspaper called Dakshin Kaushal with a focus on Dalitbahujan and Tribal issues. He is associated with Tribal and Dalitbahujan movements. His father Ram Sushil Singh was active in the BSP during the days of Kanshi Ram. His Kurmi family had shifted base to Rajnandgaon from Madhya Pradesh.
Vivek Kumar describes the Bhoomkal Diwas and the incidents that followed: "Tribal issues were raised at a public meeting and discussions were held on Tribal and Dalitbahujan culture. Since then, Hindutvavadis have been harbouring hostility towards us Birsa-Ambedkarites. Besides, we also oppose the BJP politics at local and state levels and that was why they were waiting for an opportunity to pounce on us." That was probably why the two-year-old Facebook post of Vivek Kumar was resurrected on WhatsApp. An attempt was even made to have an FIR registered against him but the police refused. On 12 March, the Hindutvavadis took out a huge rally and pressurized the police through senior BJP leaders. An FIR was registered and Vivek Kumar was arrested on 28 March. He was released on bail on 4 June.
 Move boomerangs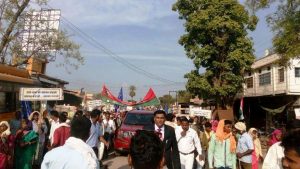 Raising slogan of "Mahishasur kee auladon ko, jutey maron salon ko" cost the demonstrators dear. Reason: In parts of Bastar, the people worship Mahishasur (known as Bhainsasur locally). They took this slogan as an assault on their culture and decided to stand up against the Hindutvavadis' attempt at cultural homogenization. They took out a protest march on 30 April and had an FIR registered against the demonstrators who had raised the slogans in the 12 March rally. Allegedly under pressure, the police have not arrested any of the accused. Vivek Kumar says, "Hindutvavadis want everyone to worship Ram and Durga. They don't care about the culture of others. They cannot accept the fact that the residents of Bastar do not celebrate Durgapuja or Dussehra and that Ravana's effigy is not burnt here."
 Brand as Naxal or frame in any other case
Vivek Kumar says that the police have arrested some of the organizers of the Bhoomkaal Diwas, branding them as Naxals or, if they were unable to do that, framing them in other cases, which is what happened with him. Vivek Kumar had to spend more than two months behind bars. The same treatment is being meted out to the organizers of the April 30 protest march. These claims seems to be largely true because after the Bhoomkaal Shanti Sena was formed, the police had told media that "this Shanti Sena may be used by the Naxal organizations". These incidents show that whenever Tribals assert their cultural identity, the government and the dominant forces of Hindutva brand them as Naxals or arrest them for hurting "religious sentiments".
 Not spared in jail either
Vivek says that the Hindutvavadi machinery of oppression is very organized. "I was not spared in the jail either. I was addressed as "Rakshas" and "Mahishasur Ki Aulad", although I got the support of the indigenous inhabitants soon and they could not harm me physically. However, this time around the Hindutavvadis seem to be facing a tough challenge. The Rashtriya Adivasi Sangharsh Morcha and Moolnivasi Adhikar Gan (AIMBSCS), the organizers of the April 30 protest, have said that Manpur was the beginning of a nationwide movement.