Bade shauk se sun raha tha zamama,
tumheen so gaye dastan kehte-kehte.
(The world was hearing you with great interest,
you passed away while relating the tale.)
I am using these tearful words with which Raidas had bid farewell to Kabir to say goodbye to FORWARD Press print magazine:
irgun ka gun dekho aayee,
dehi sahit kabir vidayi.
(See how a believer in shapeless God
has left along with his body.)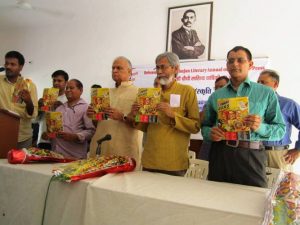 It was more than 550 years ago that Kabir left this world and in June 2016, the print edition of Kabir's successor, FORWARD Press, is exiting this world. FP has played a matchless role in helping the political, social and cultural history of India that was standing on its head, find its feet. In a short span of seven years, FP has brought about big changes in the political, literary and cultural circles of the country. It has immortalized innumerable Bahujan heroes that had been banished from the annals of history. Mahishasur was one of them and his tale echoed in Parliament, too. Some historians have now come to believe that Mahishasur was not a mythological but a historical figure. FORWARD Press exposed the true character of a number of Hindu festivals and today, voices of resistance to celebrations of massacres are growing stronger.
It was probably the winter of 2009. A book fair was underway at the Gandhi Maidan in Patna. I was doing a tour of the stalls in the company of writer Madhukar Singh. Suddenly, we ran into our common friend Arun Narayan. He was accompanied by a journalist from FORWARD Press. Arun introduced the journalist to us with great pride and gave us a copy of the magazine. I glanced at the title and my reluctance to accept it was apparent to Arun Narayan. He said, "Sir, just keep it. If you get a chance, go through it."
That night, I read the magazine in my hotel room. It carried an article that argued that cricket was a sport of Brahmins. It looked at cricket and the Indian cricket team from a Bahujan perspective. I returned to Sasaram and never thought of the magazine again. Then, in 2011, I wrote an article titled Bahujan Sahitya Kee Avdharna (Concept of Bahujan Literature). I was wondering where I should send it for publication. I used to regularly write for Natrang, Hans, Gyanodaya, Sahitya Amrit, Samkaleen Bharatiya Sahitya and some other magazines. But none of them had the courage to publish this piece. I sought the advice of Premkumar Mani and pat came the reply: "Send it to FORWARD Press."
I contacted Pramod Ranjan and in the July 2011 issue of FP, the article was published along with a special editorial by its editor-in-chief. The article triggered tremors in the Hindi literary circles. Many things were said for and against it. Many magazines carried editorials on OBC literature. Avinash Das' web portal Mohalla Live, which was much in the news then, launched a debate on the article describing it as a manifesto of OBC literature. A fair number of litterateurs and intellectuals joined the debate.
Subsequently, FP published five Bahujan literary annuals, which also contained OBC literature. These issues carried articles by Premkumar Mani, Pramod Ranjan, Virendra Yadav, Arun Narayan, Anita Bharti, Ganga Sahay Meena, Kanwal Bharti, Ashwini Kumar Pankaj, Sudheesh Pachauri, Subhash Chandra Kushwaha, Devendra Choubey, Mohandas Nemishray and more, besides interviews with Rajendra Yadav, Veer Bharat Talwar, Uday Prakash, Ramvaksha Yadav, Sharankumar Limbale and Maitreyi Pushpa among others. They also carried poetry of Ramnika Gupta, Dinesh Kushwaha, Ramesh Prajapati, Surendra Snighdha, Shahanshah Alam, Shankar Pralami and Sushma Asur, and stories of Hari Bhatnagar, Sandeep Meel, Ramdhari Singh Diwakar, Chandrakishore Jaiswal and Anita Bharti among others. To sum up, FP took Hindi literature to new heights. It was no respecter of the entrenched clans of writers. It set new parameters of criticism. It presented new interpretations of the theory of "Rasa".
In its seven years of existence, FP attained great popularity. At least in my city, there were formal FP clubs and a FORWARD Press award ceremony was held. People used to come to Sasaram from far-off places to buy and read FP. What was surprising was that it was also read by the villagers, the poor. At a programme in Chandauli, 100 copies of FP were kept for sale and they were sold in no time. It was as if the deprived people had a hunger for FP. I saw the scene repeat itself in Latia, Ghazipur.
Over the last five years, I have stayed in close touch with FP. I wrote in it and I read it. In these five years, my ties with other magazines have all but broken. Linguistics has also slipped out of my hands. I've been steeped in Bahujan literature. I have written so many articles on Bahujan literature in FP that two anthologies of my articles contain only pieces published in FP. Frankly speaking, for the last five years, FP has been my literary life. Only a social scientist can assess the socio-cultural significance of FP but its contribution to the field of literature can never be forgotten. We and our Bahujan society are grateful to the FP family. Goodbye FORWARD Press!
Published in the final print (June 2016) issue of the Forward Press magazine