Over the past few weeks, Parliament has cleared the SC/ST (Prevention of Atrocities) Amendment Bill 2018 and as well as the Bill according Constitutional status to the National Commission for Backward Classes. The central government has also argued in favour of reservation in promotions in the Supreme Court, stopped department-wise recruitments in universities and other higher educational institutions, and announced in the Parliament that it would not allow any assault on the interests of the SCs, STs and OBCs.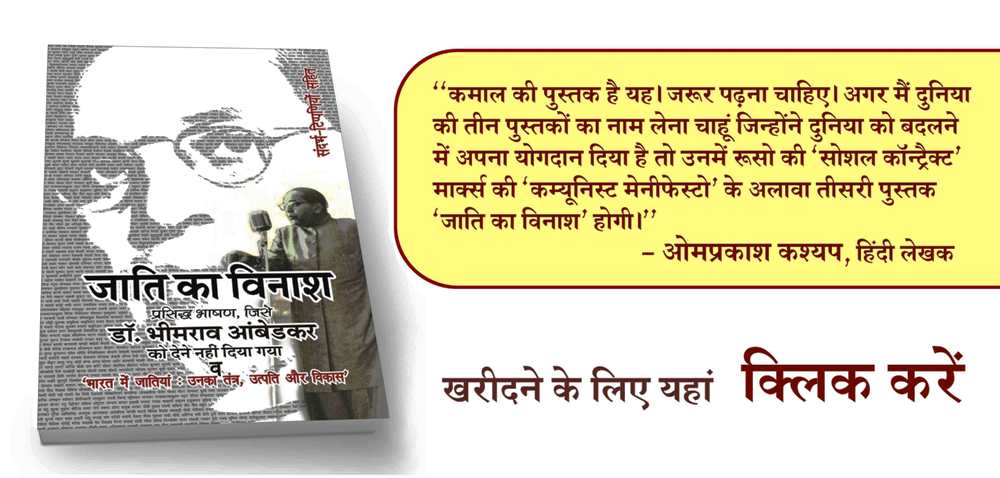 These developments have led to an outburst of anger against Prime Minister Narendra Modi by people of upper-caste mindset. This anger was palpable in social media, and some people burnt copies of the Constitution on Parliament Street, New Delhi, raised anti-Modi slogans.
At first glance, this seems to go against common sense. After all, how could the Manuvadis, the die-heard RSS supporters, turn against the puppet of their parent organization? We'll explore that question but let us first see how the upper castes are raining abuses at Modi. Some Facebook posts will suffice.
Savarnas and Modi on Facebook
Akhilesh Dwivedi, a teacher by profession, in his post put up on 12 August 2018, has compared Modi with Sidney Rowlatt and the SC-ST Act with the infamous Rowlatt Act. Posting the pictures of Modi and Rowlatt side by side, he says that the SC/ST law was as dictatorial for the savarnas as the Rowlatt Act.
Akhilesh Dwivedi makes a point-by-point comparison of the two Acts:
Both allow arrest of Indians without warrant
Both allow arrest of Indians who haven't committed a crime
Both allow keeping Indians in jail for an indefinite period of time
Both ruin the career of youth by foisting criminal cases on them
Both are dictatorial
After this "analysis", Dwivedi calls for a boycott of Modi and the Bharatiya Janata Party (BJP) that is in his grip – just as the boycott of the British to protest against the Rowlatt Act.
It is clear from Dwivedi's choice of words that he believes that "savarna" and "Indian" are synonymous and SCs and STs are not Indians.
Reacting to Dwivedi's post, Vivek Tripathi writes, "They have abandoned the Ram Temple and are talking of the development of SCs and STs. They are dividing the nation."
On 11 August, Tiwari Rakesh shared a post of "Bharatiya Vikas Manch Arakshan Virodhi Sangathan", which said, "After Vishwanath Pratap Singh, Narendra Modi is the second prime minister who will be remembered for conspiring against the savarnas."
The savarnas believe that V.P. Singh was a catastrophe for the country because he ruined the savarnas by providing 27 per cent reservations to the OBCs. They had expected Modi to champion their interests but now they feel that by according Constitutional status to the OBC Commission, supporting reservation in promotions, stopping department-wise recruitment of teachers in institutions of higher learning and amending the SC/ST Act, Modi had stabbed them in the back.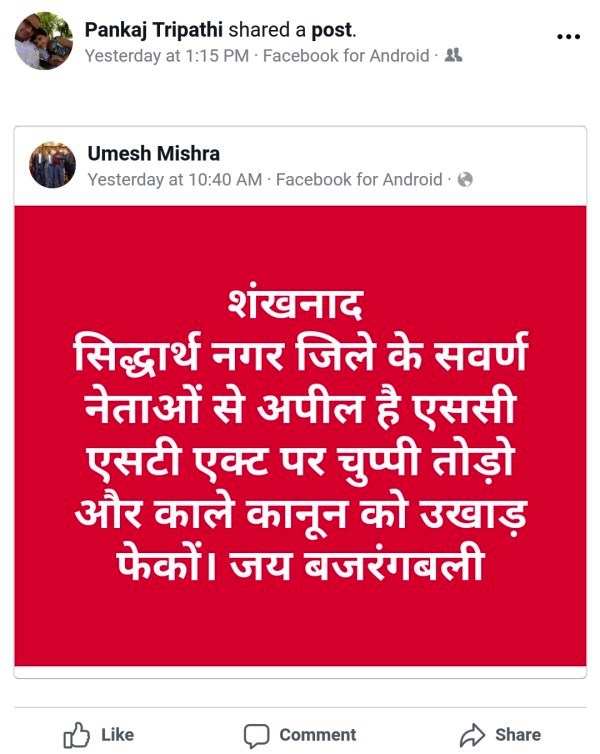 Going a step further, on 13 August, Umesh Mishra makes a clarion call on his Facebook wall. "I appeal to the savarna leaders of Siddhartha Nagar district to break their silence on the SC/ST Act and uproot the black law. Jai Bajrangbali."
On 12 August, Vivek Tripathi appears to use the expletive often hurled at Modi and calls upon the savarnas to boycott elections.
Ratnakar Upadhyaya wants military rule in India. Reacting to Umesh Mishra's post, Dileep Singh writes, "Modi has turned the savarna leaders into Bapu ji's monkeys – who can neither hear, nor speak nor see. Bhaiya ji Jai Mata Di." What he means is that an OBC Modi is making a fool of the savarna leaders.
Those burning the Constitution on 9 August 2018 were raising slogans against Modi and were hailing the Manusmriti. None of their slogans were anti-BJP or anti-RSS.
Why are Manuvadis targeting Modi?
Why are the savarnas attacking Modi, instead of the BJP or the RSS? That is because they think that Modi, himself an OBC, has been working in favour of the OBCs, Dalits and Tribals.
So, what are things that the savarnas hoped Modi would do? What are the things they never expected Modi to do? Which of their expectations have been dashed?
When, in 2014, the BJP romped home with a huge majority, it was considered a victory of the RSS. The savarnas believed that the victory of the RSS would translate into political power being theirs alone. Their hegemony in the economic, social and cultural arenas was never in doubt, and they had no issues with Modi playing up his backward caste as long as the RSS held the remote control.
Also read OBC primer on Indian politics
When, after the BJP's victory, Rajputs and Brahmins were appointed chief ministers of different states one by one, they became doubly sure that now Dalits and OBCs would not be able to offer any challenge to their hegemony. They also believed that sooner or later, the reservation policy would be abolished or at least, would be implemented in such a way that Dalits, OBCs and Tribals get a minimum number of positions.
The ban on reservation in promotions was already in place and they had not ever imagined that the Modi government would back reservations in promotions and tell the Supreme Court that, in view of the atrocities committed against Dalits and Tribals for thousands of years, they should get this facility.
They had not thought even in their wildest dreams that the Modi Government would accord Constitutional status to the OBC Commission, 70 years after Independence. The Supreme Court had rendered the SC-ST Act, which they detested, virtually toothless, only for the government to amended the Act to restore its original provisions but and even introduce some new, stricter provisions.
This has come as a shock to a large section of the savarnas and they have been venting their anger and frustration. They cannot fathom why Modi, whom they had voted to power to protect and preserve Hindutva and the interests of the upper castes, is instead pursuing the interests of the OBCs, Dalits and Tribals. They have yet to grasp the fact that OBC votes had played a key role in Modi's 2014 election victory and that a substantial chunk of SC votes had also gone to him. They are unable to understand that no party can win power in this country without the support of the OBCs, who form upwards of 50 per cent of the voters, and the Dalits who are 16.6 per cent of the population.
Also Read: Making sense of 'Hindistan' assembly poll results
It is quite obvious the agenda of the Manuvadi savarnas is entirely negative. They want their party or its leaders to keep OBCs, Dalits and Tribals suppressed, just as they have done to the Muslims. They had put high hopes on Modi. But when Modi did not act as they wanted him to vis-à-vis the three communities, they were aghast. They do not hold the Sangh or the BJP responsible for what is happening. They have complete faith in the two organizations. They are venting their spleen on Modi because they feel that he is working for these communities as he himself hails from a backward caste.
There is no doubt that Modi is a slave of the Sangh Parivar. But what he is doing now is goes against Brahmanism. A section of the RSS is ready to put up with him for the sake of retaining power but another, bigger section is digging his political grave. Now, it depends on Modi – on how he would like history to remember him. Whether he wants to be strangled at the hands of the RSS or whether he wants to hold the flag of Phule-Ambedkarism aloft and take on the Manuvadis. As the prime minister of a large republic like India, he wields enormous power. He has to decide his destiny.
Translated by Amrish Herdenia
---
Forward Press also publishes books on Bahujan issues. Forward Press Books sheds light on the widespread problems as well as the finer aspects of Bahujan (Dalit, OBC, Adivasi, Nomadic, Pasmanda) society, culture, literature and politics. Contact us for a list of FP Books' titles and to order. Mobile: +917827427311, Email: info@forwardmagazine.in)

The titles from Forward Press Books are also available on Kindle and these e-books cost less than their print versions. Browse and buy:

The Case for Bahujan Literature

Dalit Panthers: An Authoritative History

Mahishasur: Mithak wa Paramparayen