Chedi Lal Sathi is remembered, first, as the chairman of the first Backward Classes Commission constituted by the Uttar Pradesh government and, second, as the one who succeeded Bodhanand and Shivdayal Chaurasia as the most tenacious fighter for the rights of the Bahujans.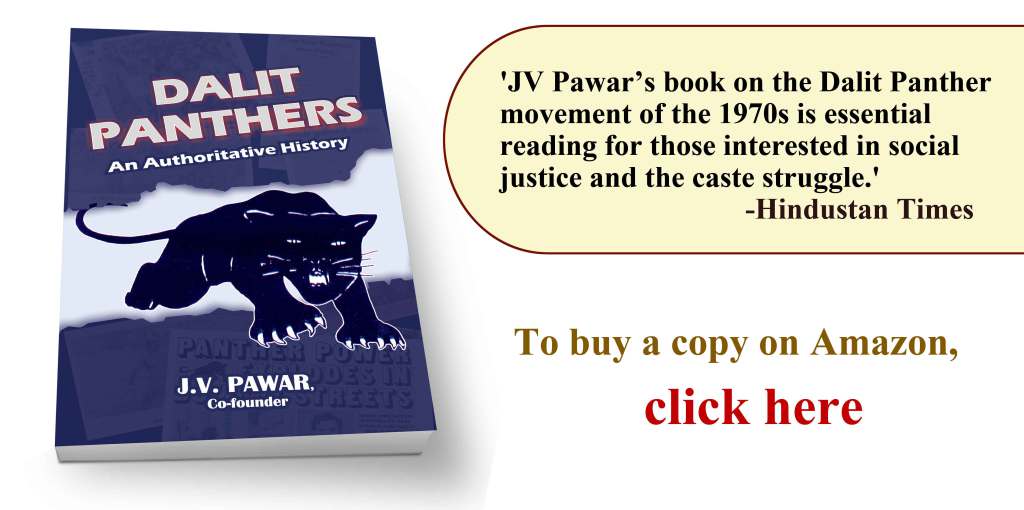 I first heard about him in my hometown Rampur from poet Raghuveersharan Diwakar Rahi. He had mentioned Sathi in his book Ateet Ki Batein. One of Diwakar Rahi's couplets, used in the film Sharabi, had become very famous: "Aaj to utnee bhi mayassar nahi maykhane mein, jitne hum chhod diya karte the paimane mein." At the time (1994-98), I used to stay in a  government hostel, just behind his palatial home, in Roshan Bagh, Rampur. I would meet him often. On Sundays, he usually came to my place, while on other days, I used to visit him. One day, when I went to meet him, I saw a wheatish-complexioned lean man sitting beside him. The stranger was wearing thick glasses with a black frame. Diwakar was also a well-known lawyer and he often had visitors. As everyone in his house knew me, I used to walk into his drawing room without asking anyone.
On that day, he was having tea. He asked me to be seated and said to someone to get a cup of tea for me. I guessed that the gentleman sitting by his side was his guest as he did not seem to be from Rampur. A boy brought tea. Diwakar asked me, "Do you know him?" I said, "No, at least not from his face. But, maybe, I know him by name." He said, "He is Chedi Lal Sathi. He has come from Lucknow." I was surprised to hear his name. I told Diwakar, "I have read his book, which you had given me." The book titled Picchde Vargon Ka Arakshan is still with me. Sathi had presented the autographed book to Diwakar on 20 March 1982. Then, I turned towards Sathi. "Sir, I was trying to recognize you but somehow, I was mixing you up with Gaya Prasad Prashant, who looks just like you. But Prashant ji would have recognized me. So I was confused." Diwakar then introduced me: "He is Kanwal Bharti." On hearing my name, Sathi immediately said, 'OK, so you are the author of Kanshiram Ke Do Chehre. So, you are from Rampur." This was my first meeting with Chedi Lal Sathi.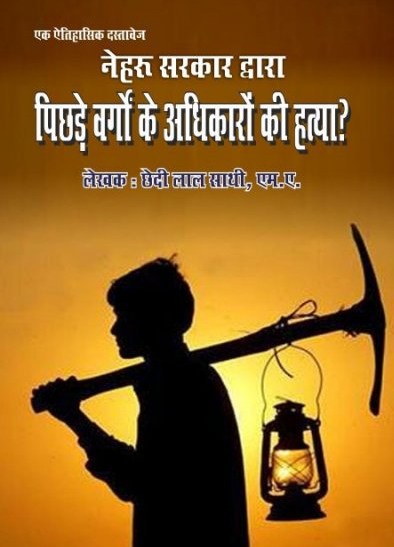 From 1980 to 1986, I lived in Lucknow. I was looking for a proper job and I also ended up working there. From 104, Royal Hotel (where Bapu Bhawan is now located), to Buddha Vihar in Risaldar Park and from Indira Nagar to Aliganj, I lived in rented accommodations across the city. During these seven years, I must have walked hundreds of miles to and around Tadikhana, Kukrel, Bhuthnath, Chinhat, HAL Gate, High Court, Ameenabad, Raniganj, Nakahindola, Guiyan Road, Nazeerabad, Latouche Road (which is now Gautam Buddha Marg), Lalbagh, Kaisarbagh, Charbagh, Chowk, Raqabganj, Maulviganj and Hazratganj areas. Only I know how I suffered. But I also met with many Dalit-Backward leaders, writers and social workers. Some of them impressed me. But in those seven years, I never heard Chedi Lal Sathi's name from anyone. And I never saw him at 104, Royal Hotel, which was the favourite haunt of leaders and officers of the backward communities from all over the state. Whenever I crossed the Lalbagh area, via Kandhari Bazar, I would see a signboard that said Bahujan Printing Press in one of the congested localities. I must have passed that board innumerable times and every time I wondered whether Jigyasu ji's press had moved to this place. The word "Bahujan" immediately brought his name to mind. The press was small and it was often closed. When, after many years, in 1990, I laid my hands on a copy of Chedi Lal's book Picchde Vargon Ka Arakshan: Is Yug Ki Chunauti thanks to Diwakar, I found that the address of the press where it had been printed was 48, Kandhari Bazar. Then I realized that Sathi owned the press and he also had a house in the same area, although he lived in the A Block of Indira Nagar. Once, when he was ill, I visited his place along with Darapuri and he asked me how Diwakar Rahi was doing. That was our second meeting.
Sathi's political activities
As far as I know, he was involved in two fields. He was a lawyer in the Lucknow Bench of the Allahabad High Court and was also in party politics. Though he had little to do with literature, many writers were his friends. They included Nand Kishore Devraj, Josh Malihabadi, Jigar Muradabadi, Ehsan Danish, Firaq Gorakhpuri and Diwakar Rahi Rampuri. Dr Ambedkar, Rahul Sankrityayan, Anand Kausalyayan, Bodhanand Mahasthivir and Ramcharan Nishad were his inspirations. He was also an associate of Shivdayal Chaurasia in social activities.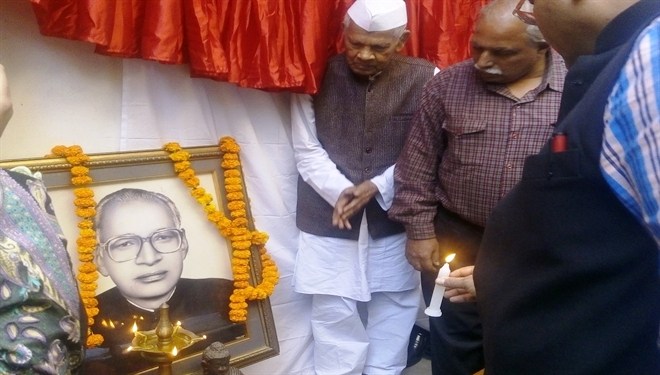 He worked with many top politicians, including Jawaharlal Nehru, Lal Bahadur Shastri, Dr Ram Manohar Lohia, Dr Z.A. Ahmed, Rahmat Maulai, Dr Faridi, Ali Mian Saheb, Syed Badruddin and Ibrahim Suleiman Seth. Periyar Ramasamy Naicker impressed him very much. During Naicker's visit to Lucknow, Chedi Lal lent a hand in the political activities.
After Dr Ambedkar's passing, he played a key role in establishing the Republican Party of India in Uttar Pradesh. He headed the UP unit of the party from 1959 to 1964 and was elected to the Legislative Council in 1964. He remained an MLC till 1970. After internal feuds splintered the party in Maharashtra, he joined the Congress. He was elected an MLC from the Congress in 1970 and he remained an MLC until 1976.
It is said that his stint in the Congress was nothing to write home about. He raised the voice of the Dalits and Backwards but felt ignored in the party. He became another Jagjivanram, who talked of Dalits when he was not in power but forgot about them once in power. In 1973, Sathi was sent on a tour of Russia, Germany, Turkey, Greece, Holland, Italy, Czechoslovakia, Iran and other countries by the Congress government at the Centre. The Congress hoped that like another party leader Ramdhan, he too would stop talking about the Dalits after being rewarded with this junket. But Sathi turned out to be different. As soon as he was back, he started raising the problems of the Backwards with great vigour and forced the government of Uttar Pradesh led by chief minister Hemvati Nandan Bahuguna to constitute a Backward Classes Commission. He was appointed chairman of the commission on 31 October 1975.
Sathi Commission was probably the first body to closely study the extremely backward castes of the entire state. It submitted its report on 17 May 1977. The Commission classified the backward classes into three groups and recommended 29.5 per cent reservation for them. The first group comprised landless farmers and unskilled labourers and the commission recommended 17 per cent reservation for them. In the second group were artisans and farmers, who were to get 10 per cent reservation. The third group comprised backward Muslim castes and the commission set aside 2.5 per cent reservation for them. However, the government did not accept the recommendations.
He was also a co-opted member of the Mandal Commission from Uttar Pradesh from January-December 1980. We can charge the Congress with being status quoist or with quelling resistance, and this is true. But it cannot be forgotten that the Congress not only allowed brilliant men from the Dalit communities to rise but also used their brilliance in public interest. No other party to date has given as much space to Dalits and Backwards in politics. Chedi Lal Sathi, a PhD in literature, not only worked for the Congress but also for the Bahujans.
Mudrarakshas on Sathi
Well-known Bahujan critic Mudrarakshas writes in one of the articles, "The Ambedkar Mahasabha of Lucknow is overflowing with loyalists. That was why, some years ago, when the Hindu Talibanis damaged the statue of Ambedkar in Mumbai, there were protests all over the country but nothing happened at the place where this Mahasabha is based."
Then, Mudrarakshas refers to an incident related to Dr Sathi. "Some three-four years ago, an initiative was taken for initiating a dialogue between the Communist Party and Dalit thinkers. A.B. Bardhan was present and so was Dr Sathi, who was associated with Ambedkar, had played a key role in commissions for the Backwards and Dalits and had also served as a minister. Addressing the meeting, Sathi opened up on what about the Communists that the Dalit leaders were opposed to. A.B. Bardhan is an impressive and competent speaker. He did not oppose what Sathi said but only listed the complaints he had with the Dalit leadership."
Remembering the incident, Mudra comes to the point he wanted to make: "I respect both of them. As the chair at the meeting, I could have expressed my disappointment with both the sides and could have said that nothing like a dialogue had taken place there. Today, when the Ambedkar Mahasabha invites a BJP leader to lay the foundation stone of its building, I recall the tone and tenor of the speech given by Chedi Lal Sathi in the presence of Bardhan."
He further says: "Dr Sathi runs the Ambedkar Mahasabha. When Dr Sathi and his associates like Parasnath Maurya welcome with great effusiveness the ideology that aims to destroy the Bodhi tree, why shouldn't they oppose the Communists? Herein lies the solution to the riddle. Truth is not very difficult to reach. After Aitreya became an agent of the Brahmins, he not only turned anti-Dalit but also a committed friend of the savarnas. When the Aitreyas of Ambedkar Mahasabha have such a great love for savarna power-wielders, they are bound to dislike the Communists, Mayawati and Mulayam Singh and pronounce them as their enemies."
This analysis may be bit of an exaggeration but it is a fact that the office-bearers of Ambedkar Mahasabha maintained a distance from the Communists and flaunted their proximity with the BJP leaders. And Chedi Lal Sathi was no different.
Publishing 'Garima Bharti'
In the 1980s, a Dalit IAS officer D.P. Varun established a printing press in Indira Nagar, Lucknow. He decided to publish a magazine and discussed the matter with Dr Sathi. At the time, Sathi was also publishing a newspaper or magazine called Garima Bharti. Garima was the name of Sathi's daughter. Sathi persuaded Varun to use this title and the publication of Garima Bharti began from the latter's press. It was demy-size and resembled Sarita, a magazine brought out by the Delhi Press. Around that time, or a bit later, Dr Angne Lal also joined hands with them. The magazine did not last. It could not have, for Sathi and Varun had different beliefs. That was because on one side were political aspirations and on the other side, the ideology of Buddhism. Confrontation was inevitable. The publication of the magazine remained suspended for a long period. These days, Varun has been churning it out in the form of a four-page newspaper .
The impact of his books
Picchde Vargon Ka Arakshan: Is Yug Ki Chunauti – Samvaidhanki Va Aitehasik Pristhabhumi, published in 1982, was Sathi's first book. He had written it while he was a member of the Uttar Pradesh Legal Aid Board. The book drew reactions from many scholars and leaders, including Karpoori Thakur, Sitaram Nishad, Shivdayal Singh Chaurasia and Dr Nandkishore Devraj. Devraj was a leading Hindi poet and critic and a former head of the philosophy department of the Banaras Hindu University. He lived at Nishatganj in Lucknow and that was where I first met him. It was a matter of honour for me that his home district was also Rampur. He had made the most thought-provoking comment on Sathi's book. He wrote, "I feel that a revolution is in the making in India – and it will be more cataclysmic than an economic revolution. It will be a revolution of humanism against Brahmanism, an open revolt of the Dalits and the Backwards against the so-called upper castes. If the savarnas do not give these castes their rights voluntarily, a bloody revolution is inevitable."
After Chandrika Prasad Jigyasu's book Picchda Varg Commission Ki Report Aur Picchde Varg Ke Vaidhanik Adhikaron Ka Sarkar Dwara Hanan, published in 1957, Sathi's book was the first comprehensive account of the status of the Backwards. The 1980s had witnessed powerful anti-reservation movements in Gujarat and Tamil Nadu. In February 1982, members of the backward communities staged a massive demonstration in Delhi demanding their legal rights. Karpoori Thakur, Ramnaresh Yadav and Chaudhary Brahmaprakash led the demonstration. Sathi's book aimed at awakening the conscience and human values of the anti-reservationists.
A decade after the publication of this book, Sathi's second book came out in 1992. It was titled Bharat Ki Aam Janata Shoshan Mukta Va Adhikar Yukta Kaise Ho. The first page of the book says in bold relief: "An assessment of Indian society of today against the backdrop of the French Revolution." But in reality, this book is a sequel to his first book. It carries brief biographies of many leaders with whom Sathi worked. Towards the end of the book, he writes that the backward classes can either take the path of peace or of revolution and both are equally desirable. He says, "Delay (in doing justice) rouses the people and this can take the form of a people's revolution or a bloody revolution. And that would cost society, country and also the exploiter classes dear. India may witness a French Revolution-like bloody rebellion any time now or in the near future."
But no bloody revolution of the Dalit and backward classes has taken place in India to date. On the other hand, the savarnas are staging bloody counter-revolutions at will.
Anil Sinha reviewed this book in Navbharat Times of 27 February 1993 under the title, "Aam janata ke liye zaroori kitab". I would like to quote the following lines from the review:
"Chedi Lal's life was spent in the company of Socialists and Gandhians. That is why despite being a long-time associate of Ambedkar, he chose to become a member of the Legislative Council from the Congress. And that is why this book does not seek to arouse revolutionary or egalitarian sentiments among the Dalit and the Backward communities. In fact, it impliedly suggests that the Dalits should acquire their rights by treading the path of Gandhi."
But this conclusion is not correct. Sathi had appealed to the Backwards and the Dalits to use constitutional and democratic means in the battle for their rights. That was what Ambedkar had also prescribed.
Born on 1 February 1921 to Nidhani Ram and Janki Devi, Chedi Lal Sathi left this world on 13 November 2004 at the age of 83.
Translation: Amrish Herdenia; copy-editing: Anil
---
Forward Press also publishes books on Bahujan issues. Forward Press Books sheds light on the widespread problems as well as the finer aspects of Bahujan (Dalit, OBC, Adivasi, Nomadic, Pasmanda) society, culture, literature and politics. Contact us for a list of FP Books' titles and to order. Mobile: +917827427311, Email: info@forwardmagazine.in)

The titles from Forward Press Books are also available on Kindle and these e-books cost less than their print versions. Browse and buy:

The Case for Bahujan Literature

Dalit Panthers: An Authoritative History

Mahishasur: Mithak wa Paramparayen