In one night,
You have stolen
All the nights of a woman
Even the nights after her death
(translated from Alok Dhanwa's poem "Bhagee Huyee Ladkiyan")
These lines by Alok Dhanwa are a merciless attack on the patriarchal grip on the institution of marriage in our society.  
Solemn desires articulated through literature and art are considered immortal but do they have any impact on society? I am not aware of any research on how literature has influenced society in the Hindi belt. But what I know is that there are some individuals who not only take the written word seriously but also have the courage of translating it into action.    

'Intellectual' wedding ceremony
Recently, I got the opportunity to attend a wedding function at Patna. It was unique and different in more ways than one – no dowry, no band, no priests, no rituals and no muhurat (auspicious day). The venue was Gardenia Utsav Hall at Ranjan Path on Gola Road, Patna. 
On 3 April 2021, when I arrived at the venue, the hall was dazzling with colourful lights. On one side was a bookstall set up by the Mulniwasi Sangh, where young girls were enthusiastically buying books on empowerment of women. Books on Ambedkar and Phule and on Bahujan ideology were also available. In the dining area on the second floor, guests were seated around tables and waiters were serving food to them. In the hall below, a group of singers led by Shankar Paswan of Mulnivasi Sangh, was singing wedding songs. The guests were sipping coffee, cold drinks and soup while enjoying the music. Dilip Yadav, president of the Bihar chapter of the Mulniwasi Sanskritik Manch, was the master of ceremonies.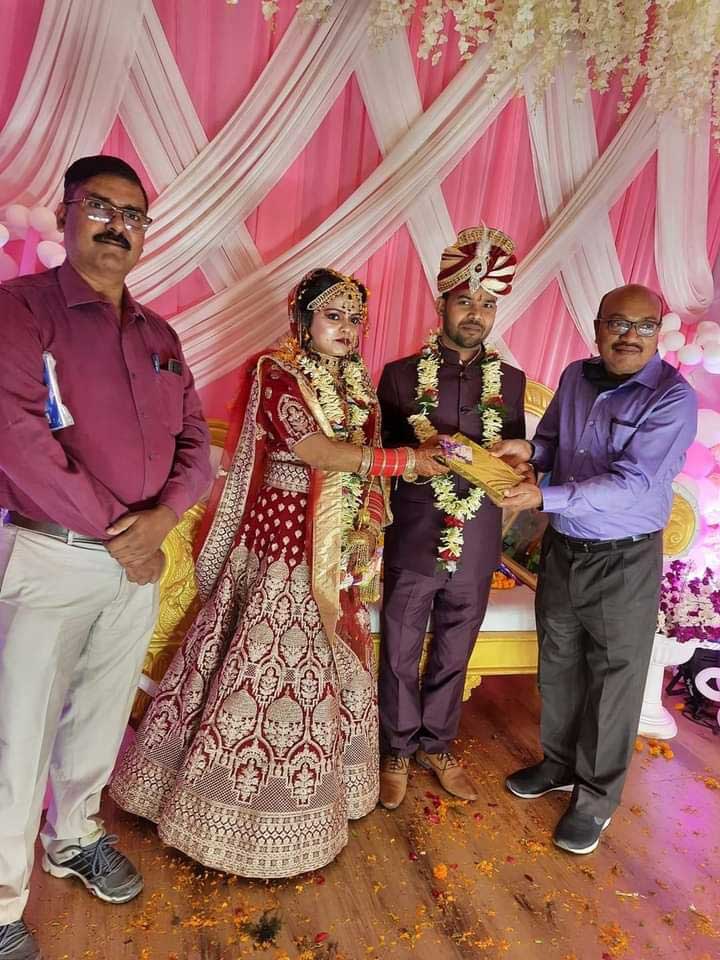 The groom and his relatives and friends arrived first, followed by the bride and her party. The bride's family welcomed the groom's family and blessed them. Women from the bride's side performed "Var Nirikshan" (meeting the bridegroom), followed by the Galsedhi ritual in which the mother of the bride assured that she would treat the groom like her son. Both the parties then formally met each other. This was followed by "Varanmal". First the bride took an oath, followed by the bridegroom and then both together. The guests blessed the couple. That was followed by "Kanya Nirikshan" (meeting the bride) and then the ritual of Sindoor Daan.
While Hindu priests chant Sanskrit slokas on such occasions, Dilip Yadav, while recalling achievements of Bahujan heroes, explained all the steps in layman's terms. 
Dileep Yadav said, "This 'intellectual' wedding needs to be encouraged as an alternative to the brahmanical rituals. A beginning has been made and in the coming days such weddings will become popular because they suit families of limited means. As brahmanical rituals are not involved and there is no compulsion to perform the ceremony on a particular day, one can avoid the demand-driven rise in prices of goods and services." 
Idealistic young man's courageous initiative 
It was the courage and resolve of Dinesh Pal, who teaches Hindi at the Nandlal Singh College, Jaitpur, Chhapra – affiliated with the Jaiprakash University, Bihar – that made this wedding possible. He was born into a Pal peasant family in Bihar's Kaimur district on 5 June 1990. After completing his school education, he did his BA, MA and PhD from Banaras Hindu University, Varanasi. He cleared the NET and JRF exams and was appointed as an assistant professor of Hindi in Jaiprakash University a few years ago. 
Dinesh was witness to how his elder brother's early marriage had come in the way of him realizing his full potential. His family members pressurized Dinesh to marry early, too. But his elder brother stood by him as he did not allow his parents to exercise unwarranted authority on him. He began thinking about marriage only after his appointment as an assistant professor. He wanted to marry someone from outside his caste. Efforts to find a bride for him from another caste did not succeed. No family from other castes was ready to accept him as their son-in-law. Ultimately, he gave in and confined the search to his own caste. But here too, there were sub-castes. In the Pal community, Dhengars and Dhangars claim superiority over each other. Moreover, his decision not to accept dowry was seen as a weakness. Finally, he decided to tie the knot with Khushboo from Munger. Both of them belong to the same gotra. 
The Pal community is very organized and is known for its commitment to education. Its middle class is closely knit.    
Choosing the inauspicious 
Dinesh decided to get married on a day that is considered inauspicious by Hindus. In fact, he did everything that is believed to be inauspicious. He did not print a picture of Ganesh or his symbols on his invitation. Dinesh got the invitation printed in black, which is again considered inauspicious. In fact the invitation was a 56-page booklet titled "Jhabba" (Bhojpuri for a bunch of keys). The cover page carried information about the wedding while the back cover had the photographs of the parents of the bride and bridegroom and also that of his engagement ceremony. 
The booklet begins with a poem by Ramshankar Yadav Vidrohi and includes writings of Raidas. No one could have imagined that the post-Mandal younger generation would take on Brahmanism in this manner. This can set a trend for cultural assertion by the backward and extremely backward castes. What Dinesh did is an eye-opener for the middle class of these communities, which are yet to break free from the shackles of religious hypocrisy and rituals. 
Philosophical invitation 
Normally, wedding invitation cards of Hindu families carry dates of the marriage-related rituals, names and addresses of the two families, photos of Ganesh, and Sanskrit slokas. The cards are normally one or two pages or at the most, four pages. Dinesh's invitation booklet was thus markedly different. The booklet said in Bhojpuri, "We request you to come to our place with your family. We would be glad to receive your blessings and love." Along with the pictures of the bride and the groom, it gave the date and venue of the event. Normally, the cards highlight one of the two parties, depending on who has got the card printed. However, on Dinesh's "Jhabba", the women have been given more prominence. On the back cover are six photographs. At the top are pictures of Dinesh's mother Ramrati Devi and father Marachhu Pal. In the middle is a picture of the ring ceremony of Khushboo and Dinesh. Below are pictures of Khushboo's mother Sarita Devi and father Sitaram. The message Dinesh tries to convey is that god and religious symbols are illusions – that there is nothing like rebirth and we should respect the parents who brought us up and those who fought for our rights, due to which we could progress in life. 
Dinesh has also written a three-page "editorial" in the Jhabba. The booklet has Ramashankar Yadav Vidrohi's poem "Main Kisan Hoon", poems by Kabir, Savitribai Phule and Raidas, Jotirao Phule's 'Gulamgiri', E.V. Ramsamy Periyar's article "Not husband and wife, become each other's friends", Dr Bhimrao Ambedkar's "Caste and Division of Labour", Bhagat Singh's "Why I am an atheist", Simone de Beauvoir's "Vivahita" (Being married), Jagdev Prasad's "Sarvahara", Ramswaroop Verma's "Dharti Ko Jo Jote Boye", Wah Dharti Ka Raja Hoye" and Kancha Ilaiah's "Meat and Milk Economists". All of these personalities had fought to make Indian society, plagued by inequities, an equitable society. Through the Jhabba, Dinesh seeks to educate his community. Such initiatives should be welcomed wholeheartedly. The Jhabba also briefly introduces the bride and the groom. 
Such weddings should become a trend so we can free ourselves from the barbaric brahmanical traditions. 
(Translation: Amrish Herdenia; copy-editing: Anil)
---
Forward Press also publishes books on Bahujan issues. Forward Press Books sheds light on the widespread problems as well as the finer aspects of Bahujan (Dalit, OBC, Adivasi, Nomadic, Pasmanda) society, culture, literature and politics. Contact us for a list of FP Books' titles and to order. Mobile: +917827427311, Email: info@forwardmagazine.in)

The titles from Forward Press Books are also available on Kindle and these e-books cost less than their print versions. Browse and buy:

The Case for Bahujan Literature

Dalit Panthers: An Authoritative History

Mahishasur: Mithak wa Paramparayen