Rajendra Pal Gautam, a minister in the Aam Aadmi Party (AAP) government of Delhi, had to resign after he took Ambedkar's 22 vows on 5 October 2022. He said that he was resigning to protect the image of his party. This was evidently far from the truth. There is little doubt that he was forced to resign. This is also clear from the fact that after resigning, he is being cold-shouldered by his party's leadership. Clearly, the entire episode is rooted in casteism. However, this is not a defect of this party alone. Those who suffer from this problem include the many journalists and sociopolitical activists, who since 2012 have been calling Kejriwal and friends revolutionaries. 
Kejriwal had begun his public career with Youth for Equality (YFE). The first major agitation in which Kejriwal participated was against the decision of Arjun Singh, the Human Resources Development minister in the then United Progessive Alliance (UPA)-I government, to introduce 27 per cent reservation for OBCs in the public institutions of higher learning. A diligent analysis would indicate that the Anna Hazare-led movement, under the guise of opposing corruption, was campaigning against reservations for the Dalits, the Adivasis and the OBCs. This "non-political platform" had political objectives – ruining the Congress. At the time, the Congress was a flag-bearer of social justice, although it is also true that casteist forces led by senior leaders like Pranab Mukherjee, Kapil Sibal, P. Chidambaram and Manish Tewari were also rearing their heads within the party. It was the time when the Gandhi family was under attack from all directions. From social to traditional media – all were baying for the blood of the Gandhis. Congress leaders, despite being in power, did nothing to stem the tirade against the Gandhis or to defend them. 
Arvind Kejriwal did not have faith in Parliament. He believed that the 50,000-odd people assembled at the Ramlila Maidan in Delhi represented the nation and wanted Parliament to do their bidding. Kejriwal had put the parliamentary system in the dock just to pull down an elected government. At the time, Jan Lokpal was probably the most frequently used word. But now Kejriwal remembers nothing about it. It is ironic that a major section of the Dalits and the Muslims living in Delhi have accepted Kejriwal as their leader. But Kejriwal, through his words and actions, and his recent statements on Hanuman and Krishna, has amply proved that he is doing the politics of Hindutva.   
Delhi has witnessed horrific communal violence during AAP rule. But instead of protecting the innocent, the Kejriwal government behaved as if nothing had happened. It faithfully aped the Narendra Modi model. The Nirbhaya incident was blown out of all proportions to lend strength to the Anna Hazare movement. It seemed as if the government would be deposed. Now, Kejriwal, his trusted lieutenant Manish Sisodia and other Savarna leaders of AAP are keeping their mouths firmly shut on the issue of the release of the culprits in the Bilkis Bano case. They are creating an impression that society needs nothing more than good schools and hospitals. Few people have been able to commit fraud on the people the way Kejriwal and his associates have done. Two ministers in the Kejriwal government are facing corruption charges. Satyendra Jain is in jail and Manish Sisodia may be arrested any moment. Sisodia describes himself as a descendant of Maharana Pratap. Kejriwal equated Jain and Sisodia with Bhagat Singh. But surprisingly, he did not utter a word when an FIR was registered against Rajendra Pal Gautam. Would he be able to tell us what crime his former Cabinet colleague had committed? 
Kejriwal has declared that Ambedkar and Bhagat Singh are the role models of his party. Is he really following in their footsteps? Both these leaders had many things in common, including an unshakeable faith in democracy, logical reasoning and humanism. 
Ambedkar dreamt of an enlightened India free from caste-based discrimination and untouchability. Its women were free and everyone had freedom of expression. If Kejriwal really sees Ambedkar as his idol, Buddha and his Dhamma and Annihilation of Caste should be included in school curriculum. He should tell us what he found so objectionable in the 22 vows of Ambedkar – the leader whom he claims he adores. 
Needless to say that for the Ambedkarites, the 22 vows are no less than scripture or the words of a religious leader.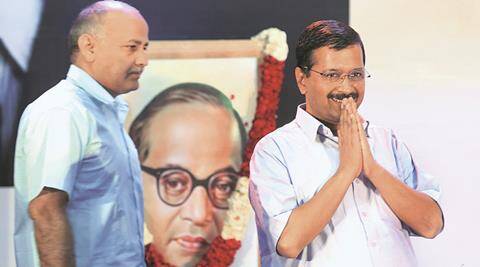 Here I would like to share a personal experience. Some years ago, I got an opportunity to join a formal discussion at the home of a leading progressive thinker in Dehradun. Many well-known names from the world of Hindi literature were in attendance. I knew little about the topic under discussion. Some people asked me about Buddhist Dhamma. I told them about the 22 vows of Ambedkar and said that for me, following Buddhism meant adhering to those vows. That left them speechless, for they wanted to prove that Buddhism was also a part of the brahmanical order.  
As for Gautam, Kejriwal could have said that though he personally did not agree with what his minister had said or believed in, he respected his right to hold his own views. But he did not say so. What transpired meant that he would not tolerate any criticism of Hindu gods. 
The fact is that neither Ambedkar nor Bhagat Singh matter for Kejriwal. For him, they are just marketing tools. Otherwise, there is no reason why students in Delhi government schools are not reading Bhagat Singh's Why I am an atheist and Ambedkar's The Untouchables: Who were they and why they became Untouchables?. Or why he hasn't mentioned these books in public. 
Here it would be pertinent to mention that Mallikarjun Kharge's election as the national president of the Congress is an important development. He has been an Ambedkarite and has played a long innings in Karnataka and national politics. The Buddha Vihar he had built in Gulbarga (Karnataka) is worth a visit. He has also worked with many social and cultural organizations. 
We all should remember that Ambekar's ideology is the most radical ideology of our times and our political leaders should know that if they really want to accept Ambedkar, they will have to accept him in totality, including his critiques of Hinduism. They cannot get away by merely invoking Ambedkar's name.  
(Translated from the original Hindi by Amrish Herdenia)
---
Forward Press also publishes books on Bahujan issues. Forward Press Books sheds light on the widespread problems as well as the finer aspects of Bahujan (Dalit, OBC, Adivasi, Nomadic, Pasmanda) society, culture, literature and politics. Contact us for a list of FP Books' titles and to order. Mobile: +917827427311, Email: info@forwardmagazine.in)