Udayanidhi Stalin's recent statement has added grist to a longstanding debate in the country. Udhayanidhi, a minister in the Tamil Nadu government, and son of Chief Minister M.K. Stalin, recently likened Sanatan Dharma to dengue and malaria and called for its elimination. The young leader's statement has drawn flak from the leaders of the Rashtriya Swayamsevak Sangh (RSS) and the Bharatiya Janata Party (BJP). At the same time, many political leaders and intellectuals have extended their support to Udhayanidhi in their statements to the media and in social media. However, while political leaders from the South have been quite vocal, Dalitbahujan leaders from North India have kept their mouths firmly shut. 
Backing Udayanidhi, Karnataka minister Priyank Kharge told ANI, "Any religion that does not promote equality or does not ensure you have the dignity of being a human is not a religion, according to me … Any religion that does not give equal rights or does not treat you like humans is as good as a disease …"
Prakash Ambedkar, national president of Vanchit Bahujan Aghadi equated Sanatan Dharma to Untouchability in posts on both X and Facebook. 
Congress MP Karti Chidambaram, reacting to the outrage of the RSS-BJP leaders, said, "In the common parlance of TN [Tamil Nadu], 'Sanathana Dharma' means Caste Hierarchical Society. Why is that everyone who is batting for 'SD' [Sanatana Dharma] comes from the privileged segment who are beneficiaries of the 'hierarchy'. There was no call for a 'genocide' against anyone, this is a mischievous spin."
Reacting to Stalin's statement, Viduthalai Chiruthaigal Katchi (VCK) chief Thol Thirumavalavan cited Ambedkar to censure the RSS and BJP leaders. He said, "Revolutionary Dr B.R. Ambedkar says Sanatana Dharma and Hindu Dharma is a contagious disease. It should be eradicated, annihilated in the future. Then only we can attain equality among the people. So, honourable minister Udyanidhi spoke [the] ideology of Periyar, ideology of Ambedkar, ideology of equality. This is not against the Hindu community. The whole Hindu people have their belief in their own gods – Shiva, Vishnu, like that. We are not criticizing their beliefs. We are opposing and criticizing the Sangh Parivar's agenda. Their agenda is nothing but Hindutva. So, we are not against Hindus but against Hindutva, which is the political agenda of BJP and RSS. Udayanidhi spoke about annihilation of the Sanatan ideology, not the Hindu people." 
Well-known film director Pa Ranjith, in a statement posted on X, said, "Minister Udhyanithi's statement calling for abolishment of Sanatana Dharma is the core principle of anti-caste movement for centuries. The roots of inhuman practices in the name of caste and gender lie in the Sanatana Dharma. Revolutionary leader Dr Babasaheb Ambedkar, anti-caste reformers such as Iyothee Thass Pandithar, Thanthai Periyar, Mahatma Phule, Sant Ravidas have all advocated the same in their anti-caste ideology. The malignant attitude of distorting the minister's statement and misappropriating it as a call for genocide is unacceptable. The growing hate and hunt for the minister is very disturbing. I stand in support of Udhayanithi's words calling for eradication of Sanatana Dharma to establish a society with social justice and equality. My solidarity to minister Udhaynithi Stalin!"
However, Dalitbahujan leaders from North India, who usually issue statements at the drop of a hat, have maintained a stoic silence. However, many Dalitbahujan thinkers and intellectuals from the region have come out in support of Udaynidhi Stalin. Well known critic Kanwal Bharti, wrote in his Facebook post: "No one except the Dwij praises the Sanatan Dharma, which has been fashioned by the Brahmins for their own wellbeing. It is paradise for the Dwij. Only the Shudras have an idea of what Sanatan Dharma is. It is not the ironsmith, but the horse that knows how the iron feels. How can the Dwij describe Sanatan Dharma as great without taking into account the views of the section that has been its victim for centuries? It is not Christianity or Islam that has decreed that the Shudras be deprived of education, property and rights. It was the great Sanatan Dharma, which is another name for the Brahman religion, which issued this diktat."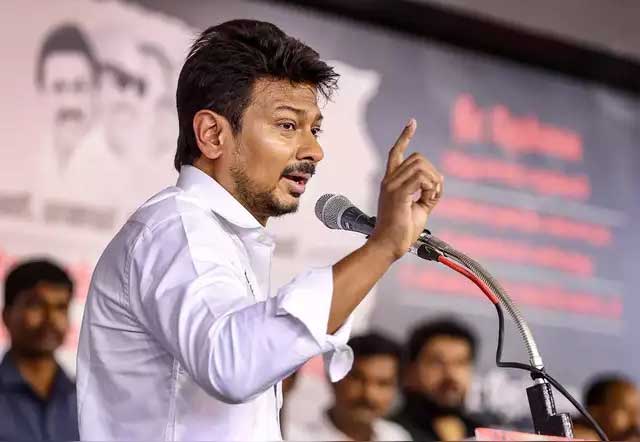 Virendra Yadav, another literary critic, referring to Sharan Kumar Limbale's novel Sanatan, also wrote in a Facebook post: "DMK leader and minister Udayanidhi Stalin's comment at a meeting on 'Elimination of Sanatan' organized by the Tamil Nadu Progressive Writers and Artists Association has caused a political upheaval in North India. This was a given as North Indian politics never crosses the sacred Laxman Rekha of Hinduism. Politics in south India grew and flourished as part of a tradition that negates and castigates the so-called Sanatani [eternal] Varnashrama system of Hinduism. In this tradition, 'Sanatan' is synonymous with the brahmanical Varnashrama system. Basavanna had challenged it centuries ago in Karnataka. In Tamil Nadu, Periyar's ideology and Dravidian politics, helmed by the likes of Annadurai and Karunanidhi, lent strength to that tradition. Some time ago, the governor of Tamil Nadu had sung paeans to Sanatan in an obvious attempt at promoting the politics of Hindutva. This was the backdrop of the 'Sanatan Elimination' meeting organized by the Progressive Writers and Artists Association. The savarnas of north India, steeped in the 'Hindi-Hindu-Hindustani' mindset, can never grasp it. To do so, one needs to understand the diverse ways in which Hinduism has been dominating Indian society. One also needs to know why Govind Pansare, [Narendra] Dabholkar and [M.M.] Kalburgi were targeted by organizations that had the word 'Sanatan' in their names. Why is Kancha Ilaiah compelled to explain, 'Why I am not a Hindu'? Intellectuals and others from the Hindi belt need to break free from the typical north Indian Hindu mentality, and dwell critically on Sanatan Dharma, which promotes Varnashrama system in a broader, all-Indian context. It was not without reason that Sharan Kumar Limbale gave the title 'Sanatan' to his novel that critiques brahmanical Hindutva from a historical perspective. In the context of the latest developments, let us read this novel." 
Bihar-based Bahujan thinker and historian Prof Vilakshan Ravidas writes in his Facebook post: "The oldest and the real Sanatan Dharma of India is the Sraman Dhamma and culture. The Aryan-Brahmin Dharma arrived in India in 1750 BC, following the Aryan Brahmins' invasion of India. It is about 3,500 years old while Sraman Dhamma and culture has existed for the past almost 5,000 years.
"The hierarchical Varna and caste system, the familial and social order based on gender discrimination, sacred/supreme status of Brahmin men and the lower/polluting status of others, untouchability, falsehoods, superstitions, violence, hatred, life-long rituals and worship for propitiating gods and goddesses, and unscientific beliefs form the socio-cultural foundation of the brahmanical Sanatan Dharma (so-called Hinduism).
"In contrast, Sanatan Dhamma and culture are rooted in humanity, equality, liberty, brotherhood and justice. The preamble to the Constitution of India encapsulates the morality and the beliefs of Sraman Dhamma and culture. Udayanidhi Stalin and others have called for elimination of the brahmanical, inhuman and anti-Constitutional brahmanical Sanatan Dharma because it militates against humanity, Constitution and democratic values. These values are inherent in Article 13(1) of the Constitution which says that all the laws in force in the territory of India immediately before the commencement of this Constitution, in so far as they are inconsistent with the Fundamental Rights listed in Part III, shall, to the extent of such inconsistency, be void. This means that India has declared the religious norms, traditions, customs and rituals that are inconsistent with equality, liberty, brotherhood and justice as null (invalid).
"The fact of the matter is that if we value a constitutional and democratic order and if we want to make India a strong nation, we will have to eliminate the Brahmanical Sanatan Dharma, culture and social order and replace it with a system based on equality, brotherhood and justice."
However, the Dalitbahujan leaders from North India, including Bihar chief minister Nitish Kumar, Rashtriya Janata Dal supremo Lalu Prasad Yadav, BSP chief Mayawati and Jharkhand Chief Minister Hemant Soren, have chosen to remain silent on the issue. Should they not take note of the socio-cultural changes in Tamil Nadu? Isn't their deafening silence tantamount to promoting Brahmanism? 
(Translation from the original Hindi by Amrish Herdenia)
---
Forward Press also publishes books on Bahujan issues. Forward Press Books sheds light on the widespread problems as well as the finer aspects of Bahujan (Dalit, OBC, Adivasi, Nomadic, Pasmanda) society, culture, literature and politics. Contact us for a list of FP Books' titles and to order. Mobile: +917827427311, Email: info@forwardmagazine.in)