Govindraj Ghundi Phalke (Dada Saheb Phalke), a Chitpawan Brahmin, was the pioneer of Indian cinema. He produced the first Indian feature film Raja Harishchandra in 1913. In its initial years, Indian cinema was dominated by an elite. Many artistes from the Parsi theatre had joined films. At that time, companies such as New Theatres and Prabhat Pictures used to produce films. Then, almost all the key people in cinema hailed from upper-caste families – directors such as V. Shantaram, Baburao Painter, Prashant Damle, Nitin Bose, Himanshu Rai, P.C. Barua and A.R. Kardar; music directors such as R.C. Boral, Ramchandra, Salil Chaudhary, Anil Biswas, S.D. Burman and Roshan; actors such as Prithviraj Kapoor, Ashok Kumar, Motilal, Chandramohan, Shahu Modak and Ajit; and actresses such as Devikarani, Durga Khote, Kanan Devi, Uma and Yama.
Some Dalit artistes began knocking on the door of Indian cinema. They included comedian Bhagwan Dada, the hero of the film Albela (1951) whose dancing style was adopted by Amitabh Bachchan, and singer and comedian Uma Devi, alias Tuntun, whose song Afsana likh rahi hoon, dile bekarar ka in the film Dard (1947) was a smash hit of those times.
Bhagwan Abhaji Palav, alias Bhagwan Dada, was born into a poor Dalit family of Maharashtra while Tuntun hailed from a Dalit (Mehtar) Christian family. Uma Devi began her career as a playback singer but due to her dated style and limited vocal range, she could not continue as a singer for long and switched to acting. She was given the nickname Tuntun. In the era of black-and-white films, the pair of Johnny Walker and Tuntun was a surefire formula for making the audience laugh. Among the contemporary comedians of the silver screen, Johnny Lever is a prominent name. He was born John Prakasa Rao Janumala into a Dalit (Mala) Christian family of Andhra Pradesh and has studied only up to class seven. While working at Hindustan Lever (now Hindustan Unilever), he used to regale his colleagues with mimicry. Soon, he became popular as Johnny Lever, the comedian with a unique style. Many of his films with Govinda and Kadar Khan became big hits.
Onkardas Manikpuri is one of the most successful actors in Chhattisgarhi cinema. He played the protagonist of Peepli Live, the super-hit film produced by Aamir Khan and directed by Anusha Rizvi. A resident of Bhilai in Chhattisgarh, Manikpuri comes from a Dalit Bunkar family. He stepped into the world of theatre to overcome the grinding poverty of his family. For many years, he was associated with Naya Theatre, founded by renowned theatre personality Habib Tanvir in Raigarh.
Actor-turned-politician Chirag Paswan
Chirag Paswan, son of Lok Janshakti Party supremo Ramvilas Paswan, began his Bollywood career as the lead actor in the film Milein Na Milien Hum. While the film did not click, his political career has taken off, courtesy of his father, who is now a union minister. Chirag was elected to the Lok Sabha from the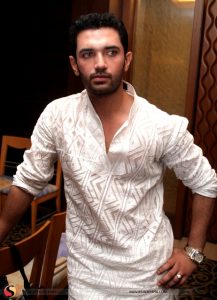 Jamui constituency in the last general elections. Well-known Dalit writer H.R. Harnot's son Girish Harnot is a TV and film actor. In Pollywood (Punjabi cinema), Navraj Hans (son of famous singer Hansraj Hans) is a name to reckon with. The Hanses are Mazhabi Sikhs (equivalent to Mehtars).
Kanjibhai Rathore began his career as a photographer for the Oriental Film Company in the Gujarati film industry. He moved on to Kohinoor Company, where the owner Dwarkadas Sampat was so impressed with his work that he made him a director. Kanjibhai Rathore successfully directed many black-and-white films in the British era. "Kanjibhai came from a Dalit family and can be described as the first successful professional Dalit film director," writes film historian Virchand Dharmasey in Light of Asia: Indian Silent Cinema 1912-1934.
Former MP Mahesh Kumar Kanodia is a singer and his younger brother Naresh Kanodia a well-known actor. The Kanodia brothers are the most successful artistes in Gujarati cinema.
J.C. Daniel, the pioneer of Malayalam film industry, hailed from the backward Nadar caste. He produced the first Malayalam feature film Vigatakumaran (The Lost Child). The heroine of the film was P.K. Rosie, a Dalit Christian. An attempt was made on the life of Rosie because she, a Dalit, had dared to essay the role of a Nair woman. She somehow managed to save herself but was forced to spend the rest of her life in hiding.
In Bhojpuri cinema, two Dalit actresses Poonam Sagar and Jyoti Jatav have earned a name for themselves. The chartbuster song, Kolavari Di, was sung by Dhanush, the son-in-law of superstar Rajnikant and lead actor of the Hindi Ranjhna. He also comes from a Dalit background. Besides them, Hansraj Hans, who began his career as a playback singer for Hindi film Kacche Dhage (1999), famous pop singers Amar Singh Chamkila, Lalchand Yamla Jatt, Ravi Jaku, and Poonam Yadav (Jatav), who attained fame with her success in reality show Sare Ga Ma Pa Challenge 2007, are all Dalits.
No religion, caste or community has a monopoly over artistic talent but both the first family of Bollywood, the Kapoors (from Prithviraj Kapoor to Ranbir Kapoor), and the Khan trio (Aamir, Shah Rukh and Salman) come from upper-caste backgrounds. Dalits may have a minimal presence in the film world but they have carved out a place for themselves through sheer talent and hard work.
Published in the February 2015 issue of the Forward Press magazine
---
Forward Press also publishes books on Bahujan issues. Forward Press Books sheds light on the widespread problems as well as the finer aspects of the Bahujan (Dalit, OBC, Adivasi, Nomadic, Pasmanda) community's literature, culture, society and culture. Contact us for a list of FP Books' titles and to order. Mobile: +919968527911, Email: info@forwardmagazine.in)