NEW DELHI: According to reports, Mahishasur Day is likely to be celebrated at around 1,000 places in North India this year. Local editions of various newspapers are carrying reports of these events but the "national media" is maintaining a distance from them.
A related development that is finding mention in state editions of different newspapers is the rising tension in some places over a WhatsApp message allegedly insulting Devi Durga. Arson has been reported from some areas, while entire towns have come to a standstill and prohibitory orders under section 144 have been issued in others. Organizations of upper-caste Hindus have lodged FIRs against those who have posted this message. On the other hand, in Chhattisgarh, some Mahishasur Day supporters have complained against Durga worshippers to the police and the High Court has refused anticipatory bail to the accused.
Mahishasur Day is normally celebrated on Sharad Purnima, which falls on 15 October this year. But in some places, it is celebrated in the run-up to this day. There haven't been any reports of police harassing the organizers of Mahishasur Day so far. The organizers on their part have appealed to their followers to remain calm and maintain peace.
We will be publishing detailed reports on Mahishasur Day after the day has been observed. For now, how have the various local newspapers covered Mahishasur Day events? Let's take a look.
Mahishasur being remembered widely
Hot Topic: The Asur Tribe
The Mahishasur movement does not have a direct connection with the Asurs like it does with the Gond, Santhal, Koya and other tribes. In fact, as a cultural movement, it has a deep connection with the Other Backward Classes and Scheduled Castes, which not only have traces of the Asur culture in their domestic traditions but also consider them a means to challenge the brahmanical culture. Most of the historical and linguistic evidence tells us that Mahishasur has been of special interest to those backward castes who make a living from agriculture or cattle-rearing.
However, our 'Bhadralok' and the media have been drawn to the Asur Tribals living in Jharkhand and are searching for their horns, long nails, and big teeth that can chew up humans alive. This was partly why this year, a Durga Puja organizer invited Sushma Asur and her friends to Kolkata, sending the media into a tizzy.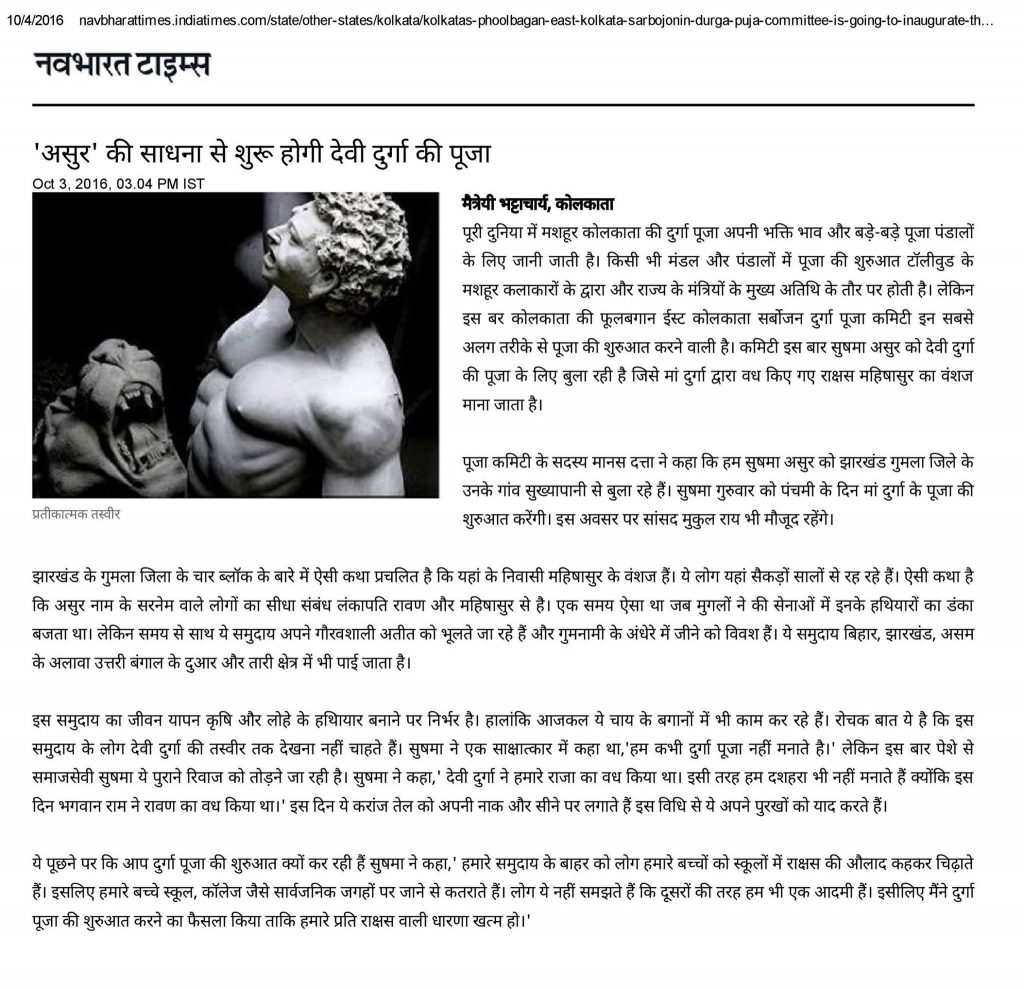 For more information on Mahishasur, see Mahishasur: A People's Hero. The book is available both in English and Hindi. Contact The Marginalised, Delhi (Phone: 9968527911).

Or, find the book on Amazon:  Mahishasur: A People's Hero  (English edition),  Mahishasur: Ek Jan Nayak (Hindi edition)