While on the one hand, brahmanical Hindutva is on the offensive in the country, on the other hand the Bahujans are resurrecting their culture and traditions, and are trying to dig out their heroes from the recesses of history, where they lie by default or design.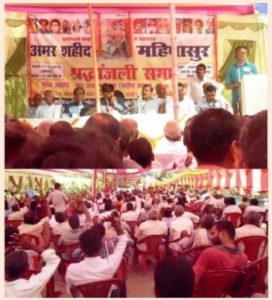 It seems the era of cultural renaissance of the Bahujans is here and the injustices done to them in the past through use of violence and deceit are being exposed.
Not only the Asurs of Jharkhand but also the Tribals of Gujarat have accepted Mahishashur as their hero. Mahishasur Martyrdom Day has taken the form of an all-India Bahujan cultural movement. Rajeshwar Vishwabandhu, a social activist from Jharkhand, met Jayanti Bhai, another social activist,  during his recent visit to Gujarat. Jayanti told Rajeshwar that more than 2000 Tribals of Panchmahal region of Baroda are preparing to celebrate Mahishasur Day this year. Mahishasur Martyrdom (or Memorial) Day is likely to be celebrated at more than 1000 places, including small villages and towns and cities, this year. In West Bengal alone, it will be celebrated at more than 700 places. The movement has also crossed the borders of India to reach Nepal.
Jittery government and Manuvadis
Within less than five years, this annual event has not only created a nationwide social stir but has also provided a platform for cultural unity between the Tribals, OBCs and Dalits. When preparations were being made for the Mahishasur Day in Chhattisgarh, the state government went into a tizzy as if some terrorist organization was readying to launch an attack on the state. The Dharma Sena lodged a complaint against popular CPI leader Manish Kunjam for sharing a post on Mahishasur on WhatsApp. Since then, the Mahishasur movement has only gained strength in the state.
Asur speak up
Sushma Asur, a poetess and a scholar of Jharkhand's tribal history, who comes from the Asur community, says, "If we were demons, we would have been chewing up human beings every day. Many MNCs  are coming to Jharkhand and depriving us of our land, water and forests. Wouldn't we have chewed them up? The historical injustice that the religious scriptures have done to Asurs should be exposed. Under a conspiracy, Manuvadis, through clay statues, created a ghastly image of us so that no one could point a finger at their racist policies and programmes. They portrayed us as having big teeth and sharp claws and gave us the appearance of demons so that they could deprived us of our water, forests and land and establish their own rule. Can no white-skinned man be a demon?" Sushma Asur asked us softly: "You people build pandals and worship Durga for nine days. But in the same pandals, women face harassment and insults from men. Aren't these men demons?" Sushma's question was valid. Why are we projecting as demons the heroes, whose looks and complexion match those of our Bahujan Tribal community? Aren't we humiliating a human race? Aren't we demonizing the Tribals of our country?
Ravan and Mahishasur are our ancestors
In Madhya Pradesh, members of the Gondwana community have submitted a memorandum to the governor demanding that burning of the effigies of Ravan in the state be banned this year. The memorandum says that Ravana and Mahishasur are ancestors of the Gondwana community and burning their effigy is tantamount to insulting the community. Clearly, the demonization of  cultural identity of the indigenous inhabitants was bound to be questioned some day or the other. The existence of  Hindu religious scriptures may come under threat soon. After all, how long can one fool the people with tales of mythological characters?
Mahishasur: Just and peace-loving Bahujan king
Damodar Gop, who practises law in Giridih district of Jharkhand, says that this year, "not only Asur community but members of Yadav, Kushwaha, Kumhar, Kurmi, Nishad, Manjhi, Rajak, Ravidas and other deprived communities are also enthusiastically joining the Mahishasur Day celebrations. Preparations are afoot in Dhanbad, Gumla, Kodarma, Giridih and other districts for the celebrations. Mahishasur was our ancestor and we are going to publish thousands of copies of a pamphlet detailing the historical evidence against the lies peddled by the Brahmins. We will prove that Mahishasur was a peace-loving and just king." Quoting from a book written by historian D.D. Kosambi, Damodar Gop says that "the Yadavs were animal rearers and milk traders, and Mahishasur was the king of Yadavs, whom Kosambi describes as Mhasoba.
Yadavs were the animal rearers of ancient India." In his book The Culture and Civilisation of Ancient India in Historical Outline, Kosambi writes that the "pastoral (gavali) people who brought the present gods did not build the original megaliths, they only reused megalithic material with engraved rocks for their cults or burial cairns. Their male god, which later became Mhasoba or some equivalent, had originally no consort and was for a while in conflict with the earlier mother goddess of the food gatherers. The two groups soon merged, however, and the deities were accordingly married. Sometimes, one can find the goddess crushing the buffalo-demon Mhasoba in some rude shrine while 400 metres away she is married to the same Mhasoba with slightly changed name." Kosambi's postulation confirms that Mahishasur, or Mhasoba, was the god of the animal rearers and Durga married him. The Aryan food gatherers massacred the animal rearers through deceit, using the services of a crafty woman, and established their own rule.
https://www.youtube.com/watch?v=LgNRypU6bPk
 Unique experience
Those celebrating Mahishasur Day say that the Mahishasur-Durga battle was basically a battle between the Aryans and the non-Aryans and that Mahishasur is the ancestor and the hero of non-Aryans. Talking to the organizers of this event in different parts of the country was a unique experience for me. When I called up Anil Asur, a social activist of the Asur community from Jharkhand, he began and ended the conversation with "Jai Mahishasur". It is clear that Mahishasur – who has been the villain for sometime – is assuming the new avatar of a hero. Noteworthy is that the Asurs – whose total population has shrunk to less than 9,000 – consider Mahishasur their ancestor but not their god. They say that Brahmins created gods to establish their cultural hegemony. We only want recognition of our cultural identity.
Vishnu Rawat, who is based in Delhi and is researching the cultural history of Bahujans and Tribals, says that the status of Ravana and Mahishasur as heroes is nothing new. While attacking the cocktail of mythology and history peddled by the Hindu religion, Periyar and Babasaheb had referred to them. The Hindu religious scriptures are tools of exploitation of the Bahujans and the means of projecting them as villains.
Those who celebrate Mahishasur Day say that after the murder of Mahishasur by Durga and her allies, his followers organised a huge public meeting on Ashwin Purnima in which they resolved to keep their egalitarian culture alive and regain their lost glory and property. That is why Mahishasur Day is being observed on Ashwin Purnima in most places. This Purnima falls on the tenth day of Dussehra, although in some places it is held on the Durga Puja day. Others choose any day for the celebration based on their convenience. In some places it is called Mahishasur Martyrdom Day while in other places it is described as Mahishasur Memorial Day.
From an event to a movement
In Uttar Pradesh, Mahishasur Day is being celebrated at Dumri, near Devaria, and in Lucknow for the past four years under the leadership of Chandrabhushan Singh Yadav, chief editor, and Rajvir Singh, editor, of Yadav Shakti magazine.
Mahishasur has been remembered every year since 2012 in Mugma, in the Nirsa block of Dhanbad district, Jharkhand.
Mahishasur Day is celebrated in many places in Giridih district, Jharkhand, under the leadership of senior lawyer Damodar Gop.

A 2015 file photo shows activists of the Eklavya Sena protesting against Durga Puja in Muzzafarpur, Bihar, by celebrating it as "Kaal Diwas"

In Panvar block of Giridih, Arvind Paswan organizes the event. He says that this year, Mahishasur Day will be celebrated on a grand scale in Giridih and neighbouring districts on Ashwin Purnima Day.

In Sikandarpur Kundal, Muzzaffarnagar district, Bihar, Mahishasur Day will be celebrated on Ashwin Puja.
Hareram, a teacher and a social activist, and his team will organize the Mahishasur festival celebrations in Madhepura, Bihar, this year.
Social activist Abhinav Mallick of Supaul district, Bihar, said that the members of the Asur community live in Sonak, a tribal settlement adjoining the Supaul town, and they have always believed that Mahishasur and Ravana were their ancestors.
In Patna, lawyer Manish Ranjan, and journalists Nawal Kishore Kumar and Rakesh Yadav are spreading awareness about Mahishasur Martyrdom Day.
In the rest of Bihar, Ramnaresh Ram and Pradeep Yadav in Siwan Bihar, Birendra Gupta in East Champaran, Raghunath Mahto in West Champaran, Chandrika Sahu in Shivhar, Ramshreshtha Rai in Sitamarhi and Radhakrishna Das, the Mahant of Thawe temple, in Gopalganj are telling the people the story of Mahishasur by organizing Mahishasur Martyrdom/Memorial Days.
In Jugwa, Kaushambi, Uttar Pradesh, N.B. Singh Patel and Ashok Vardhan have been organizing a big event on Mahishasur Martyrdom Day. Last year, they had announced that they would rename their village Jugwa Mahishasur and put a board with the new name at the entrance to the village.
Again in Uttar Pradesh, Kamal Patel and Surendra Yadav in Mirzapur, Laddu Singh and Ramanohar Prajapati in Allahabad, Mohit Verma in Banda, and Krishna Pal, Arvind Gaud and Ripusudan Sahu in Varanasi are the chief organizers of the event in their respective towns.
Celebrations of Mahishasur Day have begun in Mysuru, Karnataka; Balaghat, Madhya Pradesh; and many towns of Odisha.

A file photo shows a poster from the Asur Festival in Hyderabad

The rationalists of Karnataka organized Mahishasan Habba (Mahisha Festival) at Chamundi Hills on the eve of Nav Ratri. Among the organizers are Karnataka Dalit Welfare Trust and other progressive organizations. According to Prof Mahesh Chandra Guru, a rationalist and media scholar, "Some vested interests are presenting Mahisha as a villain. There is no evidence that Chamundeshwari killed him, as many Hindu scriptures say. Mahisha was a Buddhist-Bahujan king, who ruled over Mahisha Mandala with humanism and progressive ideology as his guiding principles. He was a symbol of equality and justice."
---
For more information on Mahishasur, see Mahishasur: Ek Jananayak. Contact The Marginalised (Phone: 9968527911; e-mail: themarginalisedpublication@gmail.com).

Click here to purchase a copy on Amazon.

The English edition of the book has been titled Mahishasur: A People's Hero. Copies are available here.

For the e-book version, click here