She accepted the invitation, then turned it down and finally accepted it again. In the end, poetess Sushma Asur did agree to take part in a cultural programme that the FE Block Residents' Association, Kolkata, had organized during Navratri and Durga Puja earlier this month. She travelled to the city, leading a seven-member all-Asur troupe from the Netrahat region, in the interior of Jharkhand. The TV news channels showed Sushma Asur and her troupe dancing outside the pandal in Kolkata to a traditional mournful tune, while inside the pandal stood Durga's idol, showing her in the act of killing Mahishasur.
Sushma told NDTV: "I won't go inside the pandals, it would mean breaking with tradition. This is a time for mourning for us, not celebration." The Asurs consider Mahishasur their ancestor and a hero.
Sushma had dithered about making the trip to Kolkata because the early news reports from the city talked about her arrival on 7 October to inaugurate a puja organized by a certain Phool Bagan Sarbojonin Durga Puja Committee. But persistent calls and emails from Subhash Roy and others of FE Block, Salt Lake, and their repeated assurances that they were not the Phool Bagan committee and that she and her team would have nothing to do with the puja itself allayed her fears. Sushma and her troupe boarded a bus to Kolkata. After all, as Sushma said, it was an opportunity for Asurs to tell people in Kolkata that they were not "rakshas" but a living community, a society, just like theirs.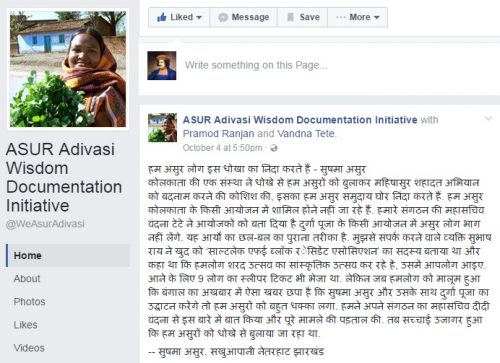 Subhash Roy, one of the organizers of the event, is an engineering consultant in the power and mining sectors and his visits to the mines and steel and aluminium plants had brought him "marginally" in contact with the indigenous communities of Jharkhand. He looks backs at the event with a sense of accomplishment. "There has been a positive reaction. People had a misconception about Asurs and they were actually demonised. When people did see them in person, they interacted with us, they stayed with us, they had food with us, so they weren't that. That was the message we were trying to convey and it did go across very well."
The FE Block community organized a sightseeing tour for their guests and booked them an air-conditioned bus for their journey back to Ranchi. The block residents also collected used clothes to send with Sushma and her troupe and gave them some money they had raised among themselves, including a token amount for the development of their village. The community pledged to sponsor an Asur girl child's education. They could extend this support to other members of community too.
How did the FE Block residents zero in on this idea? Subhash Roy said one of the FE Block residents had heard about the Asur tribe. "They are the original inhabitants of this land," he recalls their discussions. "Well, we know what history tells us but if you go further back in time, history may not be totally correct … They were a definitely very valiant clan or dynasty. … Mahishasur was their clan leader or demigod. He had to be very powerful because our scriptures say that three gods had to get together to create the adishakti to destroy him." But today, they found, the community is on the brink of extinction. They wanted to do something for their social upliftment. That's how they began working on this theme for this year's Durga Puja.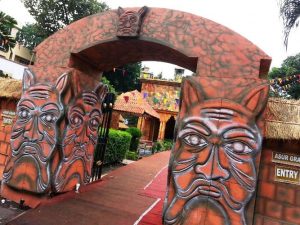 Sushma Asur is a member of the Jharkhandi Bhasha Sahitya Sanskriti Akhra. Her colleague Vandana Tete was not convinced with Sushma's decision to accept the invitation to this cultural event in Kolkata. In fact, as FORWARD Press had earlier reported, Vandana and Sushma had jointly issued a press release rejecting the invitation. "Obviously, she shouldn't have gone there, especially at this time because we know that even if she refuses [to enter the pandal], given the atmosphere there, no one will listen to her," said Vandana from Ranchi while Sushma was away in Kolkata.
https://www.youtube.com/watch?v=CGSIyqA166M
On the other hand, the FE Block Residents' Association hoped that this event would make the people of Kolkata empathetic towards this community. But to what extent do they expect them to be empathetic? Do they expect their pandals to stop showing idols of Mahishasur being killed? Subhash Roy described how the Asurs had this made this huge effort to come to Kolkata despite Navratri being a period of intense mourning for them, when, as they believe, Mahishasur was treacherously killed and they don't even step out of their houses. Would the people of Kolkata make a similarly huge effort by making idols of Durga that do not show her in the act of killing Mahishasur? Would he like that to happen? "No, I wouldn't like that to happen. Certainly not," he said.
Perhaps Vandana Tete was right. They saw who they knew of as demons, "were shocked to discover they were one of us", and had pity but they didn't listen. But the Jharkhandi Bhasha Sahitya Sanskriti Akhra will give Sushma an opportunity to explain at a meeting on 18 October why she accepted the invitation. She could be asked to leave if she's found to have gone against the ethos of the organization that works towards preserving and documenting the culture of the dwindling Asur community.
---
For more information on Mahishasur, see Mahishasur: A People's Hero. The book is available both in English and Hindi. Contact The Marginalised, Delhi (Phone: 9968527911).

Or, find the book on Amazon:  Mahishasur: A People's Hero  (English edition),  Mahishasur: Ek Jan Nayak (Hindi edition)