Ramdas Athawale, the union minister of state for social justice and empowerment and leader of the Republican Party of India, was in the news recently for demanding reservations in cricket, the "gentlemen's game". The "gentlemen's" media took his demand lightly, considering it just a kneejerk reaction to India's heavy defeat in the final of the recently held Champion's Trophy tournament. But in an interview with Forward Press, Athawale said that he was serious when he made the comment. He also answered queries regarding the creamy layer and the Modi government's strategy vis-à-vis the setting up of a new Backward Classes Commission.
Excerpts:
You recently talked about reservations for Dalits and Backwards in cricket. What made you do that?
This occurred to me when India lost to Pakistan in England. Of course, I know that victories and defeats are a part of the game but the way India was trounced in the finals of Champions Trophy was surprising. The same team had beat Pakistan in an earlier match without much effort. Initially, it was even difficult to believe that India could lose to Pakistan despite having players like Virat Kohli and Mahendra Singh Dhoni. I had raised the suspicion that the match might have been fixed. It was in that context that I had talked about reservations for Dalits and Backwards in cricket.
What would such reservations do?
I believe that the children of Dalits and backward classes also have sporting talent. Just as they are becoming doctors and engineers courtesy of reservations today, if given an opportunity, they can become good sportspeople too. I also believe that Dalit and Backward sporting talents are ignored. Just look at the Indian team. After Vinod Kambli, no sportsman from these communities could display his talent at the international level.
In 2013, there was a report that said that Sachin Tendulkar's son Arjun Tendulkar was included in the Under-14 Indian cricket team, while Bhupendra Lalwani (who had scored 398 runs not out), an OBC, and spinner Satyak Patel (who had taken six wickets in an innings) were overlooked.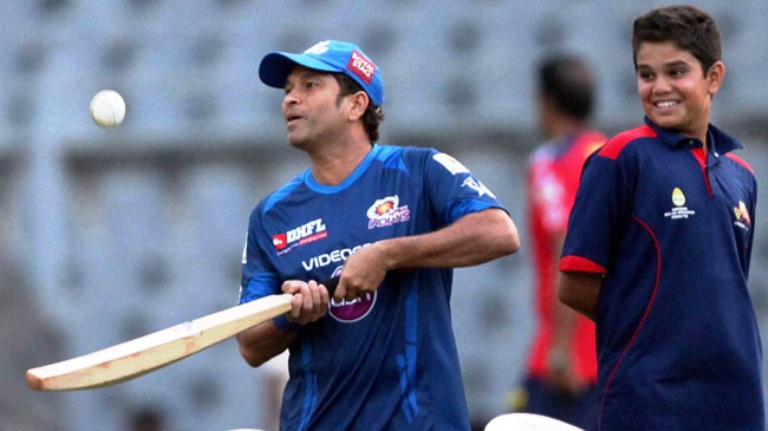 Definitely, such things should not happen. Just as Sachin Tendulkar's son was included, so also talented players like Lalwani and Patel should have been given a chance. That was why I talked of reservations in cricket.
Will you recommend a change in the sports policy of Government of India so as to make provision for reservations in sports?
You are right. Why only cricket? The policy should be changed to provide for reservations in all sports. As a minister, I will take an initiative in that direction.
You seem to have great interest in sports. Any special reason?
(Smiles) I was interested in sports from my childhood. As a teenager, I used to play volleyball, cricket and football. I could not become a good sportsperson, though I did become an excellent political player.
The central government has been talking of raising the creamy-layer cap. Your take?
The Commission for Backward Classes has made recommendations in this regard. Presently, the limit is Rs 6 lakh. We are going to raise it to Rs 10 lakhs.
Has any time frame been fixed for doing that?
There is no time frame but we are committed to it and my ministry is going to initiate the process soon.
A notification has been issued disbanding the National Commission for Backward Classes and a Bill was moved in the Lok Sabha for creation of a new commission. But the government could not get the Bill passed in the Rajya Sabha. Will the government reintroduce the Bill in the Rajya Sabha?
Definitely. It will be done in the monsoon session of Parliament. Once it is cleared, it will be sent to the President for his assent. And then, it will be implemented.
Last question. There are reports of irregularities in admissions to medical colleges through NEET with respect to reservations. Your comments.
A few things have come to our notice. There are reports that in some states meritorious candidates of reserved categories are not being granted admissions under the general quota. This is wrong. As minister for social justice, I will personally look into the issue.
---
Forward Press also publishes books on Bahujan issues. Forward Press Books sheds light on the widespread problems as well as the finer aspects of Bahujan (Dalit, OBC, Adivasi, Nomadic, Pasmanda) society, literature, culture and politics. Next on the publication schedule is a book on Dr Ambedkar's multifaceted personality. To book a copy in advance, contact The Marginalised Prakashan, IGNOU Road, Delhi. Mobile: +919968527911.

For more information on Forward Press Books, write to us: info@forwardmagazine.in