In its centenary year, will Indian cinema remember PK Rosy? It doesn't seem so; at least going by the history of Indian cinema as is being recounted at present. No film historian is recalling the contribution of those Dalit artistes who underwent unimaginable agony during the journey that brought Indian cinema to its present juncture. Born to Dalit Christian parents Paulus and Kunji at Thikadu (Thiruvanathapuram), Rozamma alias Rosy (1903–1975) was the first woman to act in a Malayalam film. And Vigathakumran (The lost child) – in which Rosy essayed a role – was the first Malayalam film. JC Daniel, a Christian hailing from the OBC Nadar community was the scriptwriter, cameraman, editor and director of this silent movie, released in 1928.
Rosy's father Paulus was the servant of Rev. Father Parken of LMS Church of Palyam. She and her mother Kunji used to work as daily-wager manual labourers to keep the family fires burning. Rosy was interested in the traditional Dalit dance-drama and also took part in it but the idea of becoming a professional artiste or actress never entered her mind. In those days, what to speak of a Dalit lass, even an upper-caste woman never ever thought of entering the world of cinema. Societal norms barred the entry of women into films. But when she received the proposal of JC Daniel, ignoring the norms imposed by the dominant social class, she bravely accepted it.
Joseph Chellaiah Daniel Nadar (28 November 1900 – 29 April 1975) was only 25 when the idea of making a film gripped him. Daniel came from a prosperous Christian Nadar family and owned substantial property.  Daniel was a resident of Agastivaram Talluka of Travancore (Tamil Nadu) and had completed his education from Maharaja College in Thiruvanathapuram. He had great interest in Kalaripayattu, the traditional martial art of Kerala and had mastered it. In fact, he was crazy about the martial art. When he was only 22, he wrote a book titled Indian Art of Fencing and Sword Play on Kalaripayattu. This book was published in 1915. It was with the objective of popularising Kalaripayattu that he decided to make a film. It that era, the Indian cinema was in its infancy and very few people even thought of making a film. But Daniel, a dentist by profession, was well aware of the powerful impact of films and decided to make one.
Having taken the decision, he travelled to Chennai to learn the technique and buy the necessary equipment. The first Tamil silent film Keechaka Vadham had already been produced in 1918 and with the establishment of a permanent cinema hall Gaiety (1917) and several studios, Chennai had emerged as the centre for filmmaking in South India. But Daniel did not get any help in Chennai. He was not even allowed to enter some studios. The history of cinema of South India is silent on why he was denied entry into the studios. We can only guess that probably it had something to do with his Shudra status.
Anyway, a disappointed Daniel went to Mumbai from Chennai. There he introduced himself as a teacher, whose students wanted to learn the technique of filmmaking. Using this deception, Daniel got entry into studios and also an opportunity to learn the technique of filmmaking. After that he bought the necessary equipment and returned to Kerala.
In 1926, Daniel laid the foundation of Kerala's first film studio The Travancore National Pictures and immersed himself in the task of filmmaking. Daniel had sold off a big chunk of his land and other property to finance the purchase of equipment and construction of the theatre. According to the available information, Daniel's first and last film had cost him Rs 4 lakh at that time. Last because his film Vigathakumran had to face stiff resistance from the upper castes and dominant classes. The film was not allowed to be screened in theatres and it was a commercial failure. Daniel had taken huge loans to finance his film and to repay them; he had to sell the studio as well as his remaining property. Although he produced a documentary on Kalaripayattu later, by then he was all but broke.
Getting women actors was a big challenge for Daniel while he was producing the film. Due to the feudal mindset then prevalent in society, no woman was ready to work in the film. An exasperated Daniel even contracted Lana an actress from Mumbai but she too ditched him at the last moment for some reason. Then Daniel saw Rosy and without thinking twice, he decided to cast her in his film. He somehow persuaded Rosy to say yes. Rosy worked in Vigathakumran on daily wages. She played the role of an upper-caste Nair girl Sarojam in the film. This first Malayalam film not only ruined its writer, actor, editor and director Daniel but Rosy also had to pay a horrific price for acting in the film. She was almost killed in a murderous attack by the upper-caste goons and had to spend the rest of her life in the hiding.
When Vigathakumran was released in Thiruvanathapuram's Capital theatre on 7 November 1928, it had to face angry protests of the upper castes. The upper-caste people were livid that a Dalit Christian Rosy had played the role of a Hindu upper-caste Nair girl in the film. The theatre was stoned and the screen was torn. Rosy's house was surrounded and the entire family was humiliated. On the third night of the release of the film, despite the security provided by the king of Travancore, Rosy's house was attacked and the goons set her hut ablaze. On the fourth day, the screening of the film was stopped due to fierce and violent protests.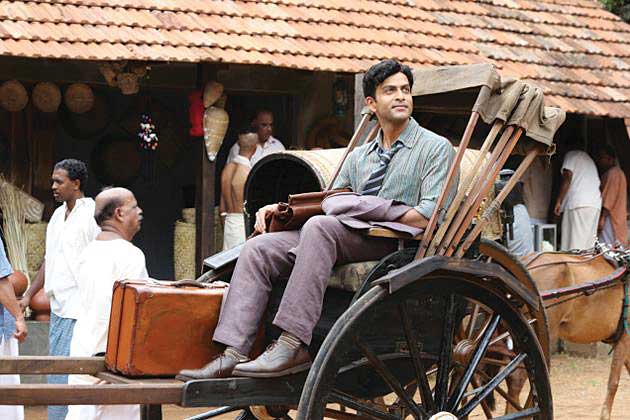 According to well-known historian of the South Indian film industry Chellangat Gopalakrishnan, when Rosy's house was attacked and an attempt was made to burn her and her entire family alive, she managed to flee to safety. Rosy's story is diametrically opposite to those of the women of high-class families whose lives were transformed after they entered the film industry. The celluloid world brought them tonnes of money and oodles of fame. But Rosy had to pay a heavy price for working in a single film. She was stigmatized, humiliated and attacked. She had to remain anonymous the rest of her life.
Daniel too did not fare any better. He spent the rest of his days in penury and the Kerala government even refused to recognise him as a Malayali. When a pension scheme was launched for the artistes facing economic deprivation, Daniel's application was rejected on the ground that he was a native of Tamil Nadu. Kamal, the producer-director of Celluloid 2013, a biographical feature film based on the life of Daniel and Rosy, said in an interview that Kerala's former chief minister K. Karunakaran and bureaucrat Malyattur Ramakrishnan did not want a Nadar filmmaker to have the distinction of being the father of Malayalam cinema. Subsequently though, in 1992, the Kerala government instituted an award in the name of Daniel, which is given for lifetime achievement in the field of Malayalam cinema.
The heart-rending story of the courage, creativity and sacrifice of Rosy and Daniel exposes the ugly feudal face of not only Malayalam cinema but also the Indian film industry and film historians. Rosy and Daniel take us behind the colourful silver screen, where a cruel casteist mindset still rules the roost. Had Chellangat Gopalakrishnan, Vinoo Abraham and Kunnukuji S. Mani not written about Daniel and Rosy, we would have never come to know of the two great personalities, who lie buried at the foundation of Malayalam cinema. And neither could culture critic Jenny Rowena have asked the question whether, even in today's Malayalam cinema, a so-called citadel of progressivism and education, a Dalit actress can play the role of a Nair woman.
Published in the July 2013 issue of the Forward Press magazine