On 18 September 2017, the indigenous peoples of Mysuru (Mysore) celebrated Mahisha (Mahishasur) Dasara at Chamundi Hills. Among the organizers were progressive institutions like Dalit Welfare Trust, Ashokapuram Abhimaanigala Balaga, Mysore University Students' Federation, Research Scholars' Association, Dalit Students' Federation and some minorities' associations. Thousands took part in the cultural procession and public meeting to pay tribute to Mahisha – who had come to this region to promote Buddhism and provide good governance to the oppressed sections of society. This historical Mysuru city was previously known as "Mahishapuri", "Mahisuru" and "Mahishamandala". Progressive thinkers, cultural personalities, social activists, research scholars, students and ordinary people actively participated in the mega event, giving the history of Mysuru a new dimension.
Litterateur and social activist Prof Shabir Mustafa and Swami Jnanaprakasha of Urilingi Peddi Matt flagged off the motorcycle rally after garlanding the statue of Dr B.R. Ambedkar. It was an occasion for the Dalits and minorities to jointly recollect the cultural legacy of Mahisha and resolve to carry forward the legacy of social justice in the state of Karnataka. Several folk cultural troupes performed during the memorable procession that emphasized the fact that vested interests had concocted the myth of Chamundi killing a demon called Mahisha. The indigenous people declared that Mahisha was their saviour and great king who represented the historical Buddhist legacy.
Chamundi Hills, atop which the public function was held, was earlier known as "Mahabala", meaning "mighty Mahisha's area of operation". A.K. Subbaiah, veteran leader, inaugurated the programme and
observed that vested interests had diluted the history of Mahisha and installed Chamundi to belittle the historical legacy of indigenous people. He called upon the government to hold Mahisha Dasara as a token of respect for the great Buddhist king. He also noted that the killers of Gandhi, Gauri Lankesh and other progressive leaders celebrated Chamundi festival shamelessly. He urged the backward classes to unite under the banner of secularism and rule the country again, non-violently and democratically, by defeating the fascists.
Prof B.P. Mahesh Chandra Guru, a rationalist and an Ambedkarite, remarked that Chamundi was neither a goddess nor a saviour. "There is no evidence to prove that he was killed by Chamundeswari, as told by Hindu mythology, which does not stand the test of reasoning and evidence," he said. "We are also celebrating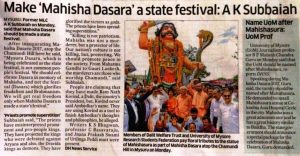 Mahisha Habba to cherish the legacy of a great ruler who stood for humanism." The vested interests concocted a mythology and projected Mahisha as a demon without any respect for the truth and historical legacy. He called upon the stakeholders of social justice and believers in secularism to fight against the imperialists and communal forces that are ruining the country in the name of democracy. He reminded the indigenous peoples about the sacrifices made by Ambedkar, Lohia, Periyar, Narayana Guru and other champions of an egalitarian society, and the need to re-establish their rule and save India's democracy. He demanded that a Mahisha statue be installed in a prime location of the city and that the University of Mysore be renamed as "Mahisha University".
Prof K.S. Bhagawan observed that communal forces are ruling and ruining India. He identified the grave threats to democracy and to the oppressed sections of Indian society. He appealed to the people of Karnataka to prevent the misrule of fascists and promote good governance under the banner of rationality and humanity.
A professor of law in the University of Mysore, C. Basavaraju said, "In the history of India written by Aryans, Asuras are portrayed as demons even though they were the great progenitors of Indian culture and civilization. Asuras are the indigenous peoples of India who sacrificed their lives for the liberation of the country and produced national wealth by their sheer patriotism and hard work."
Three books, namely Devarugala Laingika Rahasya (Sexual Secrets of Gods and Goddesses) and Dalit Orchestra: Siddhartha, both authored by rationalist Siddaswamy, and Hindugalu Danada Mamsa Thinnuttiddaru (translation of Ambedkar's Hindus Ate Beef), translated by Prof Mahesh Chandra Guru, were released on the occasion by thinkers K. S. Bhagawan, Swami Siddarama Shivayogi, Basava Lingamurthy, Haji Mulistha Chisthi and others.
The stage at the function was named after Gauri Lankesh in recognition of her ultimate sacrifice for rationality, freedom of expression and emancipation of the downtrodden communities. Rich tributes were paid to Gauri Lankesh on the occasion and the participants firmly resolved to defeat the communal forces and fundamentalists in Karnataka through democratic struggle.
Among those who were present on the occasion were Shantaraju, honorary president, Dalit Welfare Trust; Prof T.M. Mahesh, President Dalit Welfare Trust; Purushotam, former mayor of Mysuru city; Dr Mangalamurthy; Mahadevamurthy; SDPI leader Puttananaiah; Gowtham Devanoor; Harohalli Ravindra; Gurumurthy, convenor, Mysore University Dalit Students Federation; Mahesh Sosale, honorary convenor, Mysore University Dalit Students Federation; Khalil, leader of Social Democratic Party of India; Krishnamurthy and Sosale Siddharaju, leaders of the Bahujan Samaj Party; Prajwal Shashi, from the Buddha and Ambedkar association, Nanjanagud; A.J. Khan, Dalit-Minorities Sangh, Gulbarga; and this author.
---
For more information on Mahishasur, see Mahishasur: A People's Hero. The book is available both in English and Hindi. Contact The Marginalised, Delhi (Phone: 9968527911).

Or, find the book on Amazon:  Mahishasur: A People's Hero  (English edition),  Mahishasur: Ek Jan Nayak (Hindi edition)

And on Flipkart:

Mahishasur: A People's Hero (English edition), Mahishasur: Ek Jan Nayak (Hindi edition)