"A new history is being dug up and efforts are being made for a re-rendition of mythology – just as was done by Phule, Periyar and Ambedkar" – Pratiman, June 2016.
You can gauge the importance of this report you are going to read by the following turn of events: Vivek Kumar, a Kurmi of Manpur town in Chhattisgarh, was arrested in March 2016. Vivek Kumar had put a post regarding Mahishasur on his Facebook wall. Some local residents lodged a complaint with the police against him alleging that he had insulted Durga. Vivek ended up spending a few months in jail. Subsequently, many people were arrested from different parts of the country. All of them had tried to project Mahishasur as a people's hero and all of them were held on the charge of insulting Durga. Arson and violence was reported from many places. Such reaction is considered normal when so-called "religious sentiments" are hurt.
But the reality is different – and surprising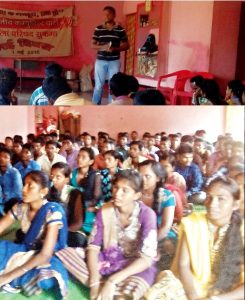 On 10 November 2016, BJP worker Satish Dubey was arrested in Vivek Kumar's hometown, Manpur, for insulting Mahishasur. This year, in April, local Tribals had complained to the police that by raising slogans like "Mahishasur ki auladon ko, jute maro salon ko", Satish Dubey and his associates had insulted their cultural beliefs (see Insulting Mahishasur costs dear Tribals hit the streets). When the police did not take action on their complaint, they approached the judiciary and ultimately, on the orders of a court, the police had to arrest Satish Dubey. Five other accused – Raju Tandia of Bharatiya Janata Yuva Morcha; Om Chandak, BJP's zonal vice-president; Prakash Mishra, BJP's zonal president; and Madan Sahu, former zonal president of the BJP – are absconding. This is not an ordinary incident. It has wide socio-cultural implications. This is the first instance in the country when a state agency has had to take action against those insulting anti-heroes of brahmanical mythology. Otherwise, till now, the anti-heroes like Mahishasur and Ravana of brahmanical mythology were routinely insulted during different festivals. The police action is symbolic of the non-Brahmin cultural claims being heard and also of the pressure being built by them.
A state agency being forced to accept Mahishasur as the cultural symbol of a big social group is not a sudden development. There is a background to it. This background can be understood by going through the reports of the Mahishasur Martyrdom Day events in different parts of the country in October this year. These events left the cultural nationalists dismayed and in a state of commotion. Pratiman, a research journal published by the prestigious Centre for the Study of Developing Societies, said in its June 2016 issue: "These are disquieting times for the mythological structure of the Hindu religion and the sociology based on it. The reason is the discourse on Mahishasur, which has created ferment in the social life and the cultural politics of the country." This disquiet was visible in Parliament in February this year when the then Union minister for Human Resource Development Smriti Irani insulted the Dalit, OBC and Tribal Bahujans by stating that the Mahishasur Day observances were indicative of a despicable mentality.
Shared history, shared memories

Historians tell us that the Bahujans – an umbrella term for the Tribal, Dalit and OBC communities of the country – have a common heritage. Their history and their memories are the same. That is why Mahishasur has left a mark in all these communities. Having faced brahmanical insults and humiliation for long, these groups are now trying to rediscover their culture and are laying their claim to it. In his book Lokayat, Debiprasad Chattopadhyaya talks about what the powers that be did after destroying the system of the Tribals. Referring to the arrangements Kautilya proposed for them, he writes, "These persons should be settled in small villages of five to ten families each and they should be engaged in agriculture. These villages should be separate and should be self-sufficient. There should be no possibility of these people coming in contact with one another."
According to Debiprasad, the followers of Kautilya left the villagers to fend for themselves. They were isolated but they must have retained elements of their Tribal beliefs and thoughts. In other words, though these Tribals started living in villages, they must have kept their past practices alive. It is probably the shared memories, the shared characteristics that link the people who have dispersed over a large area and are engaged in different vocations, including agriculture and animal husbandry. Mahishasur's is one such shared memory.
A day of animal rearers, farmers and other Backwards
Let us try to understand how the Mahishasur Day events are posing a challenge to the brahmanical thinking on the ground. FORWARD Press has already published reports of Mahishasur Day events held in different places in 2016 (see reports by Rajan Kumar, Guru Murthy and Mahesh Sosle, Anil Varghese and Anil Kumar). These reports, quoting different sources, said that the day was observed at around 1000 places in the country but these reports did not present the whole picture. The figure of 1000 was surprising but the reports did not say anything about the social background and the economic status of the organizers. These questions led me to launch a hunt for the organizers of these events. The main organizers are from the younger generation of small villages who have become aware thanks to WhatsApp groups. In many cases, a single village had two or more events.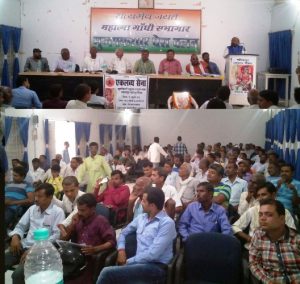 A general perception about Mahishasur Day is that it has something to do with the Asur tribe and only a couple of Dalit organizations observe the day. The reality, however, is quite different. While working on this report, I came to know that the Asur community of Jharkhand considers Mahishasur their ancestor and remembers him on the new moon day of Kartik month. On the same day, Narak Chaturdashi and Diwali are celebrated in the brahmanical tradition. Asurs neither join Durga Puja celebrations nor celebrate Diwali. The Asurs do not observe Mahishasur Day the way others have done in different parts of the country over the last couple of years. This Mahishasur Day is not a resurrection of an ancient festival. Rather, it is a weapon of resistance of the socially, culturally and economically deprived sections. Besides the Asurs, Gond, Koya and Bhil tribes also observe Mahishasur Day. The day is an elaborate affair among the Ambedkarite Dalit groups, especially those associated with the cultural movement of different factions of BAMCEF. But a majority of the organizers are OBCs.
The Mahishasur Martyrdom Day events in October this year in Bihar, West Bengal, Odisha, Uttar Pradesh and Gujarat sent out the message of shared heritage and memories. Needless to say, the actual number of events was many times the figure arrived at in this report.
Enthusiastic participation in Bihar districts
Different parts of Bihar observed Mahishasur Day on different days of October. Most of the leading organizers were OBCs. Aurangabad and Gaya districts alone had six venues. Periyar Saryu Mehta was the organizer of the event at Mahishasur Chowk in Holika Nagar, Amba, on 8 October. Vijay Gope was in charge of a similar event held on 23 October at Lalai Singh Auditorium, Mahishasur Chowk, in Pipardeeh, Aurangabad. Devnandan Yadav, Nagvendra Yadav and others participated in the events at Gurua Bazar, Gaya, on 29 October and Rajendra Yadav, Parmeshwar Paswan and others were among the organizers in Mohanpur block of Gaya district on 23 October. Siddheswar Yadav and Lalai Paswan remembered Mahishasur as their hero at Pirma village in Madanpur, Aurangabad, on 30 October at a function organized at the Mahishasur meeting hall.
What was common in all these events was that the organizers were mostly OBCs – either Yadavs or Kushwahas. Of the six events, Dalits organized one. According to the organizers, the participants at almost all the functions mainly comprised Dalits and OBCs. The names of the venues of these events indicate that a cultural revolution is underway. Bahujan residents have named many auditoriums and intersections in Aurangabad after Mahishasur. According to Vijay Gope, residents of Aurangabad and Gaya districts began observing Mahishasur Day five years ago, in 2011, under the leadership of Periyar Saryu Mehta. In both the districts, initially, there was an event each. Gradually, it spread. The Rashtriya Moolniwasi Buddhijivi Sangh has been the main organizer. According to Vijay Gope, initially, they faced problems in getting permission from the administration but later they decided that they would inform the administration but not wait for the permission. "The participation in these events has been growing," Saryu Mehta said. When asked whether they are not just switching from worshipping one deity to another, Saryu Mehta said, "No puja is performed in these events. People are informed about the Bahujan heroes through pamphlets and brahmanical conspiracies are exposed through speeches. The Martyrdom Day is mainly observed by holding seminars and meetings." Vijay Gope, who is the principal of Manika Madanpur Inter College, said, "Yadavs constitute the biggest caste group participating in the event. Besides them, Koeris [Kushwahas], Kurmis, Kumhars [Prajapati], Kahars [Chandravanshi] and Nai [Thakur] also join in. Paswans and Charmakars are also enthusiastic participants."
In Arwal district, neighbouring Aurangabad, Mahishasur Day was observed on 16 October. Sanjay Kumar Yadav said, "Since the administration had not given permission, we had some limitations. We had informed the administration, though. Hundreds of OBCs, SCs and STs joined the events held on the occasion. They included Yadavs, Kushwahas, Lohars, Kurmis, Paswans and Banias (Savs).
Vaishali region
Although the celebrations of Mahishasur as a hero and as a benefactor of the Bahujans have begun only 5-6 years ago, Hazipur's Shiv Rai said he had organized a function to commemorate Mahishasur at Meenapur in the district 22 years ago. The police only questioned him but did not stop him from holding the event. "Mahishasur still existed in various forms among the Dalitbahujan communities and the indigenous inhabitants," Shiv Rai said. He added that over the past 5-6 years, the scale and number of Mahishasur Day events in the area had grown.
This year, the Mahishasur Martyrdom Day events in the Vaishali area began in Ghodha, in the Mahua area of Gaya district, on 11 October. This is a Yadav-dominated village and the organizers were mainly Yadavs. Shiv Rai chaired the function. On 15 October, Hinduvadi organizations created a ruckus during Mahishasur Martyrdom Day event at the Press Club in Muzaffarnagar. The organizer, Naresh Sahni, who is the district convenor of Rashtriya Moolniwasi Atipichhda Sangh and state president of Rashtriya Moolniwasi Machuara Sangh, said that former minister Basawan Bhagat also joined the event. Most of the participants, Sahni said, were from the Yadav and fishermen communities. Sahni has been organizing the event since 2014. "Durga is the enemy, the murderer of our ancestors," he said. "The Bahujans should not worship her. In any case, we are against all kinds of worship. We revere Mahishasur not as a god but as a hero and remember his martyrdom." The organizers in the Vaishali area include Ramalay Rai, Naresh Rai and Raghunath Prasad Yadav.
Mahishasur was remembered as a Bahujan hero at functions organized in Satiauta village of Lalganj block in Hazipur district on 16 October and at Bhawanpur, Vaishali, on 23 October. Shiv Rai, who attended both the events, said, "We ensure that there is no ritualistic worship in these events. We simply garland a portrait of Mahishasur and pay tributes to him. We hold seminars in which we discuss the brahmanical conspiracies against the Bahujans." After a faction in BAMCEF turned into a political party, Shiv Rai became the first OBC president of the organization.
Mahishasur's growing popularity in Gope land
The Madhepura district of Bihar is considered a bastion of the Yadavs. It is also the birthplace of great protagonists of social justice like B.P. Mandal. This has also been the constituency of political stalwarts Lalu Prasad Yadav and Sharad Yadav. Here, Mahishasur Martyrdom Day has started a movement for the past five to six years. Mahishasur was remembered as a Bahujan hero in the Barahi, Manhara and Sahurag villages of the district under the guidance of Hareram Bhagat, a teacher. Under the leadership of Professor Devendra Yadav, a function was held in Dhailad on 8 October and seminars were held in Tulsi Tola, Gebachpur and Belhaghat on 15 October. Janjagriti rallies were taken out with slogans like "Mahishasur ke samman mein, Asur Samaj maidan mein" (Asur community gather in honour of Mahishasur). Bharatiya Dravid Sena, Bahujan Andolan and others organized the events. Hareram Bhagat said that these organizations believed that Mahishasur is a Nagvanshi Bahujan king. On 16 October, Shrimant Yadav and Kishore Ram organized the event at Belhaghat. Shrimant Yadav said that the observances should stand out for their simplicity and their objective should be to make the Bahujan people conscious. On 30 October, Deenpatti village, Padaria, hosted a Bahujan Andolan programme and a Mahishasur Martyrdom Day event.
A woman is the chief organizer in Nawada
The Mahishasur Day events in Bihar's Nawada district began in 2010 under the leadership of Saurabh Suman, an agricultural scientist hailing from a Kushwaha family. Suman, who was awarded the Nari Shakti Samman by the president of India in March 2016, said, "We have been holding the event in the Nawada Town Hall every year. This year, the administration did not allow us." She added that the denial of permission could be the fallout of the controversial remarks of Union minister Smriti Irani on the Mahishasur-Durga issue in Parliament. Till the writing of this report, the event could not be held for want of permission. Saurabh Suman said that the people of Nawada would soon organize a seminar in remembrance of their hero – in which a discussion would be held on "Our ancestors on the margins in Indian culture". She said that on this occasion, an effigy of a woman with five hands would be burnt – one hand of casteism, second of terrorism, third of Manuvad, fourth of sexism and fifth of communalism.
In Nawada, the Buddha Vichar Samiti has installed a statue of Mahishasur to keep the memory of the Bahujan hero alive. It is not an idol that is worshipped and it is not immersed. "As there is hardly any demand for Mahishasur statues and the lingering fear of musclemen, the members of potter community were not ready to make idols of Mahishasur," Saurabh Suman said. "After much persuasion, they finally agreed."
Buxar
This district, sandwiched between Bihar and Uttar Pradesh, figures in Ramayana, the mythological epic. Two of Ravana's key courtiers Tadaka and Subahu lived here, hence the Bahujans (indigenous peoples) of the area take pride in the historical legacy of Ravana – the legacy of opposition to yagnas involving animal sacrifices. Buxar holds Mahishasur Martyrdom Day events in a big way due to these connections. Vinay Shankar Yadav organizes the events in Buxar and this year, they were held on 11 October. Vinay Yadav said that he was planning to hold a seminar on Dalitbahujan heritage in December. He said that most of the participants in events related to Mahishasur were intellectuals of Yadav, Koeri and Kurmi and other OBC castes, besides SC, ST intellectuals. Mahishasur was also remembered as a Dalitbahujan hero in Devghar, Begusarai, Sitamarhi, Supaul, Purnia, Kaimoor, West Champaran and other districts of Bihar.
Mahishasur in Gujarat
In Ahmedabad, Gujarat, the Samta Sainik Dal activists observed Mahishasur Martyrdom Day at different locations. Ashok Boudhha Diksha function and Mahishasur Day were held simultaneously. One of the venues in the state was Rambarika village of Upleta tehsil in Rajkot district. Organizer B. D. Macmahu, a lawyer, said that for the past five years, Samta Sainik Dal had been organizing the event on Ashok Vijaya Dashmi (Dussehra). He said, "Brahmins have been insulting heroes of the indigenous communities like Mahishasur and Ravana. In these events, we make the people aware and tell them about the conspiracies hatched against their heroes." According to the organizers, members of Koli, Patel, Pasmanda Muslim and OBC weaver communities (SC) participate in the events. The events here are different from those in Bihar and other northern states. The participants keep a statue of Mahishasur and worship Buddha, besides reciting Panchsheel and Trisharan. The Samta Sainik Dal also organized Mahishasur Martyrdom Day in Amreli, Bhavnagar, Surat and in many villages on Dussehra. B.D Chouhan, president, Samta Sainik Dal, said he was ready for a debate with the Brahmanvadis on the issue of Mahishasur and other Bahujan heroes.
Balaghat, Madhya Pradesh
While Mahishasur Martyrdom Day was observed at dozens of places in Chhattisgarh, including by those who were booked for allegedly insulting Durga, in Marari Mohalla, Balaghat, in neighbouring Madhya Pradesh, members of OBC communities remembered Mahishasur as a Bahujan hero. The day is being observed here for the past two years. The event is held for ten days. This year, seminars on different topics were held and documentaries and films like Discovery of India and Shudra the Rising were screened. Rajesh Marar, the organizer, said that because the administration did not grant permission for the event last year, he did not even bother approaching the officials this year. Nonetheless, he made sure that the event went ahead. "This is a battle between reason and dogma," Rajesh says. "The rationalists will have to work fearlessly." He describes how the event unfolds: "We prepare a banner with a portrait of Mahishasur. The banner also announces the observance of the martyrdom day of Mahishasur, aka Digvijay Shankar. We also describe it as the Vijayadashmi of Asurs. Under this banner, we organize a sort of ideological camp for ten days. There is no puja, no incense stick, no garland." The OBC activists of Marar (Koeri), Lodhi and Soni communities are the organizers and the participants include Dalits, Tribals and OBCs. Sunil Jhade organized the events in Madhya Pradesh's Betul district. There were reports from Mahoba of Mahishasur Martyrdom Day events on Dussehra.
Hero of Asurs in Bengal and Odisha
The popularity of Mahishasur Martyrdom Day is growing in the eastern states of Bengal and Odisha. Samudra Biswas and Chariyan Mahto were among the first to be associated with the events held on the occasion. They say that the day is now observed at 700 locations in the state (Read: On Mahishasur Day, Bengalis throw off those mythological chains). The organizing committees mainly include Dalits, OBCs and Tribals. According to Samudra Biswas, the Bengali OBC castes that take part in the Mahishasur Day events include Satchasi, Gwala Ghosh, Kapalik, Tati, Nath, Koevarto Jele (fishermen), Mahto, etc. Chariyan Mahto said: "The organizers consider Mahishasur a martyr and hence they do not worship him. They do make his statues but do not immerse them. It is like the statues of top leaders. We are poor. We cannot make stone statues, so we make statues of clay". In the neighbouring state of Odisha too, more and more functions are being held in remembrance of Bahujan hero Mahishasur. One such event was held at Ganeshwarpur village of Kendrapada district, about 130 km from the capital Bhubaneswar. The Moolniwasi Chhatra Sangh and Yuva Sangh observed Mahishasur Martyrdom Day from 10-12 October. One of the organizers Abhiram Mallick told FORWARD Press that the Dalits and OBCs considered Mahishasur their ancestor. Anil Kumar Mallick, Karunakar Mallick, Pradeep Mallick and Avantika Mallick organized this year's events. At a seminar held on the occasion, speakers criticized the tradition of depicting Mahishasur and other heroes of the indigenous people as demons.
 Uttar Pradesh: Spreading like wildfire
According to reports, hundreds of locations in Uttar Pradesh played host to events to commemorate Mahishasur as the hero of the indigenous inhabitants. Events were held almost every day in the month of October in Kaushambi, Raebareli, Basti, Barabanki, Siddharthanagar, Sitapur, Balia, Varanasi, Ghaziabad, Faizabad, Allahabad, Aligarh, Hamirpur, Lakhimpur, Pratapgarh, Mau, Bahraich, Ghazipur, Devaria, Balrampur, Sultanpur, Unnao, Badayun, Ambedkar Nagar, Etawah, Agra, Auraiya and other districts. According to Rajvir Yadav, editor of Yadav Shakti magazine, reports of the OBC community taking part in Martyrdom Day events have come in from these districts. In many of these functions, Chandrabhushan Singh Yadav, chief editor of Yadav Shakti, was also present. Rajiv Yadav says that the Dalits, Tribals and OBCs replacing Durga with Mahishasur as their icon is a "staggered cultural revolution". He said that Mahishasur was remembered all the way from Kapurthala in Punjab to the other side of international border, in Nepal, where Ramkesh Dhawal and Bhagirath Yadav organized the event. Among those who were either invited by Yadav Shakti magazine to the functions or informed about them were Ashok Vardhan from Kaushambi, Dinesh Yadav from Raebareli, Ramtanwal Arjak and Khushilal Yadav from Basti, Manoj Gautam from Varanasi, Rajkumar from Ghaziabad, Dharmendra Singh from Aligarh, Suresh Dohre from Agra, Ram Sahai from Hamirpur, Mahesh Babu from Lakhimpur, Buddhaprakash from Pratapgarh, P.D. Tandon from Mau, Tulsi Singh Kushwaha from Bahraich, Bhante Chakradhari from Ghazipur, and Meenraj from Balrampur.
Ashok Vardhan Yadav from Kaushambi led the events in three villages, including Ballaha Bariyava and Yugva. Throughout October, events were held at one place or the other. Ashok Vardhan said that this was the fourth consecutive year when the people of his district were commemorating Mahishasur and boycotting Durga Puja, taking the pledge that they wouldn't celebrate murders. According to him, thousands gathered at these events. Awareness campaigns were launched at the village level.
Dinesh Yadav, a resident of Raebareli, said that in Krishnanagar, Mahishasur was remembered at a function held at the residence of S.P. Yadav. The speakers explained to those present that the gods had used Durga to treacherously kill Mahishasur and that it was happening even today – "Brahmanvadi Indras" were using all sorts of tricks to put hurdles in the path of Dalits and OBCs.
Mahishasur: From OBCs to Tribals

A wide range of communities from Tribals to Dalits to OBCs observed Mahishasur Martyrdom Day. In Jharkhand, lawyer Damodar Gope launched the tradition of celebrating Mahishasur Day from Giridih. He was inspired by the events held in JNU on the occasion. Anil Asur, a resident of Jamshedpur, and Vikram Manjhi, a resident of Giridih, followed suit. They observed Mahishasur Day this year, too.
At Baliguma, in Dimna, in Jharkhand's East Singhbhum district, Madan Mohan started celebrating Mahishasur Martyrdom Day this year. Meanwhile, at Saraikela, it is being observed for the past decade or so. The participants were mainly from Kudmi, Santhal, Munda, Bhumij and Nai communities. Adivasi Mahasabha, Echagarh, in Saraikela, and BAMCEF helped make these events a success.
Among non-tribals, the Kudmi community has been at the forefront of the Mahishasur Day events. Other communities of Jharkhand also join in. Bijeshwar Gupta and lawyer Rajdev Yadav, both residents of Dhanbad, have taken part in Mahishasur Day events in different places over the past few years – at Maithan Dam, Dhanbad, in 2013; Mirsa, Dhanbad, in 2014; and Mugma, Dhanbad, in 2015. They said that they launched the events in 2013, inspired by Forward Press' articles on the tradition and JNU playing host to similar events.
Dileep Kumar Mahto, a resident of Jamshedpur, said that their struggle was against Brahmanism. He said Brahmins visit their homes only when someone in the family dies. He has, so far, conducted more than 1000 Brahmin-free Shraddha Karma in the areas bordering Odisha and Bengal. The Purvanchal Adivasi Kudmi Samaj has resolved to uproot Brahmanism and Durga Puja from the area. Kedo Mahto, alias Purnend Mahto, who has cycled through Europe, has been contributing to the success of these events in the area. From Dhanbad, Bijeshwar Gupta and Rajdev Yadav said that their objective was to promote atheism and oppose superstitions as also to bring the indigenous peoples out of their intellectual stupor. "If Mahishasur is portrayed as a Yadav, it will weaken our movement. Mahishasur did not belong to this or that caste or tribe; he belonged to all the indigenous inhabitants of India."
Damodar Gope said on the phone from Giridih that they had to face some resistance from the administration and some people also turned against them. According to him, the communist parties did not co-operate with them. However, he got whole-hearted co-operation from the Badai, Koeri, Ravidas, Tribal, Paswan, Yadav and other communities.
Organizers of all these events have used pamphlets and hold seminars to spread awareness about Mahishasur. Another speciality is that while the participants of the programmes do commemorate Mahishasur they make sure that the events do not turn ritualistic. From the list of organizers and participants in the events held in Uttar Pradesh, it is clear that the OBCs play a key role in the movement. Chandreshwar Singh Yadav, chief editor of Yadav Shakti, says that the participants include both Dalits and OBCs.
The reports of the functions indicate that the Mahishasur Day events have become an all-India phenomenon. Mahishasur was always a part of the Bahujan folklore, but now he is being increasingly seen as a historical figure who had faded into the oblivion. The events are being organized in northern, southern, eastern and western parts of the country. FORWARD Press magazine was the first to report on Mahishasur Day events in Mysore, Karnataka. FORWARD Press had also published reports on the harassment of Mahesh Guru, one of the organizers, and his arrest. (Read: Who is pro-Mahishasur, 'anti-Ram' Prof Mahesh Chandra Guru?). Professor Guru said, "Adi Karnataka, Adi Dravid, Adi Jambva Dalits, Nayka Tribals and Kuruwa OBCs participate in the events." Mahesh Guru said that Dalits, OBCs and Tribals from Gulbarga, other parts of Karnataka and even Maharashtra had taken part in the Mahishasur Martyrdom Day events in Mysore this year.
This report is based on conversations with the organizers of the events and reports from the ground. Delhi-based sociologist Anil Kumar had talked to the organizers in Jharkhand. The events that have found mention in this report are either those that threw up new aspects of Mahishasur Day or those that show that the day assuming a pan-Indian character.
Names and contact number of some key organizers:
Shiv Rai, Hazipur: 9431430951
Naresh Kumar Sahni, Muzaffarpur: 9471621188
Periyar Saryu Mehta, Aurangabad: 9572174140
Vijay Gope, Aurangabad: 9939973596
Nagendra Yadav, Gurua, Gaya: 8083096709
Ramalay Rai, Mahua: 9546974913
Jagdish Prasad Rai, Lalganj: 9572039765
Sanjay Kumar Yadav, Arval: 9546308985
Saurabh Suman, Nawada: 9771236599
Hareram Bhagat, Madhepura: 9431891827
Shreemant Yadav, Madhepura: 8678002394
Kishore Ram, Madhepura: 7549879285
Ashok Vardhan, Kaushambi: 7398180721
Deenesh Yadav, Raebareli: 9451980104
Vinayshankar Yadav, Buxar: 9431084394
Ramtanval Arjak, Basti: 9839182861
Rajesh Maraar, Balaghat: 9424616601
Rajveer Singh, Lucknow: 9415972928
Ramesh Solanki, Upleta: 9662496890
Bhanu Bhai Chouhan, Surat: 8469558244
Jenti Gohil, Amreli: 9737600450
Samudra Vishvas, Kolkata: 8582833621
Abhiram Malik, Kendrapada, Odisha: 9437890720
Professor Mahesh Guru, Mysore, Karnataka: 9448462590
Ateet Hembrom, Puruliya, West Bengal: 8972113531
Aadeshum Lohuk, Jharkhand: 8130936231, 9199292516
Anil Asur, Gumla, Jharkhand: 9102959957, 9905515890
Ashwini Pankaj, Jharkhand: 9431109429, 9234301671, akpankaj@gmail.com
Chariyan Mahto, Puruliya, West Bengal: 9933000702, chariyanmahto1962@gmail.com
Damodar Gop, Advocate, Jharkhand: 7870146923, 9199045471
Dilip Kumar Mahto, Jamshedpur, Jharkhand: 9693374844, 9430713591
Deepak Ranjit, Jharkhand: 9431150509
Rajeev Yadav, Advocate, Dhanbad, Jharkhand: 983531733
---
For more information on Mahishasur, see Mahishasur: A People's Hero. The book is available both in English and Hindi. Contact The Marginalised, Delhi (Phone: 9968527911).
Or, find the book on Amazon:  Mahishasur: A People's Hero  (English edition),  Mahishasur: Ek Jan Nayak (Hindi edition)
And on Flipkart: Mahishasur: A people's Hero ( English edition), Mahishasur: Ek Jan Nayak